Pacific Northwest
Region that includes parts of Canada and the United States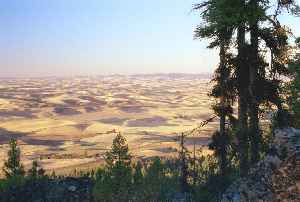 The Pacific Northwest (PNW), sometimes referred to as Cascadia, is a geographic region in western North America bounded by the Pacific Ocean to the west and (loosely) by the Rocky Mountains on the east. Though no official boundary exists, the most common conception includes the Canadian province of British Columbia (BC) and the U.S. states of Idaho, Oregon, and Washington. Broader conceptions reach north into Southeast Alaska and Yukon, south into northern California, and east to the Continental Divide to include Western Montana and parts of Wyoming. Narrower conceptions may be limited to the coastal areas west of the Cascade and Coast mountains. The variety of definitions can be attributed to partially overlapping commonalities of the region's history, culture, geography, society, and other factors.


Oregon's wildfires force mass evacuations

Deadly wildfires raging across Oregon kept half a million people under evacuation alert on Saturday even as weary firefighters took advantage of improved weather to go on the offensive against the..
Credit: Reuters - Politics Duration: 01:55
Published
You Might Like



Dogs Once Made Pretty Nice Wool Blankets, Too

Indigenous peoples of the Pacific Northwest once bred dogs in large numbers and sheared them for wool.




NYTimes.com - Published





Baby Yoda battles wildfires alongside firefighters

A 5-year-old donated a Baby Yoda doll to firefighters battling multiple wildfires in the Pacific Northwest to thank them for keeping everyone safe.




USATODAY.com - Published





Video shows massive flames, smoke plumes in Oregon

Deadly windblown wildfires raging across the Pacific Northwest destroyed hundreds of homes in Oregon, the governor said Wednesday, warning it could be the greatest loss of life and property from..




USATODAY.com - Published





AP Top Stories September 9 P

Here's the latest for Wednesday September 9th: 'Unprecedented' Pacific Northwest fires near Portland; Book: Trump: Didn't 'want to create panic' over COVID; Biden aims to rebuild 'blue wall'; Study..




USATODAY.com - Published





'Unprecedented' Oregon fires burn 100s of homes

Winds gusting to 50 mph fanned dozens of catastrophic wildfires Wednesday across a large swath of Washington state and Oregon that rarely experiences such intense fire activity because of the Pacific..




USATODAY.com - Published





AP Top Stories

Here's the latest for Tuesday September 8th; President Trump to use own funds for campaign; Fires rage across Pacific Northwest; Soldiers testify on Rohingya atrocities; baby lion cubs born in Dallas...




USATODAY.com - Published





Orca That Carried Dead Calf for 17 Days Gives Birth Again

Researchers spotted the killer whale they call J35 alongside her "robust and lively" new calf on Saturday — a ray of hope for the endangered Southern Resident population off the Pacific..




NYTimes.com - Published





Things To Do At Home

This week, meet the feathered residents of the Pacific Northwest, remember the victims of 9/11, rock out to Margo Price and uncover the secrets of asteroids over a meal.




NYTimes.com - Published





Endangered orcas at risk from U.S. Navy, activists warn

In the Pacific Northwest, an endangered community of killer whales has been on the decline for years due to a variety of factors, all related to human activity. Now, advocacy groups are warning of..




CBS News - Published





US carries out 1st federal execution in 17 years

The federal government has carried out its first execution in almost two decades, killing by lethal injection a man convicted of murdering an Arkansas family in a 1990s plot to build a whites-only..




USATODAY.com - Published





Asian giant 'murder' hornet: 5 things to know about the invasive species

A small number of Asian giant hornet sightings in the Pacific Northwest has raised alarm.




USATODAY.com - Published




Secession in the Pacific Northwest? Some Oregon residents petition to join Idaho

Frustrated by liberal policies, some Oregon residents are petitioning to leave the state by moving the border with Idaho.




USATODAY.com - Published




AP Top Stories January 13 P

Here's the latest for Monday January 13th: U.S. sending Saudi cadets home after Fla. shooting; Snow blankets Pacific Northwest; Calif. sends emergency crews to Puerto Rico and Queen agrees to Harry,..




USATODAY.com - Published





As Amazon.com flexes its muscle, Seattle moves to curb corporate political donations

Seattle, the Pacific Northwest city where home-grown online retailer Amazon.com has increasingly flexed its political muscle, is expected to approve on Monday legislation banning political..




Reuters - Published





Asian Giant Hornet Invasion Threatens Honey Bees in Pacific Northwest

An expert said of the hornets: "They are sworn enemies of honey bees. I would say a bee's worst nightmare."




NYTimes.com - Published





Christmas travel weather forecast: Mostly nice, except for Southeast, Pacific Northwest

This weekend, most of the country will see calm, uneventful weather. Mild and dry weather will be the rule for many.




USATODAY.com - Published




Botanists hunt rare apples on pioneer homesteads

Pacific Northwest apple 'detectives' are hunting for varieties of domesticated apples thought to be extinct in century-old pioneer homestead orchards. There were once 17,000 varieties of domesticated..




USATODAY.com - Published





Nature up close: Salmon, a keystone species in the Pacific Northwest

How a species of fish that spends most all of its life in the ocean has a vital role in a forest ecosystem




CBS News - Published





Will Whale Hunting Return to the Pacific Northwest?

The Makah, the only Native Americans with a treaty right to hunt whales, have not been allowed to do so for 20 years. But a recent proposal could change that.




NYTimes.com - Published





Fish Fuss

Despite a multi-billion dollar effort to save them, the endangered salmon of the Pacific Northwest are still falling victim to hydroelectric dams that provide irrigation, transportation and cheap..




CBS News - Published





Fish Fuss Over Salmon

The government's multi-billion dollar effort to save the salmon of the Pacific Northwest is failing, so residents there may soon have to choose between the fish or the dams that are killing scores of..




CBS News - Published





How to protect trees of Pacific Northwest?

Twenty-five years ago, the Northwest Forest Plan was put in place to protect more than 24 million acres of forest in Northern California, Oregon and Washington. On the anniversary of the law, the..




CBS News - Published




Man sues fertility clinic for allegedly using his donated sperm for 17 children

An Oregon doctor is suing a fertility clinic for more than $5 million, after discovering sperm he donated resulted in the births of at least 17 unknown children. He says the clinic promised that no..




CBS News - Published





The debate over Pacific Northwest forests: Clear-cut or protect?

On the 25th anniversary of a law protecting more than 24 million acres of federally-owned forests in Northern California, Oregon and Washington, clear-cutting forests on state-owned and private land is..




CBS News - Published





Texans agree to trade three-time Pro Bowler Jadeveon Clowney to Seahawks, per reports

Jadeveon Clowney is heading to the Pacific Northwest. The Texans agreed to trade the three-time Pro Bowler to the Seahawks on Saturday, per reports.




USATODAY.com - Published





MLS teams navigate new 'no political display' policy

MLS policy banning political displays at games stirs controversy in Pacific Northwest




USATODAY.com - Published





This is the quietest place in the US, says acoustic ecologist

The project "One Square Inch of Silence" found places devoid of man-made sounds, and found the quietest spot lies within a rainforest in the Pacific Northwest.




USATODAY.com - Published