United States National Guard
Reserve force of the United States Army and Air Force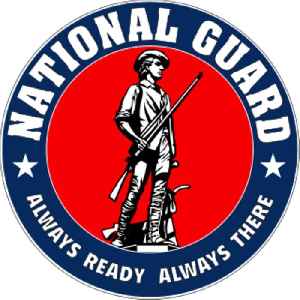 The
United States National Guard
is part of the reserve components of the United States Army and the United States Air Force. It is a military reserve force composed of National Guard military members or units of each state and the territories of Guam, the Virgin Islands, and Puerto Rico, and the District of Columbia, for a total of 54 separate organizations. All members of the National Guard of the United States are also members of the Organized Militia of the United States as defined by 10 U.S.C. 
§ 246
. National Guard units are under the dual control of the state governments and the federal government.
Trump visits Kenosha, praises police

[NFA] U.S. President Donald Trump defied requests to stay away and visited Kenosha, Wisconsin, on Tuesday, not to urge racial healing after a white officer shot a Black man in the back but to express..
Credit: Reuters - Politics Duration: 02:15
Published
Anti-racism demonstrators march in Kenosha

[NFA] About 1,000 people joined a mile-long march in Kenosha, Wisconsin on Saturday afternoon, chanting "Black Lives Matter" and "No Justice, No Peace" as National Guard units stood by to prevent a..
Credit: Reuters - Politics Duration: 01:54
Published
You Might Like



How Rhode Island Reopened Schools

The country's smallest state deployed the National Guard to get its students back in classrooms.




NYTimes.com - Published





Wisconsin activates National Guard ahead of Alvin Cole decision

Wisconsin Governor Tony Evers has authorized the deployment of the Wisconsin National Guard in Wauwatosa, WI.




CBS News - Published





Dramatic video shows rescue of 4 Calif. crew fighting wildfire

All four are members of the National Guard. They were battling the Bear Fire in Butte County in Northern California.




CBS News - Published





Hundreds of rescues in Sally's wake as cleanup begins

Local authorities and the National Guard brought stranded people to safety. The risk of flooding from swollen rivers remains in the Florida Panhandle and Alabama.




CBS News - Published





Military Police Considered Using Heat Ray on D.C. Protesters, Whistle-Blower Says

A National Guard officer called in to enforce the June crackdown on protesters testified that a top official sought out heat rays and sound cannons hours before a clash.




NYTimes.com - Published





National Guard major: Military police asked about using 'heat ray' against DC protesters

Developed by the military as a crowd dispersal tool, the ADS has largely been abandoned amid doubt of its effectiveness and ethical questions.




USATODAY.com - Published





'Shock, grief, pain and dismay': 3 National Guard members killed in Tennessee plane crash

The plane took off from the Warren County airport and crashed in a nearby field, National Transportation Safety Board spokesman Peter Knudson said.




USATODAY.com - Published




At least 63 rescued by military helicopters after wildfire in Sierra National Forest

The Fresno Fire Department said at least 63 people had been rescued by National Guard helicopters amid the fast-moving Creek Fire in the Sierra National Forest in California. CBSN San Francisco..




CBS News - Published





National Guard helicopters airlift trapped campers near wildfire

At least two were severely injured, 10 moderately injured and 51 suffered minor or no injuries, the Fresno Fire Department said.




CBS News - Published





Biden focuses on Jacob Blake, Trump touts police, and other takeaways from dueling Kenosha visits

While Biden focused on the racial injustice that led to recent upheaval, Trump used his trip to praise the National Guard and local law enforcement.




USATODAY.com - Published





The False and Misleading Statements From Trump on Protests and Violence

The president has wrongly claimed credit for sending in the National Guard. He has also made misleading assertions in attacking his Democratic rival, Joseph R. Biden Jr.




NYTimes.com - Published





Trump arrives in Kenosha to praise police after wave of violence, says 'We're going to get it straightened out'

Trump praised the National Guard and local police for their handling of violent protests. "We're going to get it straightened out," he said.




USATODAY.com - Published





Trump to visit Kenosha, Wisconsin despite opposition from state and local officials

President Trump is heading to Kenosha, Wisconsin Tuesday, where a curfew and the presence of National Guard troops continues after a week of protests and violence. The visit comes in the wake of a..




CBS News - Published





Kenosha protests continue ahead of Trump's planned visit

Some 1,500 National Guard members have been deployed to Kenosha, Wisconsin, to keep the peace as the city now braces for a presidential visit. Mola Lenghi reports.




CBS News - Published





CBS Weekend News, August 30th, 2020

Portland protests turn deadly as National Guard heads to Kenosha, Wisconsin; Aesha Ash breaks barriers at School of American Ballet in New York City.




CBS News - Published





Portland protests turn deadly as National Guard heads to Kenosha, Wisconsin

The Wisconsin Senate plans to meet in a special session this week to discuss police reform in wake of the police shooting of Jacob Blake. This comes after a deadly clash broke out in Portland between..




CBS News - Published





Biden, Speaking to National Guard, Takes Aim at Republican Criticism on Crime

The Democratic presidential nominee hit back at attacks delivered at the Republican National Convention.




NYTimes.com - Published





New details in Jacob Blake police shooting emerge in first law enforcement press conferences

New details have been released about the Kenosha, Wisconsin police officer accused of shooting Jacob Blake in the back at least seven times. It comes as the U.S. Department of Justice opens a civil..




CBS News - Published





AP Top Stories August 27 A

Here's the latest for Thursday August 27th: Hurricane Laura makes landfall; Pence addresses Republican National Convention; Protests in Wisconsin; National Guard activated after violence in..




USATODAY.com - Published




Eye Opener: National Guard called into Wisconsin over protests

The governor of Wisconsin called in the National Guard after protests over the police shooting of Jacob Blake turned violent. Also, the Republican National Committee has officially nominated President..




CBS News - Published





Military Surveillance Planes Didn't Spy on Protesters, Pentagon Report Finds

But the Air Force's inspector general concluded that National Guard officials failed to obtain prior approval from Defense Secretary Mark T. Esper to use the planes.




NYTimes.com - Published





Tulsi Gabbard: There's no circumstance where I won't support Democratic nominee

Hawaii Congresswoman and Democratic presidential candidate Tulsi Gabbard returned to the campaign trail this week after two weeks on active duty deployment with the National Guard. Rep. Gabbard spoke..




CBS News - Published





Iowans grapple with aftermath of Monday's deadly derecho, 'a disaster that we have never seen'

The National Guard was set to arrive in Cedar Rapids on Friday to assist residents there after Monday's deadly derecho storm that was like a hurricane  




USATODAY.com - Published





Trump to call on National Guard to quell protests

U.S. President Donald Trump said on Thursday he will call on the National Guard to Portland if violent protests continue. Trump was speaking as Oregon police prepared Thursday to take over protecting a..




USATODAY.com - Published





National Guard Officer Says Police Used 'Excessive' Force at White House Clash

An Army National Guard officer at Lafayette Square plans to tell lawmakers that the Park Police unleashed an "unprovoked escalation" on peaceful protesters last month.




NYTimes.com - Published





Esper defends using National Guard during protests

Testifying on Capitol Hill, defense chief Mark Esper defended using National Guard soldiers to support law enforcement agencies in handling civil unrest triggered by the killing of George Floyd. (July..




USATODAY.com - Published





Georgia Gov. Brian Kemp declares emergency, calls up National Guard troops after 8-year-old killed

Georgia's governor on Monday declared a state of emergency and authorized the activation National Guard troops after a weekend of violence in Atlanta.




USATODAY.com - Published




National Guard soldiers deployed to guard DC monuments amid protests

Some protesters in Washington, D.C., tried to pull down a statue of President Andrew Jackson earlier this week.




USATODAY.com - Published





Air Force Investigates Military Planes That Monitored Protesters

The Air Force inspector general is examining whether secretive National Guard surveillance aircraft improperly monitored demonstrators in Washington and Minneapolis.




NYTimes.com - Published





Majority of Minneapolis City Council Pledges to Dismantle Police Department

Some cities are starting to to heed calls to "defund the police," as lawmakers push proposals for greater police accountability. National Guard troops are being sent home from Washington, D.C.




NYTimes.com - Published





Fact check: National Guard was activated most often during the civil rights era

A social media claim on federal activation of the National Guard that claims it is "almost exclusively called against Black citizens" is false.




USATODAY.com - Published





What was the cost for the National Guard to deploy in D.C.? Up to $2.6 million a day

The deployment of thousands of National Guard troops in response to protests on the streets of Washington, endorsed by President Donald Trump and much criticized by the city's mayor, cost the federal..




Reuters - Published




Pentagon chief orders review of National Guard's response to protests

U.S. Defense Secretary Mark Esper has ordered a review of the National Guard's response to recent protests over police brutality and racism, the Pentagon said on Thursday.




Reuters - Published





Aggressive Tactics by National Guard, Ordered to Appease Trump, Wounded the Military, Too

Some members of the D.C. Guard — comprising more than 60 percent people of color — have not told family they were part of the crackdown. Guard leadership, concerned about public opposition, even..




NYTimes.com - Published





National Guard troops are pulling out, but protests have left a mark on Washington

After almost two weeks of protests, Washington feels transformed.  




USATODAY.com - Published





Trump Orders Troops to Leave D.C. as Former Military Leaders Sound Warning

The president said National Guard soldiers would withdraw "now that everything is under perfect control," even as three former Joint Chiefs chairmen condemned his use of military force.




NYTimes.com - Published





'Everything is under perfect control': Trump says he ordered National Guard to leave DC

Washington D.C. Mayor Muriel Bowser had objected to the deployment of National Guard members in the city without her request .




USATODAY.com - Published





Trump suggests governors call in National Guard to 'dominate the streets'

U.S. President Donald Trump said on Friday he had suggested to some governors to call in the National Guard in the face of mostly peaceful nationwide protests sparked by the death of a black man,..




Reuters - Published





National Guard troops surge into DC for George Floyd protests but who's in charge?

A flood of National Guard troops raises questions about who is in control as George Floyd protests continue near the White House and in Washington, DC




USATODAY.com - Published





A Popular Louisville Restaurant Owner Was Killed by the Police. What Happened?

David McAtee, who owned a barbecue stand, was shot as the police and National Guard confronted curfew violators.




NYTimes.com - Published





D.C. mayor wants Trump's out-of-state troops gone from U.S. capital

Thousands of National Guard troops and federal officers in riot gear and masks ringed the White House and monuments in the U.S. capital this week, evoking comparisons to an occupying force.




Reuters - Published





Demonstraters continue DC protest of Floyd's death

Protestors face off with National Guard troops in the streets of Washington DC on the same day the perimeter around the White House is expanded. (June 3)




USATODAY.com - Published




Sporadic violence flares in latest U.S. protests over Floyd death

Tens of thousands of people defied curfews to take to the streets of U.S. cities on Tuesday for an eighth night of protests over the death of a black man in police custody, as National Guard troops..




Reuters - Published





When National Guardsmen listened to protesters

Tennessee National Guard soldiers in Nashville put their riot shields on the ground during a peaceful protest.




USATODAY.com - Published





New York Governor Cuomo says police failed to do their job during protests

New York Governor Andrew Cuomo said on Tuesday that New York City's police failed in their duty to protect the public from looting and other criminal activity during protests the previous night, and..




Reuters - Published





Less violence in Monday night's protests, National Guard chief says

The United States saw decreasing levels of violence in protests across the United States on Monday night, the head of the National Guard bureau said on Tuesday, even as protest activity was sustained..




Reuters - Published





Gov. Newsom on George Floyd Protests: More National Guard Troops to Be Sent In

Tuesday: Gov. Gavin Newsom and other liberal elected officials are navigating a tricky political situation. Also: More protest updates.




NYTimes.com - Published