Hawaii
State in the United States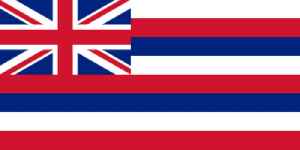 Hawaii is a state of the United States of America located in the Pacific Ocean. It is the only U.S. state located outside North America and the only island state.


Actress Kelly Preston dies of breast cancer at 57

American actress Kelly Preston who has appeared in films including "Jerry Maguire" and "Twins", has died aged 57 after battling breast cancer for nearly two years, her husband, John Travolta,..
Credit: Reuters - Politics Duration: 01:18
Published
Paralympian Angela Madsen found dead while trying to row from California to Hawaii

CNN reports three-time Paralympian and six-time Guinness World Record holder Angela Madsen died earlier this week. The 60-year-old passed while attempting a solo row from Los Angeles to Honolulu...
Credit: Wochit News Duration: 00:36
Published
Trump renews threat to cut ties with Beijing

The U.S. president contradicted his own trade ambassador's stance, and relations between the world's two largest economies are at their lowest point in years. This report produced by Zachary Goelman.
Credit: Reuters Studio Duration: 01:37
Published
There Are COVID Travel Restrictions In 15 States

According to Business Insider, nonessential travel is resuming as governors ease states' lockdown orders. But, it's not your typical summer travel season. 15 governors have enacted statewide travel..
Credit: Wochit News Duration: 00:34
Published
Pompeo to meet Chinese delegation in Hawaii: sources

[NFA] U.S. Secretary of State Mike Pompeo plans to meet a Chinese delegation at a U.S. military base in Hawaii this week to discuss bilateral ties that have soured deeply since the start of the year,..
Credit: Reuters Studio Duration: 01:32
Published
Scientists find the Earth's largest, hottest volcano

Researchers have found the Earth's largest and hottest volcano northwest of Honolulu in the central northern Pacific.
Credit: Reuters - 3D Animations (Next Me Duration: 01:11
Published
Scientists capture photo of formation of new planets

A group of astronomers has successfully captured an image of the birth of two planets orbiting the star PDS 70.
Credit: Reuters - 3D Animations (Next Me Duration: 01:04
Published
You Might Like



Coronavirus updates: Oregon to limit group gatherings; Hawaii extends quarantine; New York to send testing, contact tracing teams to Atlanta

New York will deploy testing and contract tracing teams to Atlanta. Hawaii extended its quarantine. Oregon to limit group gatherings. Latest news.




USATODAY.com - Published





Scratch that August trip to Hawaii. The state just extended its quarantine until Sept. 1

The state had planned to allow out-of-state travelers on Aug. 1 if they presented a negative COVID-19 test. That has been pushed back to Sept. 1.




USATODAY.com - Published





Hawaii will let visitors skip quarantine if they present a negative COVID-19 test

Starting Aug. 1, out-of-state visitors can bypass Hawaii's 14-day quarantine restriction by presenting a negative COVID-19 test.




USATODAY.com - Published





Hawaii governor announces pre-travel testing alternative to quarantine

Hawaii Gov David Ige has announced his state plans to implement a pre-travel testing option for travelers from August 1, as an alternative to the 14-day quarantine for those entering the state.  




USATODAY.com - Published





Top U.S, China diplomats meet in Hawaii as tensions flare

U.S. Secretary of State Mike Pompeo met China's top diplomat, Yang Jiechi, in Hawaii on Wednesday, in high-level face-to-face talks that have become rare amid tensions between the two strategic rivals.




Reuters - Published




Top U.S, China diplomats hold 'constructive' meeting amid strains

U.S. Secretary of State Mike Pompeo met China's top diplomat, Yang Jiechi, in Hawaii on Wednesday in what Beijing described as a "constructive dialogue," amid a deep deterioration of ties between..




Reuters - Published





Pompeo meets China's top diplomat in Hawaii

U.S. Secretary of State Mike Pompeo met China's top diplomat, Yang Jiechi, in Hawaii on Wednesday, the State Department said, amid a deep deterioration of relations between strategic rivals that are..




Reuters - Published




China says top diplomat Yang held constructive talks with Pompeo

China said on Thursday its top diplomat, Yang Jiechi, and U.S. Secretary of State Mike Pompeo held constructive discussions during their meeting in Hawaii and that the two sides agreed to continue..




Reuters - Published





Meeting between Pompeo, and China's top diplomat Yang under way: official

A meeting in Hawaii between the U.S. Secretary of State Mike Pompeo and China's top diplomat Yang Jiechi began shortly after 9 a.m. local time (3 p.m. EST), a senior State Department official said on..




Reuters - Published





Pompeo to meet Chinese delegation in Hawaii this week

U.S. Secretary of State Mike Pompeo plans to meet a Chinese delegation at a U.S. military base in Hawaii this week to discuss bilateral ties that have soured deeply since the start of the year, sources..




Reuters - Published




U.S.'s Pompeo to meet China's top diplomat in Hawaii seeking to ease tensions: media

U.S. Secretary of State Mike Pompeo will meet China's top diplomat Yang Jiechi in Hawaii, trying to ease tensions between the world's two largest economies over various issues, according to media..




Reuters - Published





Senior U.S., China officials to meet in Hawaii seeking to ease tensions: media

Senior officials from the United States and China are planning to meet in Hawaii, trying to ease tensions between the world's two largest economies over various issues, according to media reports.




Reuters - Published





Latest Crop of West Point Graduates Includes First Observant Sikh Cadet

Anmol Narang said she was inspired to apply to West Point after visiting the Pearl Harbor National Memorial in Hawaii.




NYTimes.com - Published





U.S.'s Pompeo plans to meet Chinese officials in Hawaii: Politico

U.S. Secretary of State Mike Pompeo is planning to travel to Hawaii to meet with Chinese government officials, Politico reported on Friday, citing two unnamed sources.




Reuters - Published





Ex-White House hopeful Gabbard drops defamation suit against Hillary Clinton

Tulsi Gabbard, a U.S. congresswoman from Hawaii, dropped a lawsuit against the Democratic Party's former presidential nominee Hillary Clinton for defamation on Wednesday, according to a court filing.




Reuters - Published





Hawaii plans to extend stay-at-home measures, travel quarantine until end of June

Hawaii is likely to keep its coronavirus stay-at-home measures in place until the end of June and will also discourage tourists from visiting, state Governor David Ige said.




Reuters - Published





AP Top Stories May 15 A

Here's the latest for Friday May 15th: Trump pledges to restock national medical stockpile; Texas reaches new one-day highs in COVID-19 deaths and new cases; Fla. Gov. says Miami to reopen Monday;..




USATODAY.com - Published




Military flyover honors Hawaii health care workers

The Hawaii Air National Guard and 15th Wing Active Duty Airmen from Joint Base Pearl Harbor-Hickam performed a flyover across the Hawaiian Islands in honor of healthcare workers on Thursday. (May..




USATODAY.com - Published





'Our life is in danger': Hawaii battles record unemployment with no end in sight

Hawaii is facing one of the worst unemployment rates in the nation as coronavirus restriction have shut down the state's tourism-dependent economy.




USATODAY.com - Published




Hawaii to let some businesses reopen

Hawaii Gov. David Ige says the state has successfully held down the number of coronavirus cases, so he's letting businesses including shopping malls, car washes and pet groomers reopen starting..




USATODAY.com - Published





Will visitors flock to Hawaii when quarantine lifts? Hawaiian Airlines CEO is optimistic

Hawaiian said bookings for late summer and fall flights to Hawaii are down from usual levels but not nonexistent, as they are now.




USATODAY.com - Published





Isolation helps Hawaii keep coronavirus cases low

Hawaii has among the lowest coronavirus infection and mortality rates in the United States. Since March, the state has required a two-week quarantine for everyone arriving on the islands. (May 4)  




USATODAY.com - Published





Prison protest, Phoenix set for flyover, mask mandates: News from around our 50 states

Hawaii reverses course on Mother's Day flowers, Kentucky woman with COVID-19 arrested for breaking self-quarantine, and more




USATODAY.com - Published





Hawaii to Visitors: We'll Pay You to Leave

Visitors who break Hawaii's 14-day quarantine rule may get an unwelcome gift: A free flight home.




NYTimes.com - Published





Hawaiian tourism groups will pay to fly visitors who violate self-quarantine rule home

The Hawaiian tourism industry, which normally welcomes visitors, is now offering them a financial incentive to leave in the form of airfare.




USATODAY.com - Published





Clean Water Act Covers Groundwater Discharges, Supreme Court Rules

In a 6-to-3 ruling, the court rejected arguments by a county in Hawaii and the Trump administration that only pollution discharged directly into navigable waters requires permits.




NYTimes.com - Published





Heavy rain triggered the 2018 eruption of Hawaii's Kilauea volcano, study suggests

Scientists say that the eruption was likely initiated by prolonged, and at times extreme, rainfall in the months leading up to the event.  




USATODAY.com - Published





U.S. Supreme Court rejects Trump bid to limit water pollution law

The U.S. Supreme Court on Thursday rejected arguments by President Donald Trump's administration seeking to limit the reach of a landmark water pollution law in a Hawaii dispute over wastewater..




Reuters - Published





U.S. Supreme Court embraces compromise in Hawaii water pollution suit

The U.S. Supreme Court on Thursday rejected arguments by President Donald Trump's administration in a Hawaii case brought by environmentalists by saying that polluters are sometimes required to obtain..




Reuters - Published




Coronavirus has killed at least one person in all 50 states: Wyoming reports first death

The Cowboy State had been the only in the U.S. without a death since Hawaii reported the first of its now nine fatalities on March 31.




USATODAY.com - Published




Hawaii National Guard troops screen air passengers

Hawaii National Guard troops are screening passengers for coronavirus symptoms at Daniel K. Inouye International Airport in Honolulu. All visitors to Hawaii are now required to be quarantined for 14..




USATODAY.com - Published





'American Idol' recap: Judges say 'aloha' to some, 'aloha' to others as finalists are chosen

On Sunday's "American Idol," Hawaii was the end of the road for some contestants, as they sang for a spot in the coveted top 20.




USATODAY.com - Published





Honolulu comes to standstill amid virus outbreak

Honolulu came to an eerie standstill this week as the coronavirus pandemic spread throughout the islands. Hawaii officials effectively flipped the switch on the state's tourism-fueled economic engine..




USATODAY.com - Published





No tsunami threat after magnitude 7.5 quake off Russia's Kuril islands

Meteorological authorities in Japan didn't issue any tsunami alerts while U.S. authorities canceled a warning for Hawaii after a 7.5 magnitude earthquake struck off Russia's Kuril Islands.




Reuters - Published





Coronavirus live updates: US surpasses 26,000 cases as Senate negotiates massive stimulus package; New Jersey, Hawaii join in restrictions

Millions of Americans are facing stay-at-home orders. Senators are still negotiating a stimulus package that would send Americans payments of $1,200.




USATODAY.com - Published





Factbox: Biden, Sanders the last two standing in 2020 Democratic presidential race

Joe Biden and Bernie Sanders are the last White House candidates standing in the Democratic race to challenge Republican Donald Trump in November, after U.S. Representative Tulsi Gabbard of Hawaii on..




Reuters - Published





Tulsi Gabbard Drops Out of Presidential Race

The representative from Hawaii, who often defied her own party, announced the end of her campaign and said she would back Joe Biden.




NYTimes.com - Published





Native Hawaiian princess, beer bandits, flaming hand sanitizer: News from around our 50 states

California gets some much-needed rain, Vermont's maple syrup season officially underway, and more




USATODAY.com - Published





Passengers plod off coronavirus-stricken cruise ship in face masks in California

Hundreds of travelers who boarded a cruise liner for Hawaii last month in sandals and sunglasses trudged off the coronavirus-stricken ship in face masks at the Port of Oakland, California, on Tuesday,..




Reuters - Published





Judge reduces bail for Lori Vallow, mom of two missing Idaho children, to $1 million

Lori Vallow appeared in an Idaho courtroom Friday after she was returned from Hawaii this week. Her two children have been missing for months.




USATODAY.com - Published




Lori Vallow, mom of missing kids, extradited from Hawaii to Idaho to face felony charges

Lori Vallow, the 46-year-old mother of missing Joshua "JJ" Vallow and Tylee Ryan, was arrested Feb. 20 and faces felony child desertion charges.  




USATODAY.com - Published




Elizabeth Warren's exit doesn't mean Bernie Sanders gets her progressive supporters, experts say

Elizabeth Warren's departure means the only female running for president is Hawaii Rep. Tulsi Gabbard, who has won one of the 1,284 delegates awarded.




USATODAY.com - Published





California holds cruise ship offshore for coronavirus screening

An ocean liner that previously carried two passengers who contracted the coronavirus was barred on Wednesday from returning to its home port of San Francisco from a voyage to Hawaii after at least 20..




Reuters - Published