Sri Lanka
Island country in South Asia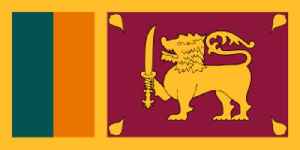 Sri Lanka, officially the Democratic Socialist Republic of Sri Lanka, is an island country in South Asia, located in the Indian Ocean southwest of the Bay of Bengal and southeast of the Arabian Sea. It is geographically separated from the Indian subcontinent by the Gulf of Mannar and the Palk Strait. Sri Jayawardenepura Kotte is its legislative capital, and Colombo is its largest city and centre of commerce.


Rajapaksa brothers win by landslide in Sri Lanka's election

Huge parliamentary win could enable the president and his brother to change the constitution and boost dynastic rule.
Credit: Al Jazeera STUDIO Duration: 03:07
Published
Sri Lanka counts votes from parliamentary elections

President is seeking two-thirds majority in the 225-member parliament to change the constitution.
Credit: Al Jazeera STUDIO Duration: 03:33
Published
Buddhist festival held without spectators in Sri Lanka

Sri Lanka's annual Esala Perahera festival is held in the inland city of Kandy.View on euronews
Credit: euronews (in English) Duration: 00:50
Published
These two brothers collected water from 151 rivers for Ram temple Bhoomi Pujan

Ahead of the mega foundation laying ceremony of Ram temple in Ayodhya, two brothers have collected water from more than 150 rivers. Since 1968, both the brothers collected water from 151 rivers across..
Credit: ANI Duration: 03:10
Published
How COVID-19 Drew The Curtain Back On India's Inability To Provide Basic Public Health Services

India is now third on the Johns Hopkins University tally of countries struggling with the novel coronavirus COVID-19, following the US and Brazil. Far from flattening the curve, CNN reports India's..
Credit: Wochit News Duration: 00:34
Published
Vande Bharat flight repatriates 648 Indians from Australia, Oman, Dubai

A special flight under Vande Bharat Mission bought back 648 stranded Indians to Chennai airport from Australia, Dubai, Oman and Sri Lanka on July 18. The flight landed at Chennai Airport. All..
Credit: ANI Duration: 01:02
Published
Sri Lanka election body mulls delaying polls due to coronavirus

Snap parliamentary election was delayed previously because of lockdown, but opposition urges holding them soon.
Credit: Al Jazeera STUDIO Duration: 02:07
Published
Indian Coast Guard rescues 6 Sri Lankan fishermen in Chennai

Indian Coast Guard rescued six Sri Lankan fishermen by a merchant vessel YM Summit from 170 nautical miles east of Chennai in Tamil Nadu. The rescue operation was coordinated by Indian Coast Guard..
Credit: ANI Duration: 01:20
Published
Spills and thrills as tuk tuks battle in Sri Lanka

Daring Sri Lankan tuk tuk drivers put their three-wheeled vehicles to the test in a gruelling race through city streets and off-road jungle terrain in a two-day adventure.
Credit: Reuters - Sports Duration: 02:20
Published
Samudra Setu: INS Jalashwa departs from Iran's Bandar Abbas port for TN's Tuticorin

India's amphibious warship Indian Navy Ship (INS) Jalashwa, which has been deployed to bring back the stranded citizens from Iran under Operation Samudra Setu, has departed from Bandar Abbas port on..
Credit: ANI Duration: 01:28
Published
Stranded Indians in Colombo applaud Vande Bharat Mission

Indian nationals stranded in Sri Lanka arrived at Colombo Airport for the special Air India flight AI 1202 for repatriation. This is the 3rd phase of Vande Bharat Mission. The Indian nationals thanked..
Credit: ANI Duration: 01:31
Published
You Might Like



Supreme Court Says Rejected Asylum Seekers Have No Right to Object in Court

The case concerned a member of Sri Lanka's Tamil ethnic minority who said he feared persecution and sought to file a petition for a writ of habeas corpus.




NYTimes.com - Published





Sri Lanka delays general election for second time, sets August 5 as new date

Sri Lanka will hold its general election on Aug. 5, the head of the nation's election commission said at a news briefing on Wednesday, delaying the parliamentary vote for a second time as the country..




Reuters - Published





Sri Lanka to reopen some tourism in August with restrictions - official

Sri Lanka plans to reopen its tourism sector on Aug. 1 by allowing only small groups of visitors to begin with, a tourism official said on Sunday.




Reuters - Published





Pan-Pan! Facebook plea gets Sri Lankan chef off Italy-bound cruise

A Sri Lankan chef stuck aboard a cruise ship headed to Europe managed to get ashore in Colombo this week after issuing a social media plea for help from his government.




Reuters - Published





One dead in Sri Lanka jail clash as South Asia tries to stem virus

One prisoner died and three others were injured when fighting broke out on Saturday in a Sri Lankan jail over rumors of coronavirus, as governments across South Asia tightened restrictions on movement..




Reuters - Published





Sri Lanka imposes curfew as South Asia steps up coronavirus battle

Sri Lanka imposed a nationwide weekend curfew on Friday as South Asian countries escalated efforts to check the spread of coronavirus across the densely populated region of 1.9 billion people.




Reuters - Published





Pakistan urges calm as coronavirus cases surge, Sri Lanka stops flights

Pakistan's prime minister has urged calm after its tally of coronavirus cases rose to 245 while Sri Lanka sealed itself off and shut its stock market on Wednesday, fuelling fears that South Asian..




Reuters - Published





Sri Lanka bans all incoming flights for two weeks to combat coronavirus: government spokesman

Sri Lanka said on Tuesday said it will ban all incoming flights for two weeks from 1830 GMT on Wednesday to combat the spread of the coronavirus.




Reuters - Published





Kuwait suspends flights to and from seven countries over coronavirus: tweet

Kuwait suspended on Saturday all flights to and from Egypt, Lebanon, Syria, Bangladesh, Philippines, India, and Sri-Lanka for a week starting on Saturday, Kuwait's civil aviation directorate said in a..




Reuters - Published





Supreme Court Weighs Whether Rejected Asylum Seekers Can Sue

The case, which concerns a member of Sri Lanka's Tamil minority, could affect thousands of asylum seekers.




NYTimes.com - Published





U.S. bans Sri Lankan army chief from entry, citing civil war abuses

The United States barred Sri Lanka's army chief, Lieutenant General Shavendra Silva, from entering the country over accusations of human rights violations including extrajudicial killings in 2009..




Reuters - Published





U.S. blacklists Sri Lankan army commander, cites killings, abuses

The United States has blacklisted Sri Lanka's army chief, Shavendra Silva, for human rights violations including extrajudicial killings during the last phase of the country's civil war in 2009,..




Reuters - Published





Double trouble: Sri Lanka's twin gathering marred by overcrowding

Thousands of twins packed two-by-two into a stadium in Sri Lanka's capital on Monday - so many that officials struggled to count them in time to prove they had organized a record-breaking gathering.




Reuters - Published





15 years on, a look back at the Boxing Day tsunami

December 26 marks 15 years since a 9.1 magnitude quake off the coast of Indonesia's Aceh province triggered a tsunami that killed more than 230,000 people in Indonesia, Sri Lanka, India, Thailand and..




Reuters - Published





Sri Lanka's 'Foundation of Goodness' turns around a village decimated by tsunami

When Kushil Gunasekera returned to Seenigama in Sri Lanka's Galle district days after it was wiped out by a massive tsunami on Dec. 24, 2014, he got to work.




Reuters - Published





India announces $400 million loan for Sri Lanka, in support of new president

India will lend Sri Lanka $400 million for infrastructure projects, Prime Minister Narendra Modi said on Friday after talks with the island nation's new President Gotabaya Rajapaksa aimed at improving..




Reuters - Published





Sri Lanka's new leader appoints his PM brother as Finance Minister

Sri Lanka's newly-elected leader Gotabaya Rajapaksa appointed his brother Mahinda Rajapaksa, the current Prime Minister, as the interim government's new finance minister, state television showed in a..




Reuters - Published





Sri Lanka's ruling siblings: New president swears in his brother as PM

Sri Lanka's newly elected president Gotabaya Rajapaksa on Thursday swore in his elder brother, former president Mahinda Rajapaksa, as prime minister, cementing the powerful family's political comeback.




Reuters - Published





Sri Lanka's Mahinda Rajapaksa to be sworn in as PM by his brother

Sri Lanka's newly elected president is set to name his brother and current opposition leader Mahinda Rajapaksa as interim prime minister, a party spokesman said on Wednesday, just hours after the..




Reuters - Published





New Sri Lankan leader's brother to be sworn in as PM: spokesman

New Sri Lankan President Gotabaya Rajapaksa's brother, former president Mahinda Rajapaksa, will be sworn in as the country's new prime minister on Thursday, their party spokesman said on Wednesday.




Reuters - Published





Sri Lanka's prime minister to step down following election loss

Sri Lankan Prime Minister Ranil Wickremesinghe said on Wednesday he would resign this week after his party's candidate lost a presidential election, and local media reports suggest the new president..




Reuters - Published




Sri Lanka's prime minister to resign from office this week: spokesman

Sri Lankan Prime Minister Ranil Wickremesinghe will resign from office this week, said a spokesman for his office on Wednesday, a move that comes just days after his party's candidate lost a..




Reuters - Published





Sri Lankan PM Wickremesinghe to resign on Thursday: spokesman

Sri Lankan Prime Minister Ranil Wickremesinghe will resign from office on Thursday after his party's candidate lost a presidential election over the weekend, his spokesman said.




Reuters - Published





Sri Lanka prime minister to resign: government sources

Sri Lankan Prime Minister Ranil Wickremesinghe will announce on Wednesday he is stepping down after his party's candidate lost in a presidential election over the weekend, two government sources said.




Reuters - Published





A hospital and clean water: China on the charm offensive in Sri Lanka

Amid the lush paddy fields of central Sri Lanka, a large, state-of-the-art hospital rises between the cranes and cement mixers.




Reuters - Published





Blessed by Buddhist monks, Sri Lanka's new president prioritises security

The winner of Sri Lanka's presidential election, Gotabaya Rajapaksa made national security his top priority after being sworn in on Monday at an ancient temple in the north-central city of Anuradhapura..




Reuters - Published





Sri Lanka strongman Rajapaksa wins presidency by big margin

Sri Lanka's former civil wartime defense chief Gotabaya Rajapaksa was declared the winner in the presidential election on Sunday, after promising to secure the country against militant threats..




Reuters - Published





Sri Lanka finance minister quits after ruling party candidate defeated in presidential poll

Sri Lanka's Finance Minister Mangala Samaraweera resigned from his post on Sunday saying he had lost the mandate after voters rejected the ruling party's candidate in a presidential election.




Reuters - Published





Sri Lanka election body declares Rajapaksa winner of presidential poll

Sri Lanka's election commission declared former defense secretary Gotabaya Rajapaksa as the winner of the presidential election on Sunday.




Reuters - Published





Sri Lanka president-elect Rajapaksa a war hero to some, a polarizing figure for others

For Sri Lanka's majority Sinhalese Buddhists, president-elect Gotabaya Rajapaksa is best-placed to take on the hard challenge of defeating enemies of the state such as those who carried out deadly..




Reuters - Published





Sri Lanka strongman Rajapaksa set to become president after rival concedes defeat

Sri Lanka's former wartime defense chief Gotabaya Rajapaksa was set to become president after his main rival conceded defeat on Sunday in an election that came months after bombings by Islamist..




Reuters - Published





Sri Lanka's Premadasa accepts defeat at presidential poll; steps down from party position

Sri Lanka's ruling party presidential candidate Sajith Premadasa on Sunday accepted defeat in the presidential poll and congratulated his rival former wartime defense chief, Gotabaya Rajapaksa.




Reuters - Published





Sri Lanka's Rajapaksa in the lead in presidential election

Sri Lanka's former wartime defense chief Gotabaya Rajapaksa established a lead over his main rival in a presidential election months after deadly militant attacks in the island, early results showed on..




Reuters - Published





Sri Lanka's Rajapaksa in close fight for president, early vote count shows

Sri Lanka's former wartime defense chief Gotabaya Rajapaksa was locked in a close fight with his main rival in a presidential election months after deadly militant attacks in the island, early results..




Reuters - Published





Polls close in Sri Lanka presidential poll marred by violence

Polls have closed in Sri Lanka where elections were held on Saturday for a new president of the tourism-dependent island nation still struggling to recover from the Easter Sunday militant attacks which..




Reuters - Published





Sri Lankans vote in big numbers for a new president to heal divisions after attacks

Sri Lankans packed into polling stations on Saturday to choose a new president for the island-nation still struggling to recover from Easter Sunday attacks on hotels and churches that have heavily..




Reuters - Published




Explainer: Sri Lanka's presidential election, by numbers and issues

Sri Lanka will pick a new president in a vote on Saturday that comes months after Easter Sunday attacks by Islamic State that raised fears over the safety of the tiny island, undermined investor..




Reuters - Published





Sri Lanka presidential race tightens as minorities seek to stop Rajapaksa

Sri Lankans elect a new president on Saturday in a "finely balanced" race between the early favorite, former defense chief Gotabaya Rajapaksa, and government minister Sajith Premadasa, who has gained..




Reuters - Published





Timeline: Sri Lanka's rocky history leading up to presidential election

Sri Lanka goes to the polls on Saturday at a time when the economy is growing at its slowest in 18 years, and the tourism industry is still reeling from militant bomb attacks in April.




Reuters - Published





After hiatus, Rajapaksa brothers set to dominate Sri Lanka again

One brother is considered a shoo-in for the job of Sri Lanka's president in elections this weekend and another is eyeing the prime minister's post when that election becomes due early next year.




Reuters - Published





Sri Lanka government pledges to hold off signing U.S. pact until after election

Sri Lanka's government said on Wednesday a decision on agreeing a $480 million infrastructure grant from the United States, which has been criticized by some lawyers, Buddhist monks and opposition..




Reuters - Published





Bombings kill hundreds in Sri Lanka's capital on Easter Sunday

More than 200 people were killed in a series of coordinated bombings at churches and hotels in Sri Lanka's capital of Colombo on Easter Sunday. CBS News senior foreign correspondent Elizabeth Palmer..




CBS News - Published





Arrests following blasts in Sri Lanka

Sri Lanka's defense minister said seven suspects are in custody after a series of explosions that targets churches and hotels in the capital city Colombo and elsewhere. More than 200 people have been..




CBS News - Published





Sri Lanka housing minister vows to tap wartime army chief if elected president

Sri Lanka's presidential frontrunner housing minister Sajith Premadasa launched his campaign on Thursday, promising to appoint a wartime army chief as head of national security should he win the..




Reuters - Published





Malaysia arrests two politicians suspected of links to Sri Lanka rebel group

Malaysian police on Thursday arrested seven people, including two politicians, suspected of having links to the now-defunct Sri Lankan Liberation Tigers of Tamil Eelam (LTTE) separatist group.




Reuters - Published





Sri Lanka ex-defense chief launches presidential campaign, pledges safer nation

Sri Lanka's former defense chief Gotabaya Rajapaksa on Wednesday formally launched his presidential campaign, promising strong national security measures if he wins the Nov. 16 election in the island..




Reuters - Published





Record number of candidates to contest Sri Lanka's presidential election

A record 35 candidates have filed nominations to take part in Sri Lanka's presidential election on Nov. 16, nearly twice as many as participated in the last poll in 2015, posing a logistical headache..




Reuters - Published





Sri Lankan court dismisses challenge to presidential candidate Rajapaksa's citizenship

A Sri Lankan court on Friday dismissed a legal challenge to presidential candidate Gotabaya Rajapaksa's Sri Lankan citizenship, removing a major barrier he faced in contesting the Nov. 16 poll.




Reuters - Published




Sri Lankan presidential nominee Rajapaksa faces court test over nationality

A court in Sri Lanka set up a three-judge panel on Monday to hear a petition challenging the citizenship of presidential nominee Gotabaya Rajapaksa, which could disqualify the hardline former defense..




Reuters - Published





Sri Lanka's ruling party nominates deputy leader as presidential candidate

Sri Lanka's ruling party on Thursday nominated its deputy leader, Sajith Premadasa, to run in a presidential election on Nov. 16, a move that appeared intended to win over Buddhist-majority voters.




Reuters - Published