Baku
Capital city in Azerbaijan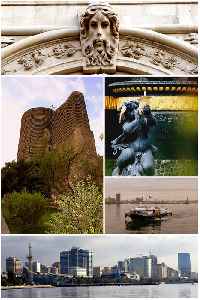 Baku is the capital and largest city of Azerbaijan, as well as the largest city on the Caspian Sea and of the Caucasus region. Baku is located 28 metres (92 ft) below sea level, which makes it the lowest lying national capital in the world and also the largest city in the world located below sea level. Baku lies on the southern shore of the Absheron Peninsula, alongside the Bay of Baku. At the beginning of 2009, Baku's urban population was estimated at just over two million people. Officially, about 25 percent of all inhabitants of the country live in Baku's metropolitan area. Baku is the sole metropolis in Azerbaijan.


After Baku, Tbilisi bids to host Europa League final
The Europa League final could go back to the Caucasus region in two years
USATODAY.com - Published
Baku quiet as Europa League fans struggle with travel
As Arsenal and Chelsea fans scramble for flights and buses to get to the Europa League final, Baku's streets are quiet
USATODAY.com - Published
Arsenal criticizes 'unacceptable' choice of Baku
Arsenal says the choice of Azerbaijan capital Baku to host the Europa League final has caused "unacceptable" problems for fans
USATODAY.com - Published
Bottas cruises to win in Baku as Mercedes dominates again
Valtteri Bottas held off Lewis Hamilton before cruising to victory in the Azerbaijan Grand Prix on Sunday to continue Mercedes' dominance of the title race
USATODAY.com - Published
Russian passenger jet makes emergency landing in Baku over bomb threat
A Russian Ural Airlines jet bound for Moscow from Bahrain with 225 people aboard made an emergency landing in Baku, Azerbaijan on Monday because of a suspected bomb on board the plane, Baku airport..
Reuters - Published
Azerbaijan renews F1 contract through 2023
Baku has renewed its contract to host Formula One's Azerbaijan Grand Prix through 2023
USATODAY.com - Published
You Might Like