Salesforce
American software company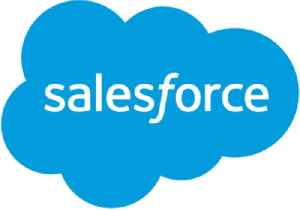 Salesforce.com, inc. is an American cloud-based software company headquartered in San Francisco, California. It provides customer relationship management (CRM) service and also sells a complementary suite of enterprise applications focused on customer service, marketing automation, analytics, and application development. In 2020, Fortune magazine ranked Salesforce at number six on its 'List of Top 100 companies to work for', based on an employee survey of satisfaction.


US Stock Nears Record Highs

US equities hovered near all-time highs on Wednesday. Investors are studying healthy earnings results, positive economic data, and falling daily COVID-19 infections. Salesforce, Urban Outfitters, and..
Credit: Wochit News Duration: 00:33
Published
Records for Nasdaq, S&P; Dow gets major shake-up

The S&P 500 and the Nasdaq reached new record closing highs on Monday. After the close, the keeper of the venerable Dow Jones Industrials average announced it will replace ExxonMobil, Pfizer and..
Credit: Reuters Studio Duration: 01:52
Published
You Might Like
Exxon Mobil, Pfizer removed from Dow Jones Industrial Average; Salesforce, Honeywell added
The Dow Jones Industrial Average, a collection of stocks that provide a gauge for how the markets are performing, is replacing three of its members.
USATODAY.com - Published
Exxon Mobil dropped from the Dow after nearly a century
It's being replaced by enterprise software company Salesforce.com in another sign of how much the economy has changed.
CBS News - Published
Uber says it will double Black leadership at the company by 2025
Uber follows in the footsteps of Microsoft, Salesforce and others doubling Black representation in the coming years.
USATODAY.com - Published
Black Friday shoppers spent more in stores, broke records online over the weekend
The most buzzed-about brands on social media were Playstation, Nintendo, Apple, Xbox and Google, Salesforce found.
USATODAY.com - Published
Salesforce's Amy Weaver on the power of the computing cloud
Amy Weaver, the president of Legal & Corporate Affairs at Salesforce, speaks to the 2019 Reykjavik Global Forum of Women Leaders about the growing capabilities of the computing cloud to connect the..
CBS News - Published
Even a "best place to work" can have gender pay disparity
Salesforce has been lauded for its workplace culture, but an internal audit showed CEO Marc Benioff there was still work to do when it came to gender equality
CBS News - Published
Leading by example to close the gender pay gap
Unequal pay between men and women is a persistent problem in the United States. Salesforce, a tech company with 30,000 employees, is doing its part to change that. Lesley Stahl reports.
CBS News - Published
Salesforce CEO speaks about gender pay gap in Silicon Valley
Salesforce CEO Marc Benioff is making an effort to close the pay gap between men and women in tech. By 2019, the company had spent more than $10 million to make salaries more equal. CNET senior..
CBS News - Published
Marc Benioff on how Salesforce was able to "do well and do good"
In a new book, the billionaire says it's a story of shareholders and stakeholders
CBS News - Published