Ukrainians
East Slavic ethnic group native to Ukraine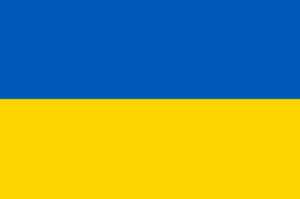 Ukrainians are an East Slavic ethnic group native to Ukraine, which is by total population the seventh-largest nation in Europe and the third-largest among the Slavic peoples after the Russians and Poles. The Constitution of Ukraine applies the term 'Ukrainians' to all its citizens. The people of Ukraine have historically been known as "Rusyns (Ruthenians)", "Little Russians", and "Cossacks", among others. The connection with the Zaporozhian Cossacks especially, is emphasized in the Ukrainian national anthem, "We are, brothers, of Cossack kin". According to most dictionary definitions, a descriptive name for the "inhabitants of Ukraine" is Ukrainian or Ukrainian people.


Volker says investigations were mentioned at July 10 meeting with Ukranians
In his closed-door testimony, Kurt Volker, the former special envoy to Ukraine, said "investigations" weren't discussed at a contentious July 10 meeting between U.S. and Ukrainian officials, replying..
CBS News - Published
Vindman: Sondland said Ukranians would need "deliverable" to get White House meeting
Army Lt. Col. Alexander Vindman, the top expert on Ukraine on the National Security Council, said U.S. Ambassador to the EU Gordon Sondland said the Ukrainians would have to provide a "deliverable" in..
CBS News - Published
Aide: Sondland Told Ukrainians He Was Acting On Trump's Order
White House national security aide Tim Morrison has revealed critical information to impeachment investigators. Gordon Sondland is the US ambassador at the center of the Ukraine scandal imperiling..
Credit: Wochit News Duration: 00:57Published
Ukraine: Can Zelensky drain corruption swamps?
The impeachment process in the US has focused Ukrainians attention on their country's long history of corruption.
Credit: Al Jazeera STUDIO Duration: 02:41Published
Ukraine unsure of alliances amid US impeachment inquiry
US impeachment scandal leaves Ukrainians feeling unmoored as talks with Russia loom and country prepares to join NATO.
Credit: Al Jazeera STUDIO Duration: 02:37Published
Taylor says he's never seen aid conditioned on interests of a president
When asked if in his decades of service he's ever seen foreign aid conditioned on "personal or political interests" of a U.S. president, Ambassador William Taylor answered "no."
Credit: Reuters Studio Duration: 01:20Published
White House adviser testifies 'concerned' by Ukraine call
A U.S. Army officer assigned to the White House testified at a closed door Congressional hearing Tuesday that he feared a political effort to solicit dirt on Democrat Joe Biden risked bipartisan..
Credit: Reuters Studio Duration: 02:34Published
2016 election probe a factor in frozen Ukraine aid: WH
President Donald Trump's acting chief of staff Mick Mulvaney on Thursday acknowledged that Trump held up $391 million in military aid to Ukraine in part to make the money contingent upon the Ukrainians..
Credit: Reuters Studio Duration: 02:15Published
Sensing Betrayal By Zelenskiy, Thousands Of Ukrainians Protest In Kiev
Reuters reports thousands of people gathered in Kiev's main square to protest on Sunday. They're against President Volodymyr Zelenskiy's deal with Moscow. Zelenskiy took power in April after a..
Credit: Wochit News Duration: 00:49Published
Thousands rally in Kiev to protest autonomy plan for eastern Ukraine
Thousands of people gathered in Kiev's main square on Sunday (October 6) to protest against President Volodymyr Zelenskiy's deal with Moscow to grant autonomy to Ukraine's pro-Russian rebel-held east..
Credit: Reuters Studio Duration: 00:53Published
Pompeo confirms he was on Trump-Zelenskiy call
U.S. Secretary of State Mike Pompeo confirmed on Wednesday (October 2) that he was on a contested call between U.S. President Donald Trump and Ukrainian President Volodymyr Zelenskiy, saying it was a..
Credit: Reuters Studio Duration: 01:48Published
Giuliani Says He Simply Is Defending His Client
Rudy Giuliani said he is not trying to get Joe Biden in trouble but simply defending his client. According to Politico, Giuliani wants to prove President Donald Trump was framed by Democrats. He held..
Credit: Wochit News Duration: 00:32Published
Trump's memo a diplomatic car crash for Ukraine
The released memo of his conversation with Donald Trump is deeply embarrassing for Ukraine's president. Ukraine depends on U.S. aid, and many fear the last thing they need is for Volodymyr Zelenskiy to..
Credit: Reuters Studio Duration: 02:18Published
Nunes says some Democrats tried to obtain nude photos of Trump
During a hearing with the acting director of national intelligence, Rep. Devin Nunes suggests that some Democrats "negotiated with people who they thought were Ukrainians in order to obtain nude..
Credit: Reuters Studio Duration: 00:54Published
Former U.S. envoy says corrupt Ukrainians found U.S. partners
The former U.S. ambassador to Ukraine told a public impeachment hearing of President Donald Trump on Friday that corrupt Ukrainians found Americans willing to work with them to oust her.
Reuters - Published
​Taylor: Trump felt "wronged" by Ukrainians and felt they "owed" him
William Taylor, the top U.S. diplomat in Ukraine, said Wednesday that President Trump felt "wronged" by Ukrainians over the 2016 election, and believed they "owed" him investigations into the Bidens..
CBS News - Published
AP Top Stories November 12 A
Here's the latest for Tuesday November 12th: Impeachment witness transcript says Ukrainians asked about delayed aid; Israel kills Islamic Jihad commander; DACA goes to Supreme Court; Frigid cold..
USATODAY.com - Published
Giuliani says Pompeo told him he was "aware" of outreach to Ukrainians
President Trump's personal attorney Rudy Giuliani sits down with Margaret Brennan to talk about the impeachment inquiry into the president and the State Department's role in his outreach to Ukrainian..
CBS News - Published
For Biden, Whistle-Blower Complaint Could Cut 2 Ways
Reports that President Trump sought help from the Ukranian government could offer former Vice President Joseph R. Biden Jr. both opportunities and risks.
NYTimes.com - Published
Filmmaker Sentsov, 24 Ukrainian sailors in Russia-Ukraine prisoner swap: lawyer
Ukrainian filmmaker Oleg Sentsov, jailed in Russia, is among 35 Ukrainians who will be transferred from Moscow to Kiev as part of a prisoner exchanges on Saturday, his lawyer said.
Reuters - Published
Zelenskiy seeks broader mandate as Ukraine holds snap parliament election
Ukrainians voted in a snap parliamentary election on Sunday that is expected to strengthen President Volodymyr Zelenskiy's hold on power, handing the novice politician a broader mandate for driving..
Reuters - Published
Ukraine plans overhaul of citizenship process after Putin's passport offer
Ukraine's President Volodymyr Zelenskiy has ordered an overhaul of the process for granting Ukrainian citizenship, in response to a Russian decree expanding the number of Ukrainians who can apply for..
Reuters - Published
You Might Like