Tonga
Country in Oceania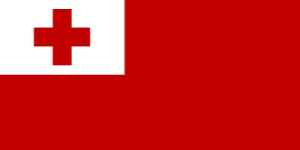 Tonga, officially named the Kingdom of Tonga, is a Polynesian sovereign state and archipelago comprising 169 islands, of which 36 are inhabited. The total surface area is about 750 square kilometres (290 sq mi) scattered over 700,000 square kilometres (270,000 sq mi) of the southern Pacific Ocean. The state has a population of 100,651 people, of whom 70% reside on the main island of Tongatapu.


Climate change campaigner Tongan PM dies in New Zealand
Tongan Prime Minister 'Akilisi Pohiva, a pro-democracy and climate change campaigner in the South Pacific, died in a New Zealand hospital on Thursday, the information ministry and media reports said.
Reuters - Published
Tongan Prime Minister Pohiva, 78, dies in New Zealand
Tongan Prime Minister 'Akilisi Pohiva, who was being treated for pneumonia at a hospital in Auckland, has died, New Zealand media said on Thursday.
Reuters - Published
England train ahead of the Rugby World Cup
England's rugby team have been put through their paces at the gym ahead of the Rugby World Cup in Japan. England's first game is against Tonga on September 22.
Credit: PA - Press Association STUDIO Duration: 00:42Published
Cheers! Sapporo taps into rugby fans thirst for beer
There is excitement in the air, mixed with a sense of trepidation, in Sapporo as the northern Japanese city prepares itself for an influx of thirsty rugby fans during the opening weekend of the World..
Credit: Reuters Studio Duration: 01:34Published
"In sports, nothing is set in stone", Macron tells France's rugby team
French president Emmanuel Macron visits les Bleus with words of encouragement ahead of their departure for the Rugby World Cup in Japan
Credit: Reuters - Sports Duration: 00:34Published
How A Giant Version Of This Everyday Beauty Product Could Help Heal The Great Barrier Reef
CNN reports a pumice stone the size of Manhattan is drifting towards Australia. It brings with it new marine life that could help with the recovery of the Great Barrier Reef's corals. Half of the..
Credit: Wochit News Duration: 00:41Published
A sheet of volcanic rock the size of Manhattan is floating toward Australia
The "raft" was captured by NASA Earth Observatory days after an underwater volcano 130 feet deep may have erupted near the island of Tonga.
USATODAY.com - Published
Quake of magnitude 6.1 strikes northwest off Tonga: USGS
An earthquake of magnitude 6.1 struck northwest of the South Pacific island nation of Tonga, the United States Geological Survey said on Monday.
Reuters - Published
Pita Taufatofua, shirtless Tongan at past two Olympics, is aiming for 2020 Tokyo Games
Pita Taufatofua, the Tongan athlete who went viral for shirtless appearances at past two Olympics, is turning his attention to 2020 - in sprint kayak.
USATODAY.com - Published
Search this site and the web:
You Might Like