Georgia (U.S. state)
State in the southeastern United States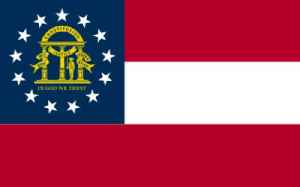 Georgia is a state in the Southeastern Region of the United States. Georgia is the 24th-largest in area and 8th-most populous of the 50 United States. Georgia is bordered to the north by Tennessee and North Carolina, to the northeast by South Carolina, to the southeast by the Atlantic Ocean, to the south by Florida, and to the west by Alabama. Its 2019 estimated population was 10,617,423, according to the U.S. Census Bureau. Atlanta, a "beta(+)" global city, is both the state's capital and its largest city. The Atlanta metropolitan area, with an estimated population of more than 6 million people in 2019, is the 9th most populous metropolitan area in the United States and contains about 57% of Georgia's entire population.


Slow-moving Sally drenches southeast states

[NFA] Storm Sally on Thursday dumped more than a foot of rain on parts of Alabama, Florida and Georgia, killed at least one person, washed out bridges and roads and left hundreds of thousands without..
Credit: Reuters - Politics Duration: 01:52
Published
Euronews officially launches news channel in Georgia

Euronews has already launched Euronews Albania and is set to introduce Euronews Serbia by the end of the year.View on euronews
Credit: euronews (in English) Duration: 01:04
Published
Chilling Whistleblower Complaint Alleges ICE Detention Facility Carried Out Unnecessary Sterilizations

A licensed practical nurse who previously worked at an Immigration and Customs Enforcement facility in Georgia has turned whistleblower. According to CNN, Dawn Wooten filed a complaint to the..
Credit: Wochit News Duration: 00:37
Published
Snoop Dogg And Rosario Dawson Team Up For New Game Show

Snoop Dogg, Rosario Dawson, Jennifer Nettles, and "The American Nightmare" Cody are teaming up for some competition. According to CNN, the stars will appear on a new TBS gameshow titled the "Go Big..
Credit: Wochit News Duration: 00:30
Published
Goat clambers into patrol car and munches on police paperwork

A US sheriff's deputy delivering civil papers returned to her patrol vehicleto find an eager new would-be driver – a goat. The Douglas County deputy wasserving the documents near Douglasville in..
Credit: PA - Press Association STUDIO Duration: 01:08
Published
'Operation Not Forgotten' Turns Up 39 Missing Kids in Georgia

In just two weeks, an operation by the US Marshals Service turned up 39 missing children in the Atlanta metro area. 'Operation Not Forgotten' tracked down 26 missing children, as well as the safe..
Credit: Wochit News Duration: 00:34
Published
Study: Super-Spreaders Are Contributing To 'Explosions' Of COVID-19 Transmission

A new study highlights the astonishing role played by 'super-spreaders' in the novel coronavirus COVID-19 pandemic. Super-spreading is a phenomenon in which certain individuals disproportionately..
Credit: Wochit News Duration: 00:39
Published
Violent clashes at protests across U.S.

[NFA] Right wing demonstrators fought with counter protestors in Georgia, Michigan and Oregon on Saturday drawing in riot police and SWAT teams. This report produced by Yahaira Jacquez.
Credit: Reuters Studio Duration: 01:49
Published
Trump declines to reject Qanon theory

Asked if he agrees with Georgia Republican Marjorie Taylor Greene's support of the unfounded Qanon conspiracy theory, U.S. President Donald Trump on Friday said "I did congratulate her" following her..
Credit: Reuters Studio Duration: 00:33
Published
Oh, Never Mind: Georgia Governor Stops Going After Atlanta Mayor, City Council

Georgia's Republican Governor Brian Kemp is dropping his July lawsuit against Atlanta's city council and Mayor Keisha Lance Bottoms. HuffPost reports the dispute was over Atlanta's order to wear masks..
Credit: Wochit News Duration: 00:35
Published
'Squad' sweep: Omar holds off primary challenger

U.S. Representative Ilhan Omar held off a well-funded challenger Tuesday and won the Democratic primary in her congressional district, putting her on track for re-election in November along with other..
Credit: Reuters - Politics Duration: 01:54
Published
Not Exactly Vacation: Over 900 Students, Staff Test COVID-19 Positive In Georgia School District

Schools across Cherokee County, Georgia, are reeling from a massive outbreak of the novel coronavirus COVID-19. According to HuffPost, the district has already asked 826 students and 42 faculty and..
Credit: Wochit News Duration: 00:36
Published
Democrats eye elusive presidential prize: Texas

[NFA] For the first time in 25 years a Democratic presidential candidate is running TV ads specifically targeting Texas, and Democrats say even a small investment in the Lone Star state could boost..
Credit: Reuters - Politics Duration: 02:01
Published
High-flying family lawyer reveals how she moonlights as a sexual energy healer

A family lawyer who moonlights as a sexual energy healer has drawn comparisonsbetween her two jobs - saying one requires brain power and the other the"power of love" \- with both focusing on helping..
Credit: PA - Press Association STUDIO Duration: 02:14
Published
Despite The Pandemic, Americans Still Love The Open Road

With a novel coronavirus case count nearing five million, the United States now holds about a quarter of all the COVID-19 cases in the world. According to CNN, more than,162,000 Americans have died in..
Credit: Wochit News Duration: 00:41
Published
Georgia Schools Reopen With Packed Hallways, Students Catching COVID

Reopened schools in Georgia's Paulding and Cherokee counties drew negative attention this week. Viral photos showed students packing hallways with little regard for social distancing or mask-wearing...
Credit: Wochit News Duration: 00:32
Published
Biden unveils $280 mln campaign advertising blitz

[NFA] The Democratic presidential candidate plans to buy digital and TV ads in 15 states, including key battlegrounds and Republican-leaning states. This report produced by Zachary Goelman.
Credit: Reuters - Politics Duration: 01:59
Published
U.S. teachers protest school reopenings

[NFA] Teachers from dozens of school districts nationwide protested plans by some governors to resume in-class instruction, saying it threatens the safety of students, their families and educators...
Credit: Reuters - Politics Duration: 01:45
Published
You Might Like



Live updates: Sally dumps torrential rains as flood threats expand

More than half a million people across Alabama, Georgia and Florida were without power Thursday.




CBS News - Published





Sally is far from finished: 600,000 without power across South as flooding, rains move north

The remnants of Hurricane Sally is continuing to flood the Deep South, while parts of Georgia, the Carolinas and Virginia could see a foot of rain.  




USATODAY.com - Published




Sally weakens to tropical depression after destructive landfall as Category 2 hurricane

Tropical Depression Sally is now drenching parts of Georgia and Alabama, after first making landfall as a Category 2 hurricane near the Florida-Alabama state line early Wednesday. The storm killed at..




CBS News - Published





Inquiry Ordered Into Claims Immigrants Had Unwanted Gynecology Procedures

Members of Congress and the D.H.S. are investigating claims by a nurse and lawyers that immigrant detainees in Georgia were complaining of unwanted procedures and rough treatment.




NYTimes.com - Published





Cardi B files to divorce Offset, seeks custody of their 2-year-old daughter Kulture

Cardi B filed a divorce petition in Fulton County, Georgia on Tuesday, requesting an end to her marriage to Offset.




USATODAY.com - Published





Cardi B Files to Divorce Offset

Cardi B is apparently over her marriage to Offset -- she just filed for divorce ... TMZ has learned. The rapper filed court docs in Georgia indicating she's seeking a dissolution of marriage. Not only..




TMZ.com - Published





Audio captures sailors shouting before ship capsized off Georgia

The capsized with more than 4,200 automobiles in its cargo decks on Sept. 8, 2019.




CBS News - Published





Explosive charges from nurse at immigrant detention center

Whistleblower alleges questionable hysterectomies and shoddy COVID care at Georgia immigrant detention center




CBS News - Published





Georgia Deputy on video punching Black man fired

A sheriff's deputy in Georgia has been fired after being captured on video repeatedly punching a Black man during a traffic stop, authorities said. (Sept. 14)  




USATODAY.com - Published





Georgia sheriff deputy fired after repeatedly punching a Black man during traffic stop

A sheriff's deputy in Georgia has been fired after being captured on video repeatedly punching a Black man during a traffic stop.  




USATODAY.com - Published

Also reported by •CBS News


Georgia Sheriff's Deputy Is Fired Over Beating of Black Man

The Clayton County Sheriff's Office said the deputy was terminated for "excessive use of force" after a video showing him pinning and punching Roderick Walker, 26, was circulated widely on social..




NYTimes.com - Published




Covid-19 Live Tracker News

A 58-year-old college president in Georgia died of Covid-19. One member of Prime Minister Benjamin Netanyahu's cabinet resigned from Israel's government over a nationwide lockdown that coincides..




NYTimes.com - Published





19 Black Families Buy 90-Plus Acres in Georgia to Start Safe Community

More than a dozen Black families came together for a common cause in Georgia -- snatching up a bunch of land to start their own community, which they hope will be a safe haven. The nearly 97 acres of..




TMZ.com - Published





Congressional candidate drops out of race against QAnon booster

The state's Democratic party is now waiting on the Georgia's Secretary of State office to rule on whether they can remove Kevin Van Ausdal's name from the ballots and replace it with another Democrat.




CBS News - Published





Marcia Sasser, Who Smiled Through Chronic Pain, Dies at 75

Despite suffering from rheumatoid arthritis for decades, she traveled frequently and became the star of her SilverSneakers exercise class in Georgia.




NYTimes.com - Published





Trump drilling reversal could boost coastal GOP senators

President Trump signed a memorandum Tuesday extending the ban on oil drilling off the coast of Florida, Georgia and South Carolina.




CBS News - Published





Georgia probes double voting in primary election

Georgia's top elections official said Tuesday that his office has identified about 1,000 cases of double voting in the June primary election – a felony he's determined to see prosecuted. (Sept...




USATODAY.com - Published





In Georgia, Officials Are Investigating Hundreds of Cases of Double Voting

Georgia's secretary of state, Brad Raffensperger, said that 1,000 people voted twice in the state's June primary and August runoff elections, and warned that "we will prosecute."




NYTimes.com - Published





This goat wasn't kidding around: Georgia farm animal jumps into cop car, chews papers, spills a drink, then head-butts deputy

A sheriff's deputy in Georgia left her car door open while serving civil papers. Moments later, an uninvited passenger jumped in and caused trouble.




USATODAY.com - Published




'Operation Homecoming' leads to rescue of 8 endangered children in Indiana, US Marshals say

The rescued children in Indiana were between the ages of 6 and 17. Over 50 children were recovered recently in similar operations in Georgia and Ohio.




USATODAY.com - Published




Goat Breaks Into Deputy's Patrol Car, Eats Her Paperwork!

A Georgia cop came face-to-face with Billy Gruff himself after leaving her patrol car door open, which left her work papers ripe for the picking chomping. This hilarious woman-versus-wild encounter..




TMZ.com - Published





A 60-year-old Black man was shot and killed by a Georgia trooper. The officer has been denied bond.

Screven County's chief judge denied Gordon Thompson's motion for bond on Friday in connection to his fatal shooting of Julian Lewis in early August.




USATODAY.com - Published




Families seeking justice in older police killings find hope amid a summer of protests.

Among those deaths is that of Hector Arreola, killed in 2017 by police in Columbus, Georgia. A new DA now says the officers should face felony charges.




USATODAY.com - Published





A Georgia church is the first in the country to split from United Methodist Church over LGBTQ rights

Asbury has long been "the Island of Misfit Toys," as some congregation members have described it. The split was nearly unanimous among its members.




USATODAY.com - Published




Georgia church splits from Methodists over LGBTQ dispute

More than 300 church members supported the split, while only 7 voted to remain part of the denomination.




CBS News - Published





Guess Who This Crafting Kid Turned Into!

Before this arts and crafts kid launched her critically-acclaimed acting career, she was just another sweet school girl doing her assignments while growing up in Atlanta, Georgia. This little lady got..




TMZ.com - Published





Coronavirus live updates: Fauci implores Americans to help contain COVID spikes over Labor Day; football is game-on in the hotspot of Iowa

Iowa State to welcome 25K fans at home opener. Georgia extends restrictions. Fauci cautions on Labor Day superspreaders. Latest COVID news.




USATODAY.com - Published





U.S. Marshals find 39 missing children over two-week operation

The U.S. Marshals Service says it found 39 missing children in Georgia over two weeks in a mission known as "Operation Not Forgotten." The agency announced in a press release that the operation led to..




CBS News - Published





Sen. Rand Paul: I was 'attacked by an angry mob' following Trump's RNC speech

Georgia state Rep. Vernon Jones, a Democrat who endorsed Trump, was also approached by protesters in Washington, D.C. after the Trump's RNC speech.




USATODAY.com - Published





Local Matters: Republicans look to defend two Georgia Senate seats

Two U.S. Senate seats are up for grabs in Georgia this November. Both are held by Republicans who are facing tough challenges as Democrats work to gain a majority in the chamber. Greg Bluestein, a..




CBS News - Published





DeVos visits Georgia students at school amid virus

Secretary of Education Betsy DeVos is softening earlier comments that called for schools to reopen for in-person instruction for all, saying during a visit to a Georgia high school that what she really..




USATODAY.com - Published





RNC speaker: Dems want Blacks in mental plantation

A Democratic representative in the Georgia state legislature told black voters at the Republican National Convention Monday night that the Democratic party "doesn't want Black people to leave their..




USATODAY.com - Published





Clemson, Alabama lead way in preseason NCAA Re-Rank 1-76

Clemson, Alabama and Georgia lead the USA TODAY Sports preseason college football rankings of all 76 teams set to play in 2020.




USATODAY.com - Published





Officer Michael Oxford Is Fired After TikTok Videos Show His Arrest of Black Woman

The officer "did not meet our core values" in the way he acted, the police department in Gwinnett County, Ga., said.




NYTimes.com - Published





Georgia cop fired after viral video shows woman being tasered

An officer with the Gwinnett County Police Department in Georgia was fired following a controversial arrest that was caught on video and widely shared on social media.




CBS News - Published





White Georgia police officer uses shock weapon on Black woman, faces investigation as video goes viral

A Gwinnett County police officer in Georgia is under investigation after a viral video showed him using a Taser on a woman.




USATODAY.com - Published




CBS Evening News, August 19, 2020

Out-of-control California wildfires prompt state of emergency; Georgia teachers bring the "cool" in back to school with viral music video




CBS News - Published





Georgia teachers bring the "cool" in back to school with viral music video

For millions of students, back to school this year means back to the laptop. So a pair of Georgia teachers decided to update their welcome back message for the age of distance learning. Vladimir..




CBS News - Published





Georgia students push for mask mandate in reopened school

Some schools across the county have now resumed in-person classes without a mask requirement and it's making many students concerned for their health. Mark Strassmann reports for CBS News' series "The..




CBS News - Published





Georgia students stage die-in on first day of class

About 40 students and others, including members of the campus workers union, held a die-in Monday at Georgia Tech. They mimed their deaths and called on administrators to send people home, refund room..




USATODAY.com - Published





Strange return to college for some Georgia students

Students at Georgia Tech and five other public universities in the state have returned to class. With many classes meeting online to limit the spread of the virus, campuses saw only a trickle of..




USATODAY.com - Published





QAnon conspiracy theory gains foothold in right-wing politics

The far-right conspiracy known as QAnon has gained traction on social media, and broke into the mainstream when Marjorie Taylor Greene, a known QAnon supporter won a Republican congressional primary..




CBS News - Published





Georgia college students throw massive party despite COVID-19

"We are disappointed that many of our students chose to ignore COVID-19 public health guidance by congregating in a large group without social distancing or face coverings," a UNG rep said in a..




CBS News - Published





Colorado vets perform surgery on rescued grizzly bear

Doctors at Colorado State University's Veterinary Teaching Hospital hope to give a 300 pound bear named Marley a new chance at life. Part grizzly and part brown bear, Marley was found with two broken..




CBS News - Published





Georgia governor allows local mask mandates, with limits

Governor Brian Kemp signed an executive order Saturday.




CBS News - Published





A College's 'Free Speech Areas' Face Supreme Court Review

The justices will consider whether a student's First Amendment lawsuit may proceed after a college in Georgia abandoned its restrictions.




NYTimes.com - Published





AP Top Stories Aug. 15 P

Here are the top stories for Saturday, Aug. 15: Police move in after fights at Georgia protest; Protests in Belarus at spot where demonstrator died; Giant panda could give birth in days; Events around..




USATODAY.com - Published