Mario Batali
American chef, writer, restaurateur and media personality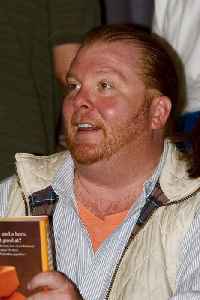 Mario Francesco Batali is an American chef, writer, restaurateur, and media personality. Batali formerly co-owned restaurants in New York City; Las Vegas; Los Angeles and Newport Beach, California; Boston; Singapore; Westport, Connecticut; and New Haven, Connecticut. Batali was also known for his appearances on the Food Network, on shows such as Molto Mario and Iron Chef America, on which he was one of the featured "Iron Chefs". In 2017, the restaurant review site Eater revealed multiple accusations of sexual assault against Batali and, in March 2019, he sold all his restaurant holdings—attributed to the aforementioned allegations.


The Real Power of Google, The Theranos deception, The Spotted Pig
How did Google get so big; then, the Theranos deception; and, Mario Batali and the Spotted Pig
CBS News - Published
Chef Mario Batali pleads not guilty to groping charges
The celebrity chef is accused of forcibly kissing and groping a woman at a Boston restaurant in 2017
CBS News - Published
Also reported by •USATODAY.com
Mario Batali Appears in Court to Deny Charges of Sexual Assault
In Boston, the celebrity chef pleads not guilty to charges that he groped a woman in a bar.
NYTimes.com - Published
Eye Opener at 8: Mario Batali faces charge for alleged groping
A look back at what we've been covering on "CBS This Morning."
CBS News - Published
ShowBiz Minute: Batali, Rush, Bond
Celebrity chef Mario Batali facing assault charge in Boston; Geoffrey Rush awarded $2 million in Sydney defamation case; Daniel Craig to undergo minor ankle surgery for Bond injury. (May 23)
USATODAY.com - Published
Mario Batali charged for allegedly groping woman at restaurant
This appears to be the first criminal charge to come from a series of sexual misconduct allegations against the celebrity chef
CBS News - Published
Mario Batali gives up restaurants more than year after sexual misconduct claims
He has no longer has up any role in Batali & Bastianch Hospitality Group, which runs 20 restaurants in six cities
CBS News - Published
Also reported by •USATODAY.com
U.S. chef Mario Batali cuts ties with restaurants after abuse accusations
Celebrity chef and former television star Mario Batali sold his stakes in his U.S. restaurants on Wednesday, after accusations of sexual harassment caused him to be fired from a television cooking show..
Reuters - Published
You Might Like