Alex Jones
American radio host, author, conspiracy theorist and filmmaker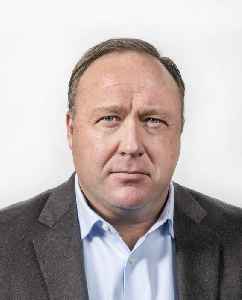 Alexander Emric Jones is an American radio show host and far-right conspiracy theorist. He hosts The Alex Jones Show from Austin, Texas, which airs on the Genesis Communications Network across the United States and online. Jones runs a website, InfoWars, based on conspiracy theories and fake news, and the websites NewsWars and PrisonPlanet.


You Might Like
Conspiracy theorist Alex Jones ordered to stop peddling phony coronavirus cures by New York AG
Jones peddles colloidal silver-infused toothpaste, mouthwash, creams and supplements that he claims are a "stopgate" against the virus, the attorney general says.
USATODAY.com - Published
Conspiracy theorist Alex Jones charged with DWI in Texas, authorities say
Texas police say Austin-based Alex Jones was booked into the Travis County Jail on a charge of driving while intoxicated just after midnight Tuesday.
USATODAY.com - Published
Infowars founder who claimed Sandy Hook shooting was a hoax ordered to pay $100,000
Conspiracy promoter and right-wing media personality Alex Jones has been ordered to pay $100,000 in court costs and legal fees stemming from a lawsuit over his claims that the 2012 Sandy Hook massacre..
Reuters - Published
Judge Orders Alex Jones and Infowars to Pay $100,000 in Sandy Hook Legal Fees
The ruling was part of a defamation lawsuit against Mr. Jones, who has promoted conspiracy theories that the 2012 school shooting in Connecticut was a hoax.
NYTimes.com - Published
Fighting the lies about Sandy Hook
In the nearly six years since the mass shooting at Sandy Hook Elementary School, the community of Newtown, Connecticut – and all 26 families who lost a child or a loved one – have slowly tried to..
CBS News - Published
Alex Jones sanctioned by court after child porn dispute
A court filing claims the Infowars founder may have committed "a serious federal crime," but it's unclear if he knew about the images
CBS News - Published
Alex Jones sent child pornography to Sandy Hook victims' lawyer, court documents allege
Lawyers representing the families of Sandy Hook victims filed a statement alleging that they found child porn in documents sent by Jones' defense.  
USATODAY.com - Published