Google
American technology company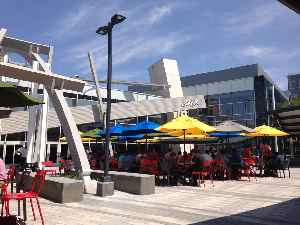 Google LLC is an American multinational technology company that specializes in Internet-related services and products, which include online advertising technologies, a search engine, cloud computing, software, and hardware. It is considered one of the Big Four technology companies alongside Amazon, Apple and Microsoft.


Google announces partnership with ADT, to invest Dollar450 million

Google on Monday announced a partnership with security firm ADT and said as part of this multi-year partnership, it will 'make a Dollar 450 million investment in ADT'. "Today, we're announcing a..
Credit: ANI Duration: 01:09
Published
ADT Stock Goes Up 97%

On Monday, ADT announced that it will be partnering with Google on a new line of smart home security products. Business Insider reports shares of ADT surged as much as 100% Monday to an all-time high..
Credit: Wochit News Duration: 00:36
Published
Australia to force Facebook, Google to pay for news

Australia will force U.S. tech giants Facebook Inc and Alphabet Inc's Google to pay Australian media outlets for news content in a landmark move to protect independent journalism that will be watched..
Credit: Reuters Studio Duration: 01:29
Published
Google One to roll out free storage management feature for iOS, Android devices

The cloud storage service, Google One launched by Google in 2018 will now backup the data on iOS and Android phones for free with the Google account. According to the Verge, iOS app will backup the..
Credit: ANI Duration: 01:10
Published
Google's $2.1 bln Fitbit deal 'faces EU probe'

Google's $2.1 billion bid for fitness tracker maker Fitbit will face a full-scale EU antitrust investigation next week, people familiar with the matter have said. Joe Davies reports.
Credit: Reuters Studio Duration: 01:04
Published
Top tech CEOs Facebook, Amazon, Google and Apple told they 'have too much power'

The four companies had to answer questions to determine whether they may simply be too bigView on euronews
Credit: euronews (in English) Duration: 02:00
Published
U.S. lawmakers accuse Big Tech of crushing rivals

Google and Facebook took particularly sharp jabs for alleged abuse of their market power from Democrats and Republicans on Wednesday in a much-anticipated congressional hearing that put four of..
Credit: Reuters Studio Duration: 02:19
Published
Big tech CEOs testify on companies' practices

Facebook's Mark Zuckerberg, Amazon's Jeff Bezos, Sundar Pichai of Google andTim Cook of Apple are testifying on their companies' practices before Congressin a year-long investigation into market..
Credit: PA - Press Association STUDIO Duration: 01:21
Published
Google To Allow Employees To Work From Home Until Summer 2021

Google employees will be allowed to work from home until at least July 2021. According to CNN, the tech company made the announcement concerning their employee's on Monday. The company had initially..
Credit: Wochit News Duration: 00:30
Published
Google to replace certain Nest Thermostats that can't connect to wi-fi

Tech giant Google has announced that Nest thermostat owners, who encountered a 'w5' error, would have their thermostats replaced if the normal troubleshooting steps failed. According to Mashable,..
Credit: ANI Duration: 01:12
Published
Alexa will soon launch Android, iOS apps through voice commands

Amazon is currently working on a new feature for its voice assistant service Alexa which will allow the software to launch Android as well as iOS applications through voice commands. According to The..
Credit: ANI Duration: 01:22
Published
Google experiments with new video-based shopping app named Shoploop

Tech giant Google has announced a new experiment called Shoploop that brings an interactive shopping experience to consumers. According to Mashable, created by the company's research and development at..
Credit: ANI Duration: 01:10
Published
The Ice Cream Flavors Each U.S. State Craves Right Now

Sunday is National Ice Cream Day! According to the Huff Post, to celebrate the occasion, Google shared a list of the most uniquely searched ice cream flavors, in every American state within the last..
Credit: Wochit News Duration: 00:37
Published
Google and Jio to jointly build android-based smartphone operating system: Mukesh Ambani

Reliance Industries Chairman Mukesh Ambani at their 43rd Annual General Meeting announced that Google and Jio are partnering to build an Operating System that could power a value-engineered,..
Credit: ANI Duration: 02:42
Published
Google set to invest $10 bln in India

Google plans its biggest investment yet in India, saying it will spend $10 bln there over the next few years. Julian Satterthwaite.
Credit: Reuters Studio Duration: 01:20
Published
PM Modi interacts with Google CEO Sundar Pichai via video conferencing

Prime Minister Narendra Modi interacted with Google CEO Sundar Pichai via video conferencing. The PM interacted with Pichai and his team member on July 13. Google CEO Sundar Pichai announced that, "We..
Credit: ANI Duration: 01:08
Published
Android 10 sees fastest adoption rate, 28pc faster than Android Pie

Google has said that Android 10 is seeing the fastest adoption rates of any version of Android, with 100 million devices running Android 10 in just five months after its launch. Android 10 seeing the..
Credit: ANI Duration: 01:11
Published
You Might Like



Google buys $450 million stake in ADT to fortify Nest

Search giant want to integrate internet-enabled products for the home with security technology.




CBS News - Published





Congress and technology: Do lawmakers understand Google and Facebook enough to regulate them?

The CEOs of Amazon, Apple, Facebook and Google were grilled by a House subcommittee. Should we be concerned that lawmakers don't understand big tech?




USATODAY.com - Published





Lawmakers, United in Their Ire, Lash Out at Big Tech's Leaders

The chiefs of Amazon, Apple, Google and Facebook faced withering questions from Democrats about anti-competitive practices and from Republicans about anti-conservative bias.




NYTimes.com - Published





Google, Apple, Facebook, Amazon go virtually to Washington: Big Tech CEOs questioned over antitrust concerns

Bipartisan panel split between questions of fairness to small business, vs. silencing conservative thought




USATODAY.com - Published





Google accused of robbing ideas from other sites

A congressional committee investigating the power of major technology companies accused Google of leveraging its dominant search engine to steal from other websites and manipulate results to drive..




USATODAY.com - Published





4 Big Tech CEOs draw scrutiny on Capitol Hill

Four Big Tech CEOs - Facebook's Mark Zuckerberg, Amazon's Jeff Bezos, Sundar Pichai of Google and Tim Cook of Apple - are testifying on their companies' practices on the issue of market dominance in..




USATODAY.com - Published





Amazon, Apple, Facebook and Google Prepare for Their 'Big Tobacco Moment'

The tech C.E.O.s will appear together at a congressional hearing on Wednesday to argue that their companies do not stifle competition.




NYTimes.com - Published





Apple co-founder joins legal fight against YouTube

Apple co-founder Steve Wozniak is joining a legal fight taking aim at the flimsy controls on Google's YouTube site that have turned him into an unwilling pawn in a scam believed to have heisted..




USATODAY.com - Published





Business Leaders Urge Trump to Leave DACA Alone After Court Ruling

Executives with companies including Target, Apple, Google and Facebook warned the president that any actions related to DACA would disrupt the economy and affect the battle against the coronavirus.




NYTimes.com - Published





Fact check: Chihuahuas are dogs, not large rats

A screen grab of a Google search claims Chihuahuas are large rats and not dogs. This claim, around since 2004, is false.




USATODAY.com - Published





Are coronavirus contact tracing apps doomed to fail in America?

It's easy to see why so many are skeptical about privacy with Google and Apple COVID-19 tracing apps with tech that already knows too much about us.




USATODAY.com - Published





Google Doodle celebrates Juneteenth with video highlighting 'Lift Every Voice and Sing' poem

Google recognizes Juneteenth with a video Doodle, designed by artist Loveis Wise, set to the first verse of the poem "Lift Every Voice and Sing."




USATODAY.com - Published





U.S. House panel hears from Facebook, Google, Twitter on election security

Top officials from Facebook Inc , Alphabet Inc's Google and Twitter Inc appeared remotely before U.S. lawmakers on Thursday at a virtual hearing on foreign influence and election security.




Reuters - Published




Europe threatens digital taxes without global deal, after U.S. quits talks

France said a U.S. decision to quit global talks on how to tax big digital firms such as Google, Amazon and Facebook was a "provocation" and the European Union said it could impose taxes even if no..




Reuters - Published





EU ready to go it alone on taxation of digital firms

The European Union is ready to go it alone with taxing digital services of firms like Google, Amazon, Facebook or Apple if there is no global deal on such a tax this year, European Economic..




Reuters - Published





Google pulls its ads from ZeroHedge, warns The Federalist about dangerous and derogatory speech

Conservative outlets ZeroHedge and The Federalist were given notices by Google to remove content violating its dangerous and derogatory policy.




USATODAY.com - Published





Fact check: Google did not automatically sign up Android users for COVID-19 tracing app

As technology for contact tracing appears, claims state that apps will be automatically downloaded on devices. That's partly false; users must opt in.




USATODAY.com - Published





The Economy Is Reeling. The Tech Giants Spy Opportunity.

Many companies are retreating. But Amazon, Apple, Facebook, Google and Microsoft are placing bets to get even bigger.




NYTimes.com - Published





Google, NFL latest to call for Juneteenth commemorations

Google and the National Football League have joined a growing list of U.S. private sector organizations choosing to commemorate June 19th, the date marking the emancipation of the last remaining slaves..




Reuters - Published





Google killing Google Play Music for YouTube Music in 2020

New tab in Google Play Music app lets you transfer playlists, libraries, uploads and personal preferences over to YouTube Music.




USATODAY.com - Published




U.S. states lean toward breaking up Google's ad tech business: CNBC

The U.S. state attorneys general investigating Alphabet Inc's Google for potential antitrust violations are leaning towards pushing for a breakup of its ad technology business as part of an expected..




Reuters - Published





Chinese Hackers Target Email Accounts of Biden Campaign Staff, Google Says

The technology giant also confirmed reports that Iran had targeted President Trump's campaign, underscoring the persistent threat of hackers in the 2020 election.




NYTimes.com - Published





Google postpones Android 11 unveiling amid U.S. protests

Alphabet Inc's Google on Saturday said it has postponed next week's planned unveiling of the beta version of its latest Android 11 mobile operating system in light of protests and unrest in the United..




Reuters - Published





Trump executive order takes aim at social media firms: draft

U.S. President Donald Trump is expected to order a review of a law that has long protected Twitter, Facebook and Alphabet's Google from being responsible for the material posted by their users,..




Reuters - Published





Trump's executive order targets political bias at Twitter and Facebook: draft

U.S. President Donald Trump is expected to order a review of a law that has long protected Twitter, Facebook and Alphabet's Google from being responsible for the material posted by their users,..




Reuters - Published





U.S. state of Arizona files consumer fraud lawsuit against Google

Arizona on Wednesday filed a consumer fraud lawsuit against Alphabet Inc's Google alleging that the company used "deceptive" and "unfair" practices to obtain the location data of users.




Reuters - Published





The most-searched recipes on Google to inspire your next quarantine meal

Have you been looking for recipes during coronavirus quarantine? Here are six of the most-searched foods on Google, along with related recipes.




USATODAY.com - Published





Apple and Google join forces on tech for app that could warn you of coronavirus exposure

Tech giants' software anonymizes smartphone data to help health agencies monitor COVID-19 spread




USATODAY.com - Published





San Francisco area roads busier, still far below normal as stay home orders remain

More people have been venturing out for work and play in recent weeks in the San Francisco Bay Area, according to traffic data, even as some of the strictest stay-at-home orders in the country remain..




Reuters - Published





Elderly home turns to wearables for contact tracing, sidestepping Apple-Google limits

When a senior living facility in Amarillo, Texas suspected a nurse may have caught the novel coronavirus this month, it had a list within five minutes of staff and residents the nurse could have..




Reuters - Published





U.S. Is Said to Plan to File Antitrust Charges Against Google

The case may be joined by state attorneys general in what would be one of the biggest antitrust actions by the United States since the late 1990s.




NYTimes.com - Published





Alphabet's Loon and S.Africa's Vodacom to expand rural internet in Mozambique

Loon, a unit of Google's owner Alphabet Inc , which uses high-altitude balloons to provide mobile internet to remote areas, has signed a deal with Vodacom to expand the South African mobile operator's..




Reuters - Published





Ex-Google engineer who alleged discrimination against conservative white men asks judge to dismiss lawsuit

James Damore worked as an engineer at Google before being fired after criticizing the company's efforts to improve diversity among its workforce.




USATODAY.com - Published





EU should beef up fake news pledge involving Google, Facebook, Twitter: study

The European Union should strengthen a voluntary pledge, to which Facebook Inc, Alphabet Inc's Google and Twitter Inc signed up to combat fake news, with sanctions to make it a more effective tool, a..




Reuters - Published





White-Collar Companies Race to Be Last to Return to the Office

Google, Facebook, Amazon, Capital One and others are extending work-from-home policies to September and sometimes far beyond.




NYTimes.com - Published





Apple, Google will warn you if you've been exposed to COVID-19. Here's how.

Apple and Google give a first look at how public health apps will alert you if you've crossed paths with someone who tested positive for COVID-19.




USATODAY.com - Published





'I Could Solve Most of Your Problems': Eric Schmidt's Pentagon Offensive

The former Google C.E.O. has reinvented himself as the prime liaison between Silicon Valley and the military-industrial complex.




NYTimes.com - Published





Most Americans cannot or will not use COVID-19 contact tracing apps: poll

More than half of all Americans either do not own smartphones or would not use apps backed by Alphabet Inc's Google and Apple Inc to trace who has been exposed to the new coronavirus, according to a..




Reuters - Published





YouTube expands fact-check feature to U.S. video searches during COVID-19 pandemic

YouTube, the video service of Alphabet Inc's Google, said on Tuesday it would start showing text and links from third-party fact checkers to U.S. viewers, part of efforts to curb misinformation on the..




Reuters - Published





Germany flips to Apple-Google approach on smartphone contact tracing

Germany changed course on Sunday over which type of smartphone technology it wanted to use to trace coronavirus infections, backing an approach supported by Apple and Google along with a growing number..




Reuters - Published





Germany flips on smartphone contact tracing, backs Apple and Google

Germany changed course on Sunday over which type of smartphone technology it wanted to use to trace coronavirus infections, backing an approach supported by Apple and Google along with a growing number..




Reuters - Published





Coronavirus phone tracing by Apple and Google could help America reopen

Beside more COVID-19 testing, U.S. recovery needs contact tracing to identify and isolate the infected. There's about to be an app for that: Our view




USATODAY.com - Published





U.S. senator says Apple, Google need to show contact tracing will not violate privacy

Smartphone software makers Alphabet's Google and Apple will have to convince the public that any apps to help track who has been exposed to the new coronavirus will not lead to a violation of their..




Reuters - Published




Zoom, Google Meet, Teams : Can't get a webcam? That old phone in a drawer can help

You don't have to pay a fortune for a webcam. There's an easy and free way to use old smartphones for better-looking video chats. Here's how.




USATODAY.com - Published





Coronavirus Live Updates: Apple and Google are Building a Tool to Track the Contagion

Turkey ordered a two-day lockdown on short notice. The United States, citing the virus, vowed to issue visa penalties for countries that refuse to accept people it wants to deport.




NYTimes.com - Published





Apple, Google to harness phones for virus tracking

New software the companies plan to add to phones would make it easier to use Bluetooth wireless technology to track down people for who may have been infected by coronavirus carriers (April 10).  




USATODAY.com - Published





Coronavirus Live Updates: Trump Calls Relaxing Restrictions a Major Decision as Projections Warn of a Possible Infection Spike

Global supply chains have been disrupted, leading to shortages of key goods. Michigan will ban travel between homes. Apple and Google said they plan to release a feature in cellphones to help with..




NYTimes.com - Published





Apple and Google Team Up to 'Contact Trace' the Coronavirus

The technology giants said they would embed a feature in iPhones and Android devices to enable people to track the virus.




NYTimes.com - Published





Europe's north-south lockdown divide revealed by Google data

Italy and Spain, the two European countries hardest hit by the new coronavirus, have enforced the most drastic lockdowns to curb the pandemic but one country, Sweden, stands out for allowing life to go..




Reuters - Published





Factbox: Latest on the spread of the coronavirus around the world

The coronavirus has brought hard-hit Italy to a standstill, led to runs on grocery stores around the world and prompted a stark drop in going-out between Mardi Gras and St. Patrick's Day, location data..




Reuters - Published