Maryland
State of the United States of America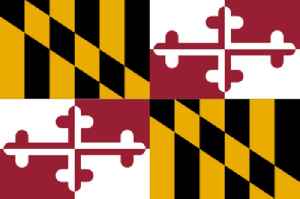 Maryland is a state in the Mid-Atlantic region of the United States, bordering Virginia, West Virginia, and the District of Columbia to its south and west; Pennsylvania to its north; and Delaware to its east. The state's largest city is Baltimore, and its capital is Annapolis. Among its occasional nicknames are Old Line State, the Free State, and the Chesapeake Bay State. It is named after the English queen Henrietta Maria, known in England as Queen Mary, who was the wife of King Charles I.


Roller coaster malfunction causes cars to collide; multiple kids taken to hospital
Five people were taken to the hospital Friday night after malfunctioning roller coaster failed to stop in Ocean City, Maryland.
USATODAY.com - Published
'Dead zone': Data confirms dire warnings about algae growing in Chesapeake Bay
Maryland scientists have been warning of a growing "dead zone" in the Chesapeake Bay. Data confirms their dire warnings.
USATODAY.com - Published
Woodstock 50 officially cancelled: Organizers
The troubled Woodstock 50 anniversary music festival planned for August was officially canceled on Wednesday, with organizers blaming a series of "unforeseen setbacks." Gavino Garay reports.
Credit: Reuters Studio Duration: 01:04Published
What Does John Delaney Believe In?
Former Maryland Rep. John Delaney joined the 2020 Democratic list of presidential candidates. On immigration, he supports a pathway to citizenship and wants to increase refugee resettlement caps. On..
Credit: Wochit News Duration: 00:32Published
Trump tells black lawmaker to clean 'disgusting' district
President Donald Trump hit out at a prominent African-American lawmaker on Saturday, saying he should concentrate on cleaning up his "disgusting, rat and rodent infested" Baltimore district rather..
Credit: Reuters Studio Duration: 02:04Published
Juul co-founder calls underage use 'serious problem'
Juul co-founder James Monsees on Thursday told a House Oversight and Reform Subcommittee hearing on Thursday the company "never wanted" non-nicotine users and "certainly nobody underage" to use the..
Credit: Reuters Studio Duration: 01:13Published
Heat wave scorches eastern, central U.S.
Forecasters are predicting temperatures to reach into the 90s on Saturday, with a massive heat wave blanketing across the eastern and central U.S. Nathan Frandino has more.
Credit: Reuters Studio Duration: 01:10Published
Delaney Goes After Biden
John Delaney is running for President. Delaney is a congressman from Maryland. He's currently polling in single digits, well behind front runner Joe Biden. But John Delaney says he's got something to..
Credit: Wochit News Duration: 00:32Published
Census Question Lingers
The U.S. Justice Department is still considering how to proceed on an effort to add a citizenship question to the 2020 U.S. Census. This news comes via Reuters, which viewed court papers filed on..
Credit: Wochit News Duration: 00:32Published
Trump considers executive order on census question
President Donald Trump said on Friday that he is considering an executive order to add a contentious question about citizenship to the 2020 U.S. Census. Rough Cut (no reporter narration).
Credit: Reuters Studio Duration: 00:58Published
Supreme Court Rejects Limits to Partisan Gerrymandering
According to Reuters, the U.S. Supreme Court on Thursday rejected efforts to the practice of manipulating electoral district boundaries to entrench one party in power by turning away challenges to..
Credit: Wochit News Duration: 00:36Published
SCOTUS rules on gerrymandering, citizenship question
Dual rulings out of the Supreme Court Thursday will have a big impact on the electoral map. Jonah Green reports.
Credit: Reuters Studio Duration: 01:51Published
Millionth decorated dog, TV set mystery, Washington mural: News from around our 50 states
Schools officials say grid can't handle box fans in Maryland, Alabama man restarts 50-state mowing mission alongside cops, and more
USATODAY.com - Published
Police bust spa, accuse owner of human trafficking at Maryland 'house of prostitution'
Authorities in Maryland have shut down a massage parlor and charged its owner with human trafficking.
USATODAY.com - Published
A Maryland family was asked to leave Outback Steakhouse. Why? Their special-needs son was too loud
A Maryland woman and her family were asked to leave an Outback Steakhouse after her son, who has special needs, was the subject of a noise complaint.
USATODAY.com - Published
Search this site and the web:
You Might Like