Capitol Hill
Neighborhood in Washington D.C.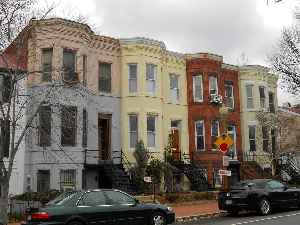 Capitol Hill, in addition to being a metonym for the United States Congress, is the largest historic residential neighborhood in Washington, D.C., stretching easterly in front of the United States Capitol along wide avenues. It is one of the oldest residential neighborhoods in Washington, D.C., and with roughly 35,000 people in just under 2 square miles (5 km2), it is also one of the most densely populated.


AP Top Stories June 12 P
Here are the top stories for Wednesday, June 12th: House committee votes to hold William Barr and Wilbur Ross in contempt of Congress; Donald Trump, Jr. testifies on Capitol Hill; Trump to send more..
USATODAY.com - Published
Don Jr.: 'Nothing to change' after Senate meeting
President Donald Trump's eldest son told reporters "there was nothing to change" during his testimony before a Senate Committee on Capitol Hill Wednesday. (June 12)  
USATODAY.com - Published
Trump Aides Scramble To Fill One Of The Least-Wanted Jobs In The White House
The long-expected departure of President Donald Trump's current legislative affairs director, Shahira Knight, immediately set off behind-the-scenes jockeying over her replacement. According to..
Credit: Wochit News Duration: 00:40Published
After Iran briefing, Shanahan says U.S. deterred possible attacks
Acting U.S. Defense Secretary Patrick Shanahan said on Tuesday after briefing lawmakers on the threat from Iran that the United States had deterred possible attacks by deploying forces to the region...
Credit: Reuters Studio Duration: 01:00Published
Democrats Step Up Pressure On Trump
Congressional Democrats stepped up pressure on President Donald Trump's administration on Thursday as U.S. House of Representatives Speaker Nancy Pelosi accused Attorney General William Barr of..
Credit: Wochit News Duration: 00:38Published
Pelosi Says AG Barr Lied To Congress During Testimony On Mueller Report
According to CNN, House Speaker Nancy Pelosi said that Attorney General William Barr committed a crime when testifying before Congress. During a weekly news conference on Capitol Hill, Pelosi told..
Credit: Wochit News Duration: 00:36Published
Nadler says Barr too afraid to testify
Defying the U.S. Congress, Attorney General William Barr will not attend a U.S. House Judiciary Committee hearing on Thursday on his handling of the Mueller report, said committee Chairman Jerrold..
Credit: Reuters Studio Duration: 01:35Published
Barr balks at closed-door hearing on report
U.S. Attorney General William Barr objects to testifying before the House Judiciary Committee in a closed session dedicated to redacted portions of Special Counsel Robert Mueller's Russia report, a..
Credit: Reuters Studio Duration: 01:42Published
6/12: CBSN AM
"Dead Zone" in Gulf of Mexico; Donald Trump Jr. to testify on Capitol Hill
CBS News - Published
Donald Trump Jr. arrives for Senate testimony
Donald Trump Jr. arrived on Capitol Hill Wednesday morning for closed door testimony before the Senate Intelligence Committee. Senators want to discuss answers he gave the panel's staff in a 2017..
USATODAY.com - Published
Jon Stewart chokes up, slams lawmakers at hearing on 9/11 first responders fund
Jon Stewart's latest impassioned plea to help 9/11 first responders sickened by the attack is giving the issue new urgency in Washington. Dozens of police, firefighters and others joined Stewart at an..
CBS News - Published
Homeland Security chief McAleenan testifies on Capitol Hill - live stream
McAleenan's testimony comes amid a new immigration deal between the U.S and Mexico
CBS News - Published
House Democrats weigh stance on Hyde Amendment ahead of vote
Democratic lawmakers on Capitol Hill are grappling with the Hyde Amendment, which has long banned federal funding for most abortions. The amendment will be included in a spending bill being voted on..
CBS News - Published
You Might Like