Missouri
State of the United States of America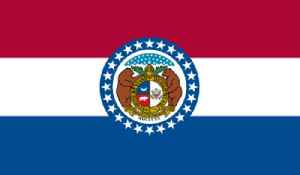 Missouri is a state in the Midwestern United States. With over six million residents, it is the 18th-most populous state of the Union. The largest urban areas are St. Louis, Kansas City, Springfield, and Columbia; the capital is Jefferson City. The state is the 21st-most extensive in area. Missouri is bordered by eight states : Iowa to the north, Illinois, Kentucky, and Tennessee to the east, Arkansas to the south, and Oklahoma, Kansas, and Nebraska to the west. In the South are the Ozarks, a forested highland, providing timber, minerals, and recreation. The Missouri River, after which the state is named, flows through the center of the state into the Mississippi River, which makes up Missouri's eastern border.


'Purely innocent': No regrets from man who walked into Walmart with body armor, loaded weapons
Dmitriy Andreychenko, 20, is charged with making a terrorist threat after the Aug. 8 incident at a Walmart in Springfield, Missouri.  
USATODAY.com - Published
'Pretty sure we didn't get high together': Missouri cop responds to wrong number text with photo
An officer with the Winfield Police Department in Missouri responded to a text from a person who said, "We got high together girl."  
USATODAY.com - Published
Father wants Michael Brown case re-opened, five years on
Michael Brown Sr. called on the prosecuting attorney Friday to re-open the case into the shooting death of his unarmed black teenage son, Michael Brown, who was shot to death by a white policeman in..
Credit: Reuters Studio Duration: 01:07Published
Man Baffled To Find Frozen Infant In Mother's Freezer
A St. Louis, Missouri, man is struggling to understand how his mother kept a baby in her freezer for decades. Following his mother's death, Adam Smith finally opened a white cardboard box she'd kept in..
Credit: Wochit News Duration: 00:55Published
U.S. House Passes Bill To Raise Federal Minimum Wage
The U.S. House of Representatives has passed legislation to raise the federal minimum wage. The amount varies by state but it will raise to $15 an hour by October 2025, says Reuters. Seattle, San..
Credit: Wochit News Duration: 00:48Published
Former Jason Kander Aide Joins Beto O'Rourke's Presidential Campaign
Abe Rakov joined Rep. Beto O'Rourke's presidential campaign, having experience in political races. According to Politico, Rakov ran the campaign of former Missouri Secretary of State Jason Kander...
Credit: Wochit News Duration: 00:32Published
Missouri's Only Medical Facility That Provides Abortion To Stay Open Until Aug 1
Missouri's only abortion clinic will remain open for now, according to Reuters. A state arbiter ordered a stay in response to the state health department's refusal to renew the clinic's license...
Credit: Wochit News Duration: 00:44Published
Incredible photos from US Gymnastics Championships
The best photos from the 2019 U.S. Gymnastics Championships, which take place from August 8-11 in Kansas City, Missouri.
USATODAY.com - Published
Search this site and the web:
You Might Like