Paris
Capital of France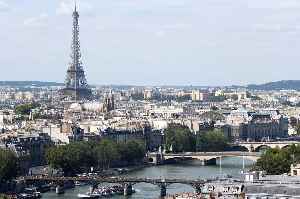 Paris is the capital and most populous city of France, with an estimated population of 2,150,271 residents as of 2020, in an area of 105 square kilometres. Since the 17th century, Paris has been one of Europe's major centres of finance, diplomacy, commerce, fashion, science and arts. The City of Paris is the centre and seat of government of the Île-de-France, or Paris Region, which has an estimated official 2020 population of 12,278,210, or about 18 percent of the population of France. The Paris Region had a GDP of €709 billion in 2017. According to the Economist Intelligence Unit Worldwide Cost of Living Survey in 2018, Paris was the second most expensive city in the world, after Singapore, and ahead of Zürich, Hong Kong, Oslo and Geneva. Another source ranked Paris as most expensive, on a par with Singapore and Hong Kong, in 2018.


Are These Aircraft Really Flying So Near The Moon & Sun?

These aircraft look as if they are flying very near the moon and sun. The mind-boggling photographs are a clever perspective trick captured by amateur astronomer & photographer Sebastien Lebrigand, who..
Credit: Cover Video STUDIO Duration: 01:08
Published
Sports Ministry to start Target Olympic Podium Scheme for juniors for 2024 and 2028 Olympics

The Union Sports Minister, Kiren Rijiju on July 03 said that the ministry will launch Target Olympic Podium Scheme (TOPS) Junior to groom young athletes for the 2024 and 2028 Olympics. "We're going to..
Credit: ANI Duration: 01:49
Published
Rwanda genocide suspect Felicien Kabuga arrested in France

Rwanda's most-wanted man was living under a false identity in a flat outside Paris, French justice ministry says.
Credit: Al Jazeera STUDIO Duration: 03:36
Published
Paris' iconic 2CV drivers hit hard in lockdown

There's nothing Jean-Remi Galinon enjoys more than bouncing along the cobbled streets of Paris in his vintage Citroen 2CV, showing off his city to foreign tourists, usually Americans. But the..
Credit: Reuters Studio Duration: 01:12
Published
Nine-year-old runs from London to Paris and rows the Channel at home for the NHS

A nine-year-old has successfully run the distance from Big Ben to the Eiffel Tower at home to raise money for the NHS – and says he might cycle the return trip next week. Josh Hall from Blean, Kent,..
Credit: PA - Press Association STUDIO Duration: 01:08
Published
Paris airport's 'new normal' comes with UV tunnel, thermal cameras

Paris's Orly Airport has ramped up security measures as it prepares to resume commercial flights after a nearly three-month hiatus. Edward Baran reports.
Credit: Reuters Studio Duration: 01:17
Published
Eiffel Tower re-opens with new rules

The Eiffel Tower on Thursday welcomed back visitors after the coronavirus outbreak forced the Paris landmark into its longest period out of action since World War Two.
Credit: Reuters Studio Duration: 01:27
Published
French stadiums to allow fans in from July 11 - government

French government say that stadiums can re-open to fans on July 11
Credit: Reuters - Sports Duration: 01:40
Published
Extinction Rebellion sprays Medef employers' association HQ in Paris with fake blood

Using a tried and tested protest method, Extinction Rebellion (XR) activists sprayed the Medef employers' association headquarters in Paris with fake blood.View on euronews
Credit: euronews (in English) Duration: 00:50
Published
Neymar loses lawsuit with Barcelona over bonus

PSG and Brazil forward Neymar ordered to pay his former club Barcelona 6.7 million euros after losing a lawsuit over an unpaid bonus.
Credit: Reuters - Sports Duration: 02:31
Published
Joint flypast commemorates WWII resistance

The Red Arrows and La Patrouille de France soared over Paris on Thursday to mark the 80th anniversary of General de Gaulle's radio address calling for resistance to the Nazi occupation of France during..
Credit: Reuters Studio Duration: 00:51
Published
Red Arrows fly over London and Paris to mark Charles de Gaulle's to mark historic broadcast

The Red Arrows and their French equivalent, Patrouille De France performing a flypast of Paris and London during French President Emmanuel Macron's visit to the UK on Thursday.
Credit: PA - Press Association STUDIO Duration: 01:08
Published
Athletics' Lamine Diack arrives for last day of Paris corruption trial

Lamine Diack, the former head of athletics' governing body who is standing trial on charges of corruption, arrives on the last day of hearings at a Paris court.
Credit: Reuters - Sports Duration: 01:16
Published
ATP and WTA Tours announce August resumption

The men's ATP Tour and women's WTA Tour issue revised calendars for the resumption of professional tennis after the shutdown caused by the novel coronavirus pandemic.
Credit: Reuters - Sports Duration: 04:49
Published
Scuffles as bargain hunters crowd Lidl launch in France

French police pushed back several hundred people jostling to get their hands on cut-price PlayStation 4s at the launch of a new Lidl supermarket outside Paris on Wednesday.
Credit: Reuters Studio Duration: 00:51
Published
Racial justice signs destined for Smithsonian exhibit

Following weeks of protests over the death of George Floyd while in police custody, curators from the Smithsonian in Washington have begun collecting artifacts for an eventual exhibit. Lisa Bernhard..
Credit: Reuters Studio Duration: 01:56
Published
Salut! Bars, Restaurants In France To Reopen Sooner Than Expected

France will be lifting some coronavirus pandemic restrictions sooner than previously thought. According to Business Insider, all of mainland France, including Paris, will become a 'green zone' on..
Credit: Wochit News Duration: 00:34
Published
Cavani and Silva to leave Paris St Germain

File footage of Paris St Germain's record goalscorer Edinson Cavani and captain Thiago Silva who will both leave the club after the conclusion of the Champions League campaign.
Credit: Reuters - Sports Duration: 03:11
Published
You Might Like



Today in History for June 23rd

Highlights of this day in history: A key moment in the Watergate scandal; Adolf Hitler visits Paris after France falls to Nazi Germany; The typewriter gets a patent; Polio vaccine pioneer Dr. Jonas..




USATODAY.com - Published




NATO to investigate Mediterranean incident between French, Turkish warships

NATO will investigate French accusations that Turkey's navy failed to respond to an allied call for inspection this month in the Mediterranean, the alliance chief said on Thursday, an incident Paris..




Reuters - Published





Pepper spray and scuffles as bargain hunters crowd Lidl launch in France

French police pushed back several hundred people jostling to get their hands on cut-price PlayStation 4s at the launch of a new Lidl supermarket outside Paris on Wednesday.




Reuters - Published





Clashes at health worker protest in Paris; police blame anarchists

Paris police blamed violent fringe groups for hijacking a peaceful protest by health workers in central Paris on Tuesday, where at least one car was overturned and projectiles were hurled at police..




Reuters - Published





Fringe groups hijack peaceful health workers protest, says Paris police

Fringe groups hijacked a peaceful health workers protest in Paris on Tuesday, Paris police said, overturning at least one car and hurling projectiles at police lines.




Reuters - Published





French police fire tear gas at health workers' demonstration in Paris

French police fired tear gas at a health workers' demonstration in Paris on Tuesday, according to a Reuters reporter on the scene.




Reuters - Published





In Paris, the Pompidou Centre prepares to reopen with one-way system and masks

The Pompidou Centre in Paris, home to Europe's largest modern art collection, will be left 20 million euros out of pocket by the coronavirus crisis but its director Serge Lasvignes has a more pressing..




Reuters - Published





France wants talks over 'aggressive' Turkish posture in Libya

France wants talks with NATO allies to discuss Turkey's increasingly "aggressive" and "unacceptable" role in Libya, a French presidential official said on Monday, underscoring increased tensions..




Reuters - Published





Paris restaurants reopen fully, still wary about post-lockdown

Paris restaurants reopened indoor dining halls on Monday as the government relaxed one of the last major coronavirus constraints, but with virtually no tourists and many French people still working..




Reuters - Published





France's Macron says restaurants to reopen in Paris

French President Emmanuel Macron said on Sunday that mainland France would go into a so-called "green zone" from Monday with restaurants reopening in Paris as the country has been gradually exiting a..




Reuters - Published





Police converge at Paris' Arc de Triomphe to protest government line

Dozens of police cars converged at the Arc de Triomphe in central Paris on Saturday in defiance of the government, days after authorities promised "zero tolerance" for racism within law enforcement..




Reuters - Published





Anti-racism protesters clash with police in Paris

Riot police fired tear gas to prevent thousands of anti-racism protesters marching through central Paris on Saturday, as a wave of anger continued to sweep the world following the death of African..




Reuters - Published





Police use tear gas in Paris protest

Police fired tear gas at protesters on Saturday in central Paris, where thousands gathered for a demonstration against racism and police violence.




Reuters - Published





Several thousand rally in Paris anti-racism protest

Several thousand anti-racism protesters gathered in central Paris on Saturday to denounce police violence, as a wave of anger continued to sweep the world following the death of African American George..




Reuters - Published





French court allows access to archives on 1994 Rwanda genocide

France's top administrative court on Friday ruled that a researcher could access former President Francois Mitterrand's archives on the 1994 Rwandan genocide, marking a further step to ease tensions..




Reuters - Published





Rain stops play for COVID-hit Paris cafes

Guillaume Artru, co-owner of a Paris restaurant, has seen his business battered first by COVID-19, then by one of Europe's strictest lockdown regimes, and now by a new adversary: the weather.




Reuters - Published





'Stop buying social peace at our expense', French police tell government

French police marched in protest along the Champs Elysees boulevard to the interior ministry in Paris on Friday, accusing the government of scapegoating law enforcement agencies as public anger over..




Reuters - Published





Paris police ask shops to close due to risk of disorder at Saturday protest

The Paris police department said it had called for shops and businesses in districts from Republique to Opera to close on Saturday due to risks of public disorder at a demonstration.




Reuters - Published





Iran says will now send Ukraine airliner black boxes to Paris: sources

Iran told the U.N.'s aviation agency on Wednesday that it would send black boxes from a downed Ukrainian jetliner to Paris for analysis, once countries involved in the investigation agree, two sources..




Reuters - Published





Anti-racism protesters take a knee in silence in Paris

Hundreds of anti-racism protesters in Paris took a knee and held an eight minute silence on Tuesday in memory of George Floyd, the black American whose death after a police officer knelt on his neck..




Reuters - Published





Paris' Eiffel Tower will reopen June 25 and require guests to wear masks

Want to visit the Eiffel Tower this summer? Bring a mask and be prepared to climb some stairs when the Parisian landmark reopens on June 25.




USATODAY.com - Published





Eiffel Tower in Paris to welcome back visitors on June 25

The Eiffel Tower in Paris will reopen on June 25 from its longest closure since World War Two after being forced to shut for more than three months due to the coronavirus pandemic, the tower's..




Reuters - Published





Paris prosecutor opens probe into handling of COVID-19 crisis

The Paris prosecutor's office has opened a preliminary inquiry into the authorities' response to the coronavirus epidemic, to determine whether any criminal offences might have been committed.




Reuters - Published





Workers start to remove charred scaffolding around Notre-Dame Cathedral

Workers began on Monday the delicate and risky task of dismantling 200 tonnes worth of charred and twisted scaffolding left surrounding the centuries-old Notre-Dame Cathedral in Paris after last year's..




Reuters - Published





Fearing violence, France bans George Floyd protests at U.S. Embassy, Eiffel Tower

French police banned demonstrations planned outside the U.S. Embassy and on the lawns near the Eiffel Tower in Paris on Saturday as protests mount around the world over the death of George Floyd in..




Reuters - Published





Paris bans George Floyd protest planned at U.S. Embassy

French police have banned a demonstration planned to take place in front of the U.S. Embassy in Paris on Saturday as protests mount around the world over the death of George Floyd in Minneapolis.




Reuters - Published





France's Bastille Day military parade replaced by ceremony in Paris

France's Bastille Day military parade marking its national day will be replaced by a ceremony on the Place de la Concorde square in central Paris, President Emmanuel Macron's office said on Thursday.




Reuters - Published





On This Day: 4 June 1998

Smashing Pumpkins released their fourth album with a rooftop concert in Paris. (June 4)  




USATODAY.com - Published





Outdoor seating only: Parisian cafes eke out space along sidewalks

The Cafe de Flore in Paris, once a favourite drinking hole of Simone de Beauvoir and Jean-Paul Sartre, spread its tables along the pavement, in front of the neighbouring book store, and reopened on..




Reuters - Published




Paris bans demo over black Frenchman who died in 2016 police operation

Paris police banned on Tuesday a demonstration planned in memory of Adama Traore, a 24-year old black Frenchman who died in a 2016 police operation which some have likened to the death of George Floyd..




Reuters - Published





Dozens protest at U.S. embassy in Paris in solidarity with George Floyd

A few dozen protesters knelt in silence and held signs in front of the U.S. embassy in Paris on Monday in solidarity with George Floyd, an African-American whose death in police custody last week has..




Reuters - Published




Hospital staff get 'lessons' in COVID-19 thanks

A French boxing champ put on the gloves and gave lessons to medical staff at a Paris hospital to say thanks for the medical care his father-in-law got for COVID-19 at the hospital. (May 27)  




USATODAY.com - Published





France's Louvre museum to reopen July 6, Versailles June 6

The Louvre museum in Paris will reopen on July 6, it said on Friday, as France's historical and cultural sites emerge gradually from the coronavirus lockdown.




Reuters - Published




France's tourism industry asks itself: can we save summer?

Serge Coeroli has given the shelves behind the bar of his Paris restaurant a new lick of paint, in anticipation of customers returning now that lockdown rules in France are easing.




Reuters - Published





France to open bars and beaches in second phase of easing lockdown

France will allow restaurants, bars and cafes to reopen from June 2, though with more restrictions in Paris than elsewhere, Prime Minister Edouard Philippe said on Thursday as he announced the next..




Reuters - Published





We want money not medals, say protesting French health workers

Hundreds of healthcare workers demonstrated outside a hospital in Paris on Thursday to demand better pay and more resources for a public health sector on the frontline of the COVID-19 epidemic.




Reuters - Published





Paris no longer deemed a 'red' coronavirus danger zone: French PM

Paris is no longer deemed to be a "red" coronavirus danger zone, the risks posed by the virus moving down a notch to "orange", French Prime Minister Edouard Philippe said on Thursday.




Reuters - Published





Paris to reopen parks and public gardens on June 2: mayor

Paris will reopen parks and public gardens from June 2, the city's mayor said on Thursday on its websites.




Reuters - Published





Michelin-starred takeout: French chef Guy Savoy turns to lockdown deliveries

It's not your typical takeout menu, even in Paris: raw trout in a sour cream followed by quail confit with a cauliflower and almond sauce. Then again, in normal times three-star Michelin chef Guy Savoy..




Reuters - Published





Riot police deployed as youths set cars ablaze in Paris suburbs

Riot police were deployed in force as youths set cars ablaze in some low-income housing estates in the Paris suburbs overnight, online news reports and postings on Twitter showed on Wednesday, amid..




Reuters - Published





Rwandan genocide suspect Kabuga brought before French court

Rwandan genocide suspect Felicien Kabuga was arraigned before a French public prosecutor on Tuesday, three days after police swooped on his hideout in a Paris suburb, ending a 26-year manhunt.




Reuters - Published




Children of Rwandan genocide fugitive Kabuga led police to Paris-area hideout

French intelligence agents spied on the children of Rwanda's most-wanted genocide fugitive to track him down to an apartment in a Paris suburb and end a 26-year-long manhunt, the head of the police..




Reuters - Published





Visitors return to European landmarks, but only in miniature

Visitors were back at the Eiffel Tower in Paris, London's Houses of Parliament and the Grand Place in Brussels on Monday, not flouting lockdowns but at the reopened Mini-Europe miniature theme park.




Reuters - Published





Explainer: The U.N. tribunal set up to try Rwanda genocide perpetrators

French gendarmes arrested Felicien Kabuga, wanted for allegedly financing the Rwandan genocide, near Paris on May 16 after a global manhunt spanning more than a quarter of a century.




Reuters - Published





Youths clash with police in Paris suburb of Argenteuil

Youths clashed with police into the early hours of Monday in a Paris suburb after the death of a young man in a motorcycle accident, which some in the community blamed on the police, Le Parisien..




Reuters - Published





'He wouldn't say a word' - Rwanda genocide fugitive lived incognito in Paris

Rwandan genocide fugitive Felicien Kabuga, whose arrest on Saturday ended 26 years on the run, was a frail, elderly man who said little to neighbours and who would take a stroll most days outside of..




Reuters - Published





Factbox: What happened in Rwanda's 1994 genocide?

Police in Paris have arrested Rwanda's most wanted man, Felicien Kabuga, an alleged architect of the genocide that killed about 800,000 people more than 25 years ago.




Reuters - Published





Rwanda genocide suspect Kabuga arrested in France after decades on the run

Rwandan genocide suspect Felicien Kabuga, who is accused of funding militias that massacred about 800,000 people, was arrested on Saturday near Paris after 26 years on the run, the French justice..




Reuters - Published




Karl Lagerfeld store reopens in Paris

The Paris Saint-Germain-des-Prés branch of Karl Lagerfeld's store is now open for shoppers. Accessories are obligatory and include masks, gloves and disinfectant. (May 15)  




USATODAY.com - Published