Southern California
Place in California, United States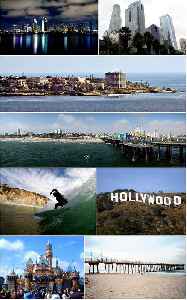 Southern California is a geographic and cultural region that generally comprises California's southernmost counties, and is the second most populous urban agglomeration in the United States. The region is traditionally described as eight counties, based on demographics and economic ties: Imperial, Los Angeles, Orange, Riverside, San Bernardino, San Diego, Santa Barbara, and Ventura. The more extensive 10-county definition, which includes Kern and San Luis Obispo counties, is also used and is based on historical political divisions.


California bobcat killed by car after surviving deadly Woolsey Fire
A bobcat that survived a Southern California wildfire has been hit and killed by a car, officials say.
USATODAY.com - Published
Enjoy the super bloom: Here's where to see poppies in Southern California
There are several other poppy viewing opportunities throughout Southern California during the super bloom.
USATODAY.com - Published
'Poppy Apocalypse' Crowds Descended Upon California City
Some call it a poppy "super bloom." But the mayor of Lake Elsinore, California, calls it a "Poppy Apocalypse." The city had to close Walker Canyon on Sunday due to an influx of tourists. It's open now...
Credit: Wochit News Duration: 00:37Published
'Super Bloom' Erupts in Southern California
Following record winter rains, the hillsides and valleys along Interstate 15 have turned bright green and orange, drawing thousands of visitors to a wildflower "super bloom" beginning to take shape on..
Credit: Wochit News Duration: 00:33Published
Thousands Of Lightning Strikes Light Up SoCal Sky
According to CNN, thousands of lightning pulses lit up the Southern California sky for hours. Late on March 5th, an estimated 2,200 lightning strikes crackled across the sky in Santa Barbara. But the..
Credit: Wochit News Duration: 00:35Published
Lightning Strikes Two Thousand Times Over SoCal
According to Mother Nature Network, residents in Southern California witnessed an impressive display of weather late on March 5th. Above Santa Barbara, lightning crackling across the sky more than..
Credit: Wochit News Duration: 00:47Published
Storm lights up California
The skies lit up over Southern California on Tuesday night, courtesy of a thunderstorms that moved across Los Angeles and Santa Barbara counties. Rough cut (no reporter narration).
Credit: Reuters Studio Duration: 00:35Published
6+ Dolphins Found Stranded On Southern California Beaches
Experts were working Tuesday to determine the cause of an increase in dolphin strandings. There has been a host of dolphins becoming stranded along the Southern California coast. The Pacific Marine..
Credit: Wochit News Duration: 00:42Published
Five Injured as 'Severe Turbulence' Forces Delta Flight to Make Emergency Landing
Five people were injured during a Delta Airlines flight headed from Southern California to Seattle. The flight encountered severe turbulence and was forced to make emergency landing in Reno.
Credit: Newsweek Duration: 00:05Published
U.S. Charges 19 In Chinese 'Birth Tourism' Scheme In California
According to Reuters, 19 people have been charged in three "birth tourism" schemes, operated in Southern California to bring pregnant Chinese women into the United States in order to secure..
Credit: Wochit News Duration: 00:30Published
Wildflower "super bloom" becomes California town's "apocalypse"
A rare phenomenon attracted so many visitors to a Southern California town that officials declared a public safety emergency
CBS News - Published
Lake Elsinore poppy fields: Visitors overwhelm California town
A rare phenomenon attracted so many visitors to a Southern California town that officials declared a public safety emergency. The "Super Bloom" has drawn tens of thousands of people. The town of Lake..
CBS News - Published
Poppy apocalypse: Crowds descend on California city to see 'superbloom'
Spring has arrived in Southern California and with it a crisis has blossomed in the small city of Lake Elsinore, where tens of thousands of visitors have flocked to see a "superbloom" of poppies in a..
Reuters - Published
Mass Migration of Painted Lady Butterflies Entrances Californians
Clouds of painted lady butterflies are flying through Southern California. The reason? Abundant rainfall that has caused an explosion of plant growth.
NYTimes.com - Published
Nazi Fliers Left at California High School Already Reeling From Swastika Photos
The authorities say the fliers appeared at Newport Harbor High School in Southern California over the weekend, just days after a visit from Anne Frank's stepsister.
NYTimes.com - Published
You Might Like