Ramesh Ponnuru
American conservative political pundit and journalist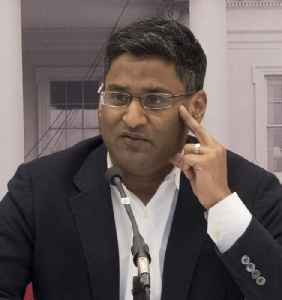 Ramesh Ponnuru is an American conservative political pundit and journalist. He is a senior editor for National Review magazine, a visiting fellow at the American Enterprise Institute, a columnist for Bloomberg View, and a contributing editor to the domestic policy journal National Affairs.


Will more GOP senators go against Trump on foreign policy?
Mark Landler, Ramesh Ponnuru, Jamal Simmons and Amy Walter discuss the decision by 12 Republican senators to rebuke President Trump and what it means for 2020 Senate races.
CBS News - Published
Full transcript: Mar. 17
Mick Mulvaney, Sen. TIm Kaine, Preet Bharara, Ed O'Keefe, Jamal Simmons, Amy Walter, Ramesh Ponnuru, Mark Landler, and James Brown appeared on this broadcast of "Face the Nation."
CBS News - Published
Search this site and the web:
You Might Like