Dylan Thomas
Welsh poet and writer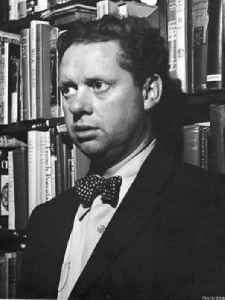 Dylan Marlais Thomas was a Welsh poet and writer whose works include the poems "Do not go gentle into that good night" and "And death shall have no dominion"; the "play for voices" Under Milk Wood; and stories and radio broadcasts such as A Child's Christmas in Wales and Portrait of the Artist as a Young Dog. He became widely popular in his lifetime and remained so after his premature death at the age of 39 in New York City. By then he had acquired a reputation, which he had encouraged, as a "roistering, drunken and doomed poet".


Tesla tumbles after Musk tweets stock too high

Shares of Tesla tumbled on Friday (May 1) after Chief Executive Officer Elon Musk tweeted that the electric carmaker's high-flying stock was overly expensive. This report produced by Chris Dignam.
Credit: Reuters Studio Duration: 02:16
Published
You Might Like
Today in History for November 9th
Highlights of this day in history: Germans dance on top of Berlin Wall as communism crumbles in Eastern Europe; Nazis target Jews during 'Kristallnacht'; A massive blackout hits the Northeast; Poet..
USATODAY.com - Published
Search this site and the web: