Purple Heart
United States military decoration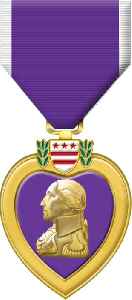 The Purple Heart is a United States military decoration awarded in the name of the President to those wounded or killed while serving, on or after April 5, 1917, with the U.S. military. With its forerunner, the Badge of Military Merit, which took the form of a heart made of purple cloth, the Purple Heart is the oldest military award still given to U.S. military members – the only earlier award being the obsolete Fidelity Medallion. The National Purple Heart Hall of Honor is located in New Windsor, New York.


You Might Like
Anthony M. Hopkins, Who Fought in Vietnam and the Gulf, Dies at 70
A tank commander, he earned a Purple Heart when he was badly wounded by shrapnel in an ambush in South Vietnam. Later a postal worker, he died of Covid-19.
NYTimes.com - Published
Some 70,000 Valentines sent to 104-year-old in tribute to military veterans
William White, a 104-year-old U.S. Marine veteran who earned a Purple Heart in World War Two, is celebrating Valentine's Day this year like never before, surrounded by a mountain of 70,000 love letters..
Reuters - Published
A Purple Heart, Combat Badge and Ranger Tab: Vindman Sends a Message
"The uniform I wear today is that of the United States Army," Lt. Col. Alexander S. Vindman told the impeachment inquiry. "We do not serve any particular political party; we serve the nation."
NYTimes.com - Published
Vindman explains why he was awarded the Purple Heart
Army Lt. Col. Alexander Vindman was asked on Tuesday by Congressman Jim Himes why he was wearing a Purple Heart. He described how, in 2014, his vehicle in Iraq was hit by an IED and he was injured. "I,..
CBS News - Published
Trump trip to El Paso and Dayton, Cyntoia Brown freed, Purple Heart Day: 5 things to know Wednesday
President Trump visits El Paso and Dayton in wake of mass shootings, Samsung unveils the Galaxy Note 10 and more things to start your Wednesday.
USATODAY.com - Published
6/26: CBS Evening News
Trump and lawmakers react to tragic photo of migrant father and child; Purple Heart veteran surprised with a new home.
CBS News - Published
Purple Heart veteran surprised with a new home
Former Marine Kevin Palacios was injured twice by IED blasts in Afghanistan. But when he came home, he didn't have a place of his own. But a members of his community surprised him with a house, to..
CBS News - Published