Piers Morgan
English journalist and television host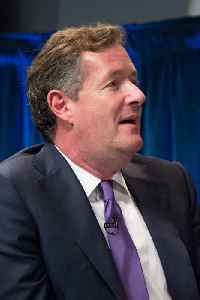 Piers Stefan Pughe-Morgan is an English broadcaster, journalist, writer, and television personality. He is currently a co-anchor of the ITV Breakfast programme Good Morning Britain from Monday to Wednesday each week.


Joan Collins tells Piers Morgan it's 'ludicrous' to say there are '100 different genders'
On "Good Morning Britain," Pier Morgan asked the actress Joan Collins, 86, her thoughts of the BBC video saying there are now "100 different genders."
USATODAY.com - Published
Jameela Jamil, Piers Morgan Twitter feud reignited over Duchess Meghan's Vogue issue
Jameela Jamil and Piers Morgan, who have a history of Twitter feuding, are at it again following Meghan Markle's "Forces for Change" UK Vogue issue.
USATODAY.com - Published
Trump, in Interview, Says He Prefers Talk to Military Action on Iran
In a wide-ranging discussion with the British journalist Piers Morgan, the president also defended his lack of military service in the Vietnam War.
NYTimes.com - Published
Trump Says There's a 'Chance' of Military Action Against Iran
On the last day of his visit to Britain, the president gave an interview to Piers Morgan in which he cast his ban on transgender people in the military as an economic decision.
NYTimes.com - Published
Spice Girls' Mel B says she hooked up with bandmate Geri Halliwell
Mel B revealed in a bombshell interview with Piers Morgan that she slept with bandmate Geri Halliwell, aka Ginger Spice.
USATODAY.com - Published
Piers Morgan, Ariana Grande end feud, share selfie: 'Turns out we really like each other'
Following a social media feud in November, Pier Morgan took to Twitter Wednesday to reveal things are all good now between him and Ariana Grande.
USATODAY.com - Published
You Might Like