Dallas
City in Texas, United States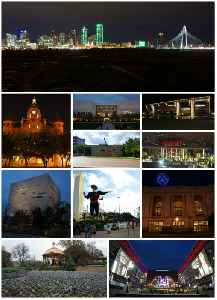 Dallas is a city in the U.S. state of Texas and the largest city and seat of Dallas County, with portions extending into Collin, Denton, Kaufman and Rockwall counties. With an estimated 2019 population of 1,343,573, it is the ninth most-populous city in the U.S. and the third-largest in Texas after Houston and San Antonio. Located in North Texas, the city of Dallas is the main core of the largest metropolitan area in the Southern United States and the largest inland metropolitan area in the U.S. that lacks any navigable link to the sea. It is the most populous city in the Dallas–Fort Worth metroplex, the fourth-largest metropolitan area in the country at 7.5 million people.


Trump Leads In Texas

President Donald Trump has chipped away at Joe Biden's lead in the classically red state of Texas. A new poll from the Dallas Morning Star released Sunday has Trump leading Biden in Texas state 48 per..
Credit: Wochit News Duration: 00:30
Published
Things You Didn't Know About Cheetos

Cheetos are one of the most beloved American snack foods on the market. However, few people probably know when the snack was first invented or by whom. Business Insider revealed some of the secrets of..
Credit: Wochit News Duration: 00:37
Published
You Might Like



Dallas Stars Honored W/ Puppies For Stanley Cup Run, Meet Jamie, Benn & Kivi!

HOW ADORABLE IS THIS?!?!? An animal shelter in Texas was so grateful for the Dallas Stars' epic run to the Stanley Cup Finals this month ... it named four puppies after the team!!! Meet Jamie, Benn,..




TMZ.com - Published





Saturday Sessions: Old 97's perform "Bottle Rocket Baby"

The alt-country legends Old 97's got their start in the early-90's, becoming a popular Dallas bar band. They soon started recording and earning fans nationwide. Twenty-seven years later, the original..




CBS News - Published




Nonprofit provides free meals to Texas children facing food insecurity amid pandemic

Kids Bring Life is providing free meals to children in the Dallas area whose families are struggling to pay for food amid the coronavirus pandemic. Mireya Villarreal reports.




CBS News - Published




Father and son help nonprofit to serve meals

A nonprofit is helping feed people facing food insecurity in the Dallas area, and it's doing it with the help of a father and his son.




CBS News - Published





AP Top Stories

Here's the latest for Tuesday September 8th; President Trump to use own funds for campaign; Fires rage across Pacific Northwest; Soldiers testify on Rohingya atrocities; baby lion cubs born in Dallas...




USATODAY.com - Published




Sabrina and Maggie -- Sunday Funday Pool Party Shots!

Today's Summer Hot Shots are coming to you from poolside on top of a Dallas penthouse where model Sabrina Nichole and cosplay hottie Maggie of OMGCosplay plunged into some bikinis ... and some drinks..




TMZ.com - Published





'Real Housewives of Dallas' Star Kameron Westcott Unloads $5M Home

"Real Housewives of Dallas" star Kameron Westcott has said arrivederci to her Tuscan-style crib ... cause she sold it. TMZ's learned Kameron's mansion, in the upscale Dallas neighborhood of Highland..




TMZ.com - Published





Clippers' Marcus Morris Sr. ejected for Flagrant Foul 2 on Dallas' Luka Doncic

L.A. Clippers forward Marcus Morris Sr. knocked Dallas guard Luka Doncic to the floor in Game 6 and received a flagrant foul and ejection.




USATODAY.com - Published





Earl Thomas landing spots: Will Cowboys finally 'come get' ex-Ravens safety?

Earl Thomas once told the Cowboys to "come get me" later in his career. Could the Pro Bowl safety be headed to Dallas after his split with the Ravens?




USATODAY.com - Published





Luka Doncic hits game-winning 3-pointer in OT, leads Dallas to Game 4 win on injured left ankle

Mavericks guard Luka Doncic finished with 43 points on 18-of-31 shooting in a 135-133 overtime win over the Los Angeles Clippers in Game 4.




USATODAY.com - Published





Smoke plumes rise from Texas plastics plant fire

A fire at a plastics plant near Dallas sent up a plume of smoke that could be seen for miles. (Aug. 19)  




USATODAY.com - Published





Teen skydive accident survivor addresses media

A 16-year-old Texas girl who plummeted more than 3,000 feet to the ground in a skydiving accident last month spoke Thursday morning during a news conference at a Dallas hospital. Makenzie Wethington..




CBS News - Published





Rare snow in Texas snarls commute

Less than an inch of snow was enough to cause more than 500 accidents in Dallas, and trucks putting down sand and salt struggled to keep roads free from ice. Even Houston and San Antonio saw a dusting..




CBS News - Published





Ice sheets crash down on SUV in Texas

In North Texas, melting ice and snow caused problems for residents and delayed more than 1,300 flights, many of them in Dallas. Norah O'Donnell reports.




CBS News - Published





Players kneeling for anthem booed before MLS game

"You can't even have support from your own fans in your own stadium," Dallas defender Reggie Cannon said.




CBS News - Published





Jerry Jones Reconsidering Cowboys' Stance On Anthem Kneeling, 'I Am Listening'

Jerry Jones says the Cowboys might be backing off his "toe the line" national anthem kneeling policy ... with the Dallas owner telling media members Wednesday he's considering a new rule. The..




TMZ.com - Published





Ex-Dallas cop Amber Guyger appeals murder charge in death of neighbor Botham Jean

Attorneys for a white ex-Dallas police officer filed an appeal to overturn her murder conviction in the shooting of her Black unarmed neighbor.




USATODAY.com - Published




SEC investigating hotels criticized for taking Paycheck loans

Hotel group run by Dallas entrepreneur Monty Bennett faces securities probe over "related-party transactions."




CBS News - Published





Inside the NFL offensive linemen summit, where players prepare for a season of uncertainty

More than 40 NFL offensive linemen gathered in Dallas to collaborate and share ideas as they await a season with much to be resolved.




USATODAY.com - Published





Dallas woman, deadnamed by police, is at least 18th transgender person murdered in US this year

GLAAD President Sarah Kate Ellis told USA TODAY that "using the birth name implies that the trans person's actual lived identity is somehow not real."




USATODAY.com - Published




Systemic racism slows down economic growth, Dallas Fed chief says

Systemic racism and high unemployment levels among black and Hispanic Americans create a drag on the U.S. economy, Dallas Federal Reserve President Robert Kaplan said on Sunday.




Reuters - Published





Live Coronavirus News

Counties that include Houston and Dallas have logged some of the nation's largest single-day rises. Canada may give special attention to asylum cases of people who are working as caregivers in the..




NYTimes.com - Published





Rep. Sam Johnson of Texas Dies at 89

Mr. Johnson was a military pilot who spent years as a prisoner of war in Vietnam before serving more than two decades representing a Dallas-area district in Congress.




NYTimes.com - Published





Texas court holds jury trial via videoconferencing

A court in the Dallas suburbs this week held what is believed to be the first American jury trial conducted over online video. (May 22)  




USATODAY.com - Published





'100 miles per hour': Five looming questions for Mike McCarthy in Year 1 with Cowboys

Expectations are high in Dallas as Mike McCarthy takes over a group expected to contend in 2020. But the Cowboys have to answer some big questions.




USATODAY.com - Published





The 'fairy-tale' story of how Dennis Rodman went from unknown player to NBA legend

Dennis Rodman's origin story starts in Dallas and winds through a small Oklahoma town.




USATODAY.com - Published





Texas governor bans jail time for coronavirus lockdown violations

Texas Governor Greg Abbott on Thursday banned the jailing of anybody in the state who defied his orders to shut businesses due to the coronavirus pandemic, a move that followed an outcry over the..




Reuters - Published





Dallas, New Orleans flyovers honor COVID workers

The U.S. Navy Flight Demonstration Squadron, also known as The Blue Angels, flew over Dallas, Texas and New Orleans, Louisiana on Wednesday to honor frontline COVID-19 first responders and essential..




USATODAY.com - Published





Dallas salon owner who reopened in defiance of Texas' coronavirus restrictions sentenced to 7 days in jail

A salon owner in Texas was sentenced to seven days in jail on Tuesday for reopening in defiance of the state's coronavirus restrictions.




USATODAY.com - Published




Andy Dalton: Dallas Cowboys provided 'best opportunity for this year'

Andy Dalton won't be a starter in Dallas, but he's satisfied with the opportunity he selected after being released by the Bengals.




USATODAY.com - Published





USA TODAY High School Sports Awards: Dallas girls wrestling nominees

USA TODAY High School Sports Awards reveals its nominees for Dallas Girls Wrestler of the Year. The event will be held online June 18.




USATODAY.com - Published





JetBlue seeks U.S. approval to temporarily halt flights to 11 airports

JetBlue Airways Corp on Wednesday asked the U.S. Transportation Department for emergency approval to temporarily suspend service to 11 U.S. airports, including Dallas, Houston, Minneapolis, Portland,..




Reuters - Published





No parties, no problem: Introverts don't mind sheltering at home

With her painting, baking and near-constant gardening, Stephanie Hollowell kept busy at home even before efforts to stem the coronavirus pandemic meant she had to stay inside the Dallas, Texas house..




Reuters - Published





NYC's Javits Center wll take COVID-19 patients

New York City's Javits Center will receive COVID-19 patients, and so will temporary hospital facilities at the New Orleans and Dallas convention centers in a change announced by President Donald Trump..




USATODAY.com - Published





Truck carrying toilet paper catches fire in Texas

A tractor-trailer hauling toilet paper crashed and caught fire near Dallas early Wednesday, spilling the hot commodity all over an interstate. (April 1)  




USATODAY.com - Published





Flight to Nashville delayed 8 hours after passenger falsely claimed to have coronavirus

A flight from Dallas to Nashville was delayed eight hours and a passenger was arrested after he claimed on the plane to have coronavirus.




USATODAY.com - Published





American Airlines flight diverted after passenger tried to open emergency exit door

An American Airlines flight from Chicago to Dallas was diverted Tuesday to St. Louis after a passenger attempted to open the door.




USATODAY.com - Published





Leaning Tower of Dallas to Stick Around for Days or Weeks

A demolition company has been slowly pounding the 11-story structure with a wrecking ball that some observers say seems too small for the task.




NYTimes.com - Published





Texans call out 'thimble' of a wrecking ball trying to knock down Leaning Tower of Dallas

The Leaning Tower of Dallas, born when a part of an 11-story building survived an implosion, can't be brought down by explosives or a wrecking ball.




USATODAY.com - Published





Wrecking ball batters 'Leaning Tower of Dallas'

The "Leaning Tower of Dallas" has endured scores of blows from a wrecking ball. The social media sensation born when a part of an 11-story building survived implosion is set to come down. (Feb. 24)




USATODAY.com - Published




Leaning Tower of Dallas, John Glenn, blue lobster: News from around our 50 states

Murder conviction sticks for woman tied to 'Nebraska' killing spree, Oklahoma's rebrand tarnished by exclusion of Native American roots, and more




USATODAY.com - Published





USA TODAY High School Sports Awards fall nominees announced for Dallas

Check out the USA TODAY High School Sports Awards nominees for volleyball, cross country and football in Dallas.




USATODAY.com - Published





A teen stole an ambulance. Then, she took cops on a high-speed chase across state lines.

A 19-year-old Texas woman was arrested Sunday after allegedly leading police on a chase from Dallas to Bossier City, Louisiana in a stolen ambulance.




USATODAY.com - Published