Atlanta
Capital of Georgia, United States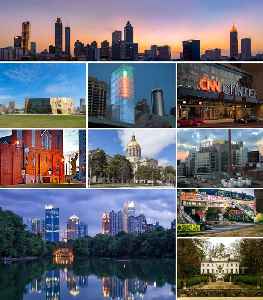 Atlanta is the capital and most populous city of the U.S. state of Georgia. With an estimated 2019 population of 506,811, it is also the 37th most populous city in the United States. The city serves as the cultural and economic center of the Atlanta metropolitan area, home to more than 6 million people and the ninth-largest metropolitan area in the nation. Atlanta is the seat of Fulton County, the most populous county in Georgia. Portions of the city extend eastward into neighboring DeKalb County. The city is situated among the foothills of the Appalachian Mountains and has one of the highest elevations among major cities east of the Mississippi River.


Workers rescued after ATL parking deck collapses

Multiple construction workers were trapped on Friday after a parking lot deck, which was under construction, partially collapsed in midtown Atlanta, according to the Atlanta Fire Rescue Department.
Credit: Reuters Studio Duration: 00:40
Published
'Operation Not Forgotten' Turns Up 39 Missing Kids in Georgia

In just two weeks, an operation by the US Marshals Service turned up 39 missing children in the Atlanta metro area. 'Operation Not Forgotten' tracked down 26 missing children, as well as the safe..
Credit: Wochit News Duration: 00:34
Published
Conservative Group Does Not Have Legal Standing To Sue Over Chick-Fil-A Airport Rejection, Court Rules

A group of conservatives does not have the legal standing to sue the city of San Antonio. The group wanted to sue over the city's rejection of a Chick-fil-A restaurant at the city's airport. The City..
Credit: Wochit News Duration: 00:32
Published
'Our votes can be our voice' -Bottoms

Atlanta Mayor Keisha Lance Bottoms invoked the city's late congressman and civil rights icon John Lewis when she said at the DNC Thursday "that if we fail to exercise the right to vote... we can lose..
Credit: Reuters Studio Duration: 02:21
Published
Oh, Never Mind: Georgia Governor Stops Going After Atlanta Mayor, City Council

Georgia's Republican Governor Brian Kemp is dropping his July lawsuit against Atlanta's city council and Mayor Keisha Lance Bottoms. HuffPost reports the dispute was over Atlanta's order to wear masks..
Credit: Wochit News Duration: 00:35
Published
Health experts warn U.S. cities of 'trouble ahead'

White House health experts are warning of a slow rise in the percentage of people testing positive for coronavirus in U.S. cities such as Boston, Chicago, Detroit and Washington and urged local leaders..
Credit: Reuters - Politics Duration: 02:19
Published
METS Player Céspedes Opts Out Of 2020 Season

New York Mets outfielder Yoenis Céspedes decided to opt out of the MLB season "for Covid-related reasons." CNN reports that the move comes after Céspedes did not report to the ballpark for Sunday's..
Credit: Wochit News Duration: 00:37
Published
Rep. Lewis praised by 3 presidents at funeral

[NFA] Former U.S. Presidents Barack Obama, George W. Bush and Bill Clinton were among those who spoke passionately about late civil rights icon and U.S. Congressman John Lewis at his funeral in a..
Credit: Reuters - Politics Duration: 02:23
Published
Rep. John Lewis is laid to rest at South View Cemetery

Following Representative John Lewis's funeral at Ebenezer Baptist Church in Atlanta, the congressman's body is laid to rest at South View Cemetery.
Credit: Reuters Studio Duration: 01:13
Published
Young Atlanta Woman Kills Baby Daughter By Ramming Car

Newser reports 21-year-old Atlanta woman Titayanna Phillips has been charged with felony murder and aggravated assault after allegedly ramming a vehicle. Phillips allegedly rammed a vehicle carrying..
Credit: Wochit News Duration: 00:34
Published
You Might Like



Papa John's creating new global headquarters in Atlanta, shifting some jobs out of Louisville

Pizza giant Papa John's said Atlanta will provide better air access for growing the company and access to a bigger, more diverse talent pool.




USATODAY.com - Published





U.S. grapples with double-punch devastation as fires rage during COVID-19

BS News' Mark Strassmann reports from Atlanta on the ongoing impacts of the coronavirus pandemic and wildfires out west.




CBS News - Published





Atlanta Falcons owner Arthur Blank on the experiences behind his new memoir

Atlanta Falcons owner Arthur Blank is coming out with a new memoir called "Good Company," serving as a guide to business and life from a man who has spent over four decades running businesses. Aside..




CBS News - Published





Demaryius Thomas' Pit Bulls Accused of Violent Attack on Woman and Dog

Two pit bulls allegedly belonging to NFL wide receiver Demaryius Thomas attacked a woman and her pet dog this week causing major injuries ... and now officials have launched an investigation. Jennifer..




TMZ.com - Published





What We Know About the Death of Rayshard Brooks

Killed by an Atlanta police officer just weeks after George Floyd's death touched off nationwide protests, Mr. Brooks became a potent symbol.




NYTimes.com - Published





Ex-Atlanta mayor on Colin Kaepernick: "I don't like to integrate sports and protest"

This week on "The Takeout," CBS News' Major Garrett heads to Atlanta ahead of the Super Bowl to interview some football legends and political figures, including former Atlanta Mayor Andrew Young.




CBS News - Published





Major Garrett and "The Takeout" head to Atlanta for Super Bowl media events

Major Garrett and "The Takeout" podcast travel to Atlanta for Super Bowl media week. Guests include James Brown of CBS Sports, former Atlanta Mayor Andrew Young, former Super Bowl champion Rodney..




CBS News - Published





COVID caseloads double as U.S economy continues to suffer

CBS News' Mark Strassmann reports from Atlanta on the ongoing impacts of the coronavirus pandemic.




CBS News - Published





Today in History for September 2nd

Highlights of this day in history: Japan signs surrender, officially ending World War II; Union forces occupy Atlanta during the Civil War; A great fire ravages medieval London; Vietnam's Ho Chi Minh..




USATODAY.com - Published





Guess Who This Crafting Kid Turned Into!

Before this arts and crafts kid launched her critically-acclaimed acting career, she was just another sweet school girl doing her assignments while growing up in Atlanta, Georgia. This little lady got..




TMZ.com - Published





Protests and racial tensions flare nationwide amid pandemic

CBS News' Mark Strassmann reports from Atlanta on the ongoing impacts of the coronavirus pandemic.




CBS News - Published





Kenny Smith Returning to Work After Walking Off 'Inside the NBA' Set

The NBA players are getting back to work ... and so is Kenny Smith. The "Inside the NBA" co-host is returning to Atlanta right now to rejoin Charles Barkley, Shaquille O'Neal and Ernie Johnson ... just..




TMZ.com - Published





This Atlanta business owner is giving back to the Black community

The plant-based burger joint out of Atlanta has gone from being a late-night snack to a viral sensation.




CBS News - Published





Slutty Vegan, a Black-owned burger joint, creates opportunities in Atlanta

Slutty Vegan is a sensation in Atlanta. Now the owner of the vegan burger joint is giving back to the Black community.




CBS News - Published





Zoom Reports Partial Outage

The Atlanta school district was among those affected by the outage. Zoom said it had "identified the issue" and was working to resolve the problem for users unable to start or join meetings.




NYTimes.com - Published





Colleges struggle with COVID-19 surges on campus

CBS News' Mark Strassmann reports from Atlanta on the ongoing impacts of the coronavirus pandemic.




CBS News - Published





NBA's Gerald Wilkins Accused of Punching Woman In Gas Station Altercation

Ex-NBA player Gerald Wilkins allegedly punched a woman and a man at an Atlanta gas station around 3 AM -- and that's why he was arrested for battery, TMZ Sports has learned. We broke the story .....




TMZ.com - Published





'RuPaul's Drag Race' Winner Tyra Sanchez Arrested for Vandalism

Tyra Sanchez -- the retired drag queen who won season 2 of "RuPaul's Drag Race" -- got busted for spray-painting graffiti in ATL. Tyra was arrested Thursday and is facing one count of criminal damage..




TMZ.com - Published





Atlanta's mayor calls for huge voter turnout

Atlanta Mayor Keisha Lance Bottoms has invoked the legacy of civil rights icon John Lewis as she encourages people to vote. (Aug. 20)  




USATODAY.com - Published





Mayor Keisha Lance Bottoms on the historic moment with Kamala Harris on Democratic ticket

Senator Kamala Harris will formally accept the nomination for vice president at the Democratic National Convention on Wednesday. She is the first Black woman and first Asian American on a major party..




CBS News - Published





Protest in Atlanta over Postal Service woes

Handful of protestors take to the sidewalk outside Sen. David Perdue's office in Atlanta, imploring him to protect what they claim is a right to vote by mail in November. (Aug. 18)  




USATODAY.com - Published





School reopenings create cause for concerns over COVID-19

CBS News' Mark Strassmann reports from Atlanta on the ongoing impacts of the coronavirus pandemic.




CBS News - Published





How the NBA, Tyler Perry and families maintain social bubbles

With pro basketball teams and staff living in isolation, actors and crew quarantining at Tyler Perry's Atlanta studios, and families forming self-isolating "pods" for the sake of their children during..




CBS News - Published





Keeping COVID bubbles from bursting

With NBA players living in isolation, actors and crew quarantining at Tyler Perry's Atlanta studios, and families forming self-isolating "pods" for the sake of their children, social bubbles actualize..




CBS News - Published





Police move in after fights during Georgia protest

Large numbers of police moved in to disperse crowds when fights broke out after several hours of mostly peaceful demonstrations Saturday in an Atlanta suburb that's home to a giant Confederate..




USATODAY.com - Published





2/11: Atlanta prepares for potentially "historic" winter storm; Hollande's love life creates headache for White House

A storm of "historic proportions" with significant ice totals has been predicted for the area, and up to nine inches of snow is forecast for north Georgia; and, French President Francois Hollande's..




CBS News - Published





2/12: Atlanta better prepared for latest storm; Who were the real "Monuments Men"?

By the time the storm hit, almost everyone in Atlanta had decided to ride it out at home, but tens of thousands of people in the area lost power as trees and power lines collapsed under the weight of..




CBS News - Published





2/10: Is Atlanta ready for more snow?; Lake Superior's ice caves offer glimpse of nature's fleeting beauty

A new potentially dangerous storm has states across the South preparing for another round of freezing rain, ice and snow; and, while brutal winter conditions have caused dangerous travel, power outages..




CBS News - Published





1/30: Georgians looking for answers after snowstorm disaster; 100 million Chinese hit the road to celebrate New Year

With most schools and businesses still closed, many Georgians were looking for answers from state and local officials on what went wrong after two inches of snow and ice paralyzed the Atlanta area;..




CBS News - Published





1/29: Icy weather in Atlanta leaves thousands stranded; "Superpope" Francis, rock star of the Catholic church

Traffic was frozen overnight on all three of Atlanta's main highways after a rare winter storm brought snow and ice to the South; and, after Pope Francis received the rock star treatment with a Rolling..




CBS News - Published





White House report recommends Georgia issue statewide mask mandate

Georgia Governor Brian Kemp is trying to stop Atlanta from mandating masks.




CBS News - Published





Extreme cold closes schools, delays flights in the South

The South is experiencing the coldest temperatures in nearly two decades. Many Atlanta-area schools are closed because officials did no want children waiting for buses in the freezing weather. CBS..




CBS News - Published





Super Bowl of shipping: Behind the scenes of the holiday delivery rush

Mark Strassmann reports from Atlanta's Hartsfield-Jackson Airport, on how FedEx and UPS handle the busiest shipping day of the year.




CBS News - Published





Georgia governor withdrawing lawsuit against Atlanta mayor

Georgia Governor Brian Kemp had claimed that the city was imposing more restrictive measures than his executive orders amid the COVID-19 pandemic.




CBS News - Published





Georgia governor sues Atlanta officials over face mask mandate

Governor Brian Kemp said that Atlanta officials can't enforce people in the city to wear masks or follow restrictive social distancing guidelines, despite the area making up more than a quarter of..




CBS News - Published





925 Quarantined for Covid. Is This a Successful School Reopening?

A suburban Atlanta county opened its schools amid controversy and a growing case count, previewing a difficult national back-to-school season.




NYTimes.com - Published





Eviction crisis looms as COVID-19's next catastrophe

CBS News' Mark Strassmann reports from Atlanta on the economic impacts of COVID-19 as over the next few months, as many as 40 million renters could be forced to move.




CBS News - Published





North Carolina, Virginia rocked by most powerful earthquake in region since 1916

A magnitude 5.1 earthquake along North Carolina's border with Virginia on Sunday shook homes and rattled dishes as far away as Atlanta.




USATODAY.com - Published




Herman Cain's life honored during Atlanta funeral

Herman Cain, the former Republican presidential candidate, businessman and close ally of President Donald Trump, was celebrated at a private funeral in Atlanta on Friday. Cain died July 30 of..




USATODAY.com - Published





Kandi Burruss Celebrates Hubby's Birthday with Strippers in Glass Boxes

Kandi Burruss knows how to have a good, old-fashioned, booty-shakin' time ... even during a pandemic. The 'Real Housewives' star threw a birthday bash for her husband, Todd Tucker, at the Bowlmor in..




TMZ.com - Published





Ex-Atlanta Cop Charged in Rayshard Brooks' Death Sues, Wants Job Back

Garrett Rolfe, the ex-Atlanta cop who shot and killed Rayshard Brooks during his arrest in a Wendy's parking lot, thinks he never should've been canned ... he's suing to get his job back. Rolfe is..




TMZ.com - Published





Jeff Foxworthy Estate Sale Includes Comedy and Sports Gear, Pool Table, Deer Heads

Jeff Foxworthy's saying farewell to his massive Atlanta-area home, along with his furniture, memorabilia and personal items that fans and other folks may enjoy ... redneck or not. The Blue Collar..




TMZ.com - Published





COVID-19 cases balloon across the country heading into August

CBS News' Mark Strassmann reports from Atlanta on the growing number of coronavirus cases and infections nationwide.




CBS News - Published





Lewis laid to rest at historic Atlanta cemetery

After nearly a week of observances that took John Lewis' body from his birthplace in Alabama to the nation's capital to Georgia, the late civil rights leader was laid to rest Thursday in Atlanta. (July..




USATODAY.com - Published




Tybre Faw met his hero two years ago. Today, the 12-year-old read John Lewis' favorite poem at his funeral.

Tybre Faw, 12, read John Lewis' favorite poem, "Invictus," at the late congressman's funeral in Atlanta Thursday.




USATODAY.com - Published




Watch Live: Obama to Give Eulogy at John Lewis Funeral

The civil rights leader is being laid to rest in Atlanta, the city he represented in Congress for more than three decades.




NYTimes.com - Published





'Emmett Till was my George Floyd,' John Lewis says in posthumous New York Times op-ed

The late Rep. John Lewis published an op-ed in the New York Times Thursday morning, the day of his funeral service in Atlanta.




USATODAY.com - Published





Civil rights icon John Lewis will be buried Thursday in Atlanta with three former presidents in attendance

The funeral and burial will mark the end of a series of events that have honored John Lewis in Atlanta, Washington D.C. and Alabama.




USATODAY.com - Published





Atlanta Mourns John Lewis and Ponders Carrying on With 'Good Trouble'

The congressman and civil rights leader preached in support of nonviolent resistance, a message that some say must live on in his absence.




NYTimes.com - Published





John Lewis to lie in repose at Georgia Capitol

The body of Rep. John Lewis was brought Wednesday to Atlanta to lie in repose at the Georgia capitol in one of the last memorial services for the late Democratic congressman before he is buried. (July..




USATODAY.com - Published