Mitt Romney
American politician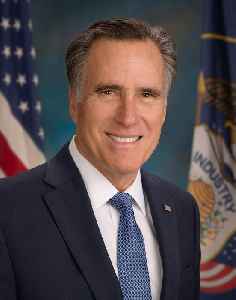 Willard Mitt Romney is an American politician, businessman and former presidential candidate who has served as the junior United States senator from Utah since January 2019. He previously served as the 70th Governor of Massachusetts from 2003 to 2007 and was the Republican Party's nominee for President of the United States in the 2012 election.


Democrats blast Trump for Stone commutation

[NFA] Democrats condemned Trump's decision to commute Roger Stone's prison sentence as an assault on the rule of law. Fred Katayama reports.
Credit: Reuters - Politics Duration: 01:53
Published
You Might Like



Romney on mail-in voting: 'we want people to vote'

Sen. Mitt Romney said Friday that politicians attacking the vote-by-mail system are threatening global democracy but stopped short of criticizing President Donald Trump, who has been openly against an..




USATODAY.com - Published





A Club of G.O.P. Political Heirs Push Back on Trump

Mitt Romney, Larry Hogan and Liz Cheney — descendants of sometimes rebellious or resolute Republicans of the past — are dissenting voices on a president who has taken over their party.




NYTimes.com - Published





The Initial Roger Stone Fallout

"Unprecedented, historic corruption," Romney calls a commutation: This is your morning tip sheet.




NYTimes.com - Published





Mitt Romney calls Trump's Roger Stone commutation 'unprecedented, historic corruption'

Mitt Romney, an avid critic of President Trump, said that Trump granting clemency for Roger Stone is "unprecedented, historic corruption."




USATODAY.com - Published





In Commuting Stone's Sentence, Trump Goes Where Nixon Was Not Willing

Senator Mitt Romney called the commutation an act of "unprecedented, historic corruption."




NYTimes.com - Published





Mitt Romney bows head during prayer at Washington protest march

Republican Senator Mitt Romney bows his head during a prayer after joining an evangelical group for a protest march in Washington on June 7.  




USATODAY.com - Published





Donald Trump bashes Mitt Romney again, this time over a Black Lives Matter march

"Tremendous sincerity, what a guy," Trump tweeted of Romney. The president remains angry at the Utah senator's vote in favor of impeachment charges.




USATODAY.com - Published





Protesters, Everywhere (Including … Mitt Romney?)

Huge demonstrations and a rethinking of the Minneapolis police: This is your morning tip sheet.




NYTimes.com - Published





Republican Sen. Mitt Romney joins George Floyd protest near White House: 'We need to stand up and say that black lives matter'

Republican Sen. Mitt Romney joined a group of about 1,000 Christians who marched near the White House on Sunday. He tweeted "Black Lives Matter."




USATODAY.com - Published





Vote for Trump? These Republican Leaders Aren't on the Bandwagon.

Former President George W. Bush and Senator Mitt Romney won't support Mr. Trump's re-election, and other G.O.P. officials are mulling a vote for Joe Biden.




NYTimes.com - Published





Sen. Mitt Romney was the only GOP senator not invited on Trump's new coronavirus advisory group

Sen. Mitt Romney was the only Republican senator not invited to serve on the president's new panel addressing ways to reopen the country.




USATODAY.com - Published





At CPAC, It's Now an All-Trump Show

At the annual gathering of conservatives, one Republican was conspicuously absent among the Trump supporters — Mitt Romney. The conference organizer said he had been disinvited.




NYTimes.com - Published





Mitt Romney Is a 'Judas' to Many Republicans. But Not in Utah.

Some conservatives want to recall him and others want to censure him. In the state he represents, though, many view speaking out against President Trump as an act to admire, not an apostasy.




NYTimes.com - Published





Coach Mike Leach deletes tweets about Mitt Romney, says 'I just asked questions'

Mississippi State football coach Mike Leach asked critical questions about Mitt Romney, the lone Republican senator to vote against President Trump.




USATODAY.com - Published





Utah Sen. Mitt Romney voted to convict Trump during the impeachment trial. Read his full speech on the Senate floor

Romney was the only Republican to vote to convict Trump, who was acquitted on both impeachment articles. In a floor speech, he explained his position.




USATODAY.com - Published





'I swore an oath.' GOP Sen. Romney faces awkwardness, 'abuse' for defying Trump on impeachment

Mitt Romney, the only GOP senator to vote to convict in the Trump impeachment trial, is a test case for the party's willingness to tolerate dissent.




USATODAY.com - Published





Impeachment Briefing: Trump Is Acquitted

On the final day of impeachment, Mitt Romney crossed party lines to vote with Democrats. Here's the back story.




NYTimes.com - Published





Romney, Defying the Party He Once Personified, Votes to Convict Trump

Senator Mitt Romney grew emotional as he pronounced the president "guilty of an appalling abuse of public trust." The recriminations from fellow Republicans were immediate.




NYTimes.com - Published





Full Transcript: Mitt Romney's Speech Announcing Vote to Convict Trump

The senator from Utah was the first — and only — Republican to announce he supported removing the president from office.




NYTimes.com - Published





Trump Acquitted of Two Impeachment Charges in Near Party-Line Vote

As Republicans rallied behind President Trump, Senator Mitt Romney of Utah, the party's 2012 presidential nominee, joined Democrats in voting to convict, the only senator to cross party lines.




NYTimes.com - Published





'Appalling abuse': Sen. Mitt Romney votes to convict President Trump on abuse of power charge

Romney's decision means the president will have a tougher time claiming vindication from an impeachment he calls a partisan witch hunt.




USATODAY.com - Published





Romney, Breaking With Republicans, Will Vote to Convict Trump of Abuse of Power

Senator Mitt Romney, Republican of Utah, grew emotional on the Senate floor as he pronounced President Trump "guilty of an appalling abuse of public trust."




NYTimes.com - Published




Romney will vote to convict Trump

Utah Sen. Mitt Romney will vote to convict President Donald Trump, likely the only GOP senator to favor ousting the impeached president. (Feb. 5)  




USATODAY.com - Published





Mitt Romney won't be invited to CPAC following impeachment trial vote for witnesses

Mitt Romney was one of two Republican senators to break ranks by voting for witnesses in the impeachment trial. Now he has been rebuffed by CPAC.




USATODAY.com - Published





Romney backs witness call but Trump impeachment trial nears end

A second Republican senator declared support on Friday for calling witnesses at President Donald Trump's impeachment trial, leaving Democrats still short of the U.S. Senate majority required and paving..




Reuters - Published





Senator Romney to vote for Trump impeachment trial witnesses

Republican U.S. Senator Mitt Romney on Friday will vote in favor of allowing witnesses to testify in the Senate's impeachment trial of President Donald Trump, his spokeswoman said.




Reuters - Published





Mitt Romney: The only Senate Republican seen as a possible vote to convict Trump.

Until late Thursday, he was the lone Republican vocally pushing for witnesses to be called in the impeachment trial.




NYTimes.com - Published





GOP Sens Collins, Romney want witnesses in Trump Senate trial, but additional testimony remains uncertain

Republican Sens. Susan Collins and Mitt Romney said they want witnesses at the Senate trial of President Donald Trump, but decision remains uncertain.




USATODAY.com - Published





Mitt Romney, a Man Alone

Mr. Romney is the only Republican senator calling for witnesses in the impeachment trial. His G.O.P. colleagues are taking shots: One branded him "Jeff Flake on steroids."




NYTimes.com - Published





Even Senators keep their eyes on the moderates during the question periods.

The three Republicans seen as most likely to vote for witnesses are Susan Collins, Lisa Murkowski and Mitt Romney.




NYTimes.com - Published





Romney, contemplating Trump's fate, gets a question.

The question suggests that the senator wants to get to the bottom of why the president withheld vital security assistance from Ukraine.




NYTimes.com - Published





Romney releases questions for White House lawyers and impeachment managers.

His interest in hearing directly from Mr. Bolton has made the Utah Republican one of the most closely-watched lawmakers.




NYTimes.com - Published





Susan Collins submits first question of the trial on behalf of centrist Republicans.

She was joined by Senators Lisa Murkowski and Mitt Romney.




NYTimes.com - Published





Romney called 2016 a time for choosing on Trump. What choice will senators make now?

Sens. Romney, Portman and Burr, Susan Collins, Lamar Alexander and others, it is time for choosing. Which path will you choose for history to record?




USATODAY.com - Published





Romney takes contraband onto the Senate floor: a bottle of chocolate milk.

He promptly exited and returned with the milk in a glass.




NYTimes.com - Published





Romney says it is 'increasingly likely' the Senate will call Bolton.

A lonely voice in favor of calling Mr. Bolton believes he may soon have more company.




NYTimes.com - Published





'Increasingly likely' Republican senators to back call for Bolton to testify: Romney

U.S. Republican Senator Mitt Romney said on Monday that it was "increasingly likely" at least four Republican senators would join Democrats in calling for John Bolton, the former White House national..




Reuters - Published





Romney tells constituents not to expect him to support calling witnesses before opening arguments.

There will be a vote after the arguments, however.




NYTimes.com - Published





3 Republicans Are Open to Impeachment Witnesses, but Democrats Need a 4th

Senators Susan Collins, Lisa Murkowski and Mitt Romney seem open to witnesses in President Trump's impeachment trial. With one more Republican, Democrats could commandeer the proceedings.




NYTimes.com - Published





Impeachment trial: The six Republican senators Trump and McConnell should worry about

Historic Trump impeachment calls for a new chapter in 'Profiles in Courage.' From Alexander and Collins to Murkowski and Romney, 6 possible authors.




USATODAY.com - Published





Trump urges Republicans to get tougher on impeachment

President Trump tried to rally his allies on Capitol Hill, again declaring the House impeachment inquiry a Democratic hit job. He lashed out at Mitt Romney for criticism over his Syria policy and..




CBS News - Published




Trump Jr. jokes Mitt Romney is his "favorite Democrat"

Utah's Republican senator has been a vocal critic of President Trump




CBS News - Published





Romney & Ryan: The first interview

One day after choosing Congressman Paul Ryan as his running mate, presidential candidate Mitt Romney and Rep. Ryan sit down for an interview with CBS News' Bob Schieffer




CBS News - Published





Campaign 2012, part 1

Mitt Romney's plan to restore America to fiscal health includes less government, entitlement reform, tax cuts - and cooperation with Congress. Scott Pelley reports.




CBS News - Published




Mitt Romney: a solitary GOP voice battling Trump for the soul of the Republican Party

Mitt Romney sat down to reflect on his legacy, the state of Utah and what he calls a false assumption he's recruiting Republicans to turn on Trump.




USATODAY.com - Published




Mitt Romney explains how he came up with the Pierre Delecto Twitter name, says his son made the fake account

Mitt Romney, in an interview with USA TODAY, said he didn't put any thought into the name Pierre Delecto when his son set up the fake Twitter account  




USATODAY.com - Published





Senator Mitt Romney

Senator Mitt Romney has found new political life in the wake of his unsuccessful bid for the White House in 2012.




USATODAY.com - Published





Donald Trump's Gift to Mitt Romney: Relevance

It's not how he wanted to get to Washington, but now that he is here the junior senator from Utah is trying to make the most of it.




NYTimes.com - Published





Best of Late Night: Mitt Romney's secret double life

The late-night comedians rib Mitt Romney for his secret Twitter handle, Pierre Delecto.




USATODAY.com - Published





Best of Late Night: Pierre Delecto unmasked!

Sen. Mitt Romney has a secret alter ego he's been using on Twitter. Take a look at our favorite jokes, then vote for yours at usatoday.com/opinion.




USATODAY.com - Published