Mitt Romney
American politician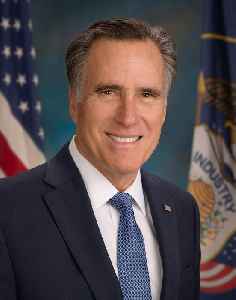 Willard Mitt Romney is an American politician, businessman and former presidential candidate who has served as the junior United States senator from Utah since January 2019. He previously served as the 70th governor of Massachusetts from 2003 to 2007 and was the Republican Party's nominee for President of the United States in the 2012 election.


Why is Wall Street leaning left?

Wall Street banks and their employees have been leaning further left in recent years, increasing the proportion of cash allocated to Democrats. Democratic presidential nominee Joe Biden has..
Credit: Reuters - Politics Duration: 03:17
Published
Mitt Romney Did Not Vote for Donald Trump in 2020 Election

On Monday, Senator Mitt Romney revealed to CNN that he did not vote for Donald Trump's re-election.
Credit: Cover Video STUDIO Duration: 01:08
Published
Trump faces a 'Gray Revolt' among older voters

Once a solidly Republican voting bloc, Reuters polling shows older Americans are increasingly throwing their support behind Democratic presidential candidate Joe Biden ahead of Election Day. This..
Credit: Reuters - Politics Duration: 01:25
Published
Republicans blast debate as 'a brawl', 'embarrassment'

Republican U.S. Senators including Mitch McConnell, Mitt Romney, John Cornyn and Susan Collins on Wednesday blasted Tuesday night's presidential debate and denounced President Trump for not condemning..
Credit: Reuters Studio Duration: 01:38
Published
GOP leaders split with Trump on peaceful transfer of power

[NFA] Senate Republican Leader Mitch McConnell joined other Republican lawmakers in rallying to the defense of constitutional government on Thursday, after President Donald Trump refused to commit to a..
Credit: Reuters - Politics Duration: 02:32
Published
Romney Indicates He Will Support SCOTUS Nominee Vote

Senator Mitt Romney's announcement that he would support President Donald Trump's nomination for a Supreme Court justice likely means that the nomination will be appointed.
Credit: Cover Video STUDIO Duration: 01:07
Published
Romney agrees to vote on Trump's Supreme Court pick

[NFA] Republican Senator Mitt Romney said the Senate should move forward with a vote on President Trump's replacement for liberal Justice Ruth Bader Ginsburg, paving the way for Trump to cement a 6-3..
Credit: Reuters Studio Duration: 02:19
Published
You Might Like



Former Romney 2012 policy director on how Trump should approach debate

President Trump and Joe Biden have their last chance to face one another and make their pitches to the American voters in the final presidential debate of the year. Lanhee Chen, the policy director for..




CBS News - Published





Romney says he did not vote for Trump, as some Republicans distance themselves from the president.




NYTimes.com - Published




How the political landscape has changed for Trump in swing state of Wisconsin

Lanhee Chen, policy director for Mitt Romney's 2012 presidential campaign and an advisor for Senator Marco Rubio's 2016 presidential campaign, joins CBSN to discuss how the political landscape has..




CBS News - Published





Mitt Romney reprimands Trump, Democrats for 'vile' and 'hate-filled' politics

Utah Sen. Mitt Romney, the 2012 Republican nominee for president, directly criticized President Donald Trump and Speaker Nancy Pelosi.




USATODAY.com - Published





Analysts weigh in after VP candidates clash at debate

Vice President Mike Pence and Senator Kamala Harris are both campaigning in Arizona following their debate last night. CBS News political contributor and Democratic strategist Joel Payne, and Lanhee..




CBS News - Published





False advertising in the presidential race

President Obama says some of his campaign ads might "go overboard" or contain mistakes, but most of them simply highlight the differences between him and Gov. Romney.




CBS News - Published





Romney on "Obamacare"

Gov. Romney tells Scott Pelley he supports some elements of the Affordable Care Act, but considers it a "federal takeover of health care" -- and would repeal it if elected.




CBS News - Published





Romney: "We're taking enough money in taxes"

Mitt Romney tells Scott Pelley the country's problem isn't that we're not taxing enough, but that "we're spending too much and we have too little growth."




CBS News - Published





Reviving a stalled economy

President Obama tells Steve Kroft that he and Mitt Romney have a "fundamentally different vision" about how to create jobs. Obama says he wants to return to Clinton-era policies that boosted growth.




CBS News - Published





Mitt Romney: Bank regulations have had a "chilling effect"

Gov. Mitt Romney tells Scott Pelley that we need "extensive regulation" of Wall Street, but President Obama's approach has made small and regional banks reluctant to lend.




CBS News - Published





Romney: "I care about 100% of the American people"

Gov. Romney tells Scott Pelley his secretly recorded comments at a campaign fundraiser were taken out of context, and he is passionate about helping "all the people of this country."




CBS News - Published





Obama and Romney: How they've changed in 5 years

Oh, how times have changed since 2007 when we first met then-Senator Obama and Governor Romney on 60 Minutes. Two producers who covered our presidential candidates then and now revisit the broadcast's..




CBS News - Published





McConnell weighs in on debate, white supremacy

Senate Majority Leader Mitch McConnell weighed in on Tuesday night's fiery and often uncontrolled presidential debate echoing Sen. Mitt Romney's comments earlier in the day, saying "it was not..




USATODAY.com - Published





Barrett meets Romney ahead of judicial hearings

Judge Amy Coney Barrett continued meeting senators on Capitol Hill Wednesday, as part of a day of brief visits with pivotal Republican senators in preparation for her fast-track confirmation before the..




USATODAY.com - Published





Senate GOP deliberates over SCOTUS nomination timeline as Trump prepares to announce pick

After Senator Mitt Romney of Utah announced his support for moving ahead with a Supreme Court nomination, Republican lawmakers are now deliberating over whether to hold a confirmation vote before or..




CBS News - Published





Republicans say they have secured votes for Ginsburg replacement

The Senate has enough time to confirm President Trump's nominee for the Supreme Court. Mitt Romney says that he wants to move ahead to fill the vacant seat. Nancy Cordes has the latest.




CBS News - Published





AP Top Stories September 22 P

Here's the latest for Tuesday September 22nd: Romney supports voting for Ginsburg replacement; U.S., China trade barbs over coronavirus; Police in Kentucky prepare for possible unrest; All-female blind..




USATODAY.com - Published





Romney supports holding vote on SCOTUS nominee

Sen. Mitt Romney supports voting to fill the late Justice Ruth Bader Ginsburg's seat on the Supreme Court, all but ensuring President Trump has the backing needed to push the nomination over objections..




USATODAY.com - Published





Romney backs vote on Trump's Supreme Court nominee

Romney's support for moving forward with the confirmation process provides crucial backing to Senate Majority Leader Mitch McConnell.




CBS News - Published





Republicans appear to have support for vote on Trump Supreme Court nominee after Romney backs push to fill vacancy

Sen. Mitt Romney's backing means Republicans appear to have the support in the Senate to approve a Trump nominee to the Supreme Court.




USATODAY.com - Published





All eyes on Romney, Grassley and Gardner as Supreme Court confirmation fight looms over the Senate.




NYTimes.com - Published





Fact check: Post declaring 4 GOP senators' views on filling Supreme Court opening is partly false

Sens. Mitt Romney and Chuck Grassley haven't publicly stated how they feel about a pre-January vote on a Ruth Bader Ginsburg replacement.




USATODAY.com - Published





Sen. Mitt Romney questions Sen. Ron Johnson's investigation of Joe Biden, says it has 'earmarks of a political exercise'

As Sen. Ron Johnson gets ready to release an investigative report on Joe Biden, Mitt Romney, steps up his criticisms of probe, calling it political.




USATODAY.com - Published





Mitt Romney catches backlash for impeachment vote

President Trump and his allies are celebrating the end of the impeachment trial after the Republican majority in the Senate voted to acquit on both charges. The votes fell nearly along party lines, but..




CBS News - Published





Dozens of former McCain and Romney staff members back Biden.




NYTimes.com - Published





Hundreds of ex-McCain, Romney and Bush aides endorse Biden

The Republican aides said that while the disagree with some of Joe Biden's policy positions, they value his bipartisan work and leadership potential.




CBS News - Published





Republicans argue for Trump's reelection on first night of RNC

Republicans Monday night presented their case for why President Trump should remain in the White House for the next four years. CBSN political reporter Caitlin Huey-Burns; Republican strategist and..




CBS News - Published





Postmaster general "highly confident" mail ballots sent 7 days before Election Day will be counted

Postmaster General Louis DeJoy told a Senate panel Friday he's confident mail-in ballots sent a week before Election Day will be processed and counted. "Extremely, highly confident," DeJoy responded..




CBS News - Published





'This is a political calculation': Romney criticizes Trump's mail-in voting attacks

Sen. Mitt Romney, R-Utah, defended mail-in voting in the wake of President Donald Trump's attacks on the system.




USATODAY.com - Published





Romney on mail-in voting: 'we want people to vote'

Sen. Mitt Romney said Friday that politicians attacking the vote-by-mail system are threatening global democracy but stopped short of criticizing President Donald Trump, who has been openly against an..




USATODAY.com - Published





A Club of G.O.P. Political Heirs Push Back on Trump

Mitt Romney, Larry Hogan and Liz Cheney — descendants of sometimes rebellious or resolute Republicans of the past — are dissenting voices on a president who has taken over their party.




NYTimes.com - Published





The Initial Roger Stone Fallout

"Unprecedented, historic corruption," Romney calls a commutation: This is your morning tip sheet.




NYTimes.com - Published





Mitt Romney calls Trump's Roger Stone commutation 'unprecedented, historic corruption'

Mitt Romney, an avid critic of President Trump, said that Trump granting clemency for Roger Stone is "unprecedented, historic corruption."




USATODAY.com - Published





In Commuting Stone's Sentence, Trump Goes Where Nixon Was Not Willing

Senator Mitt Romney called the commutation an act of "unprecedented, historic corruption."




NYTimes.com - Published





Mitt Romney bows head during prayer at Washington protest march

Republican Senator Mitt Romney bows his head during a prayer after joining an evangelical group for a protest march in Washington on June 7.  




USATODAY.com - Published





Donald Trump bashes Mitt Romney again, this time over a Black Lives Matter march

"Tremendous sincerity, what a guy," Trump tweeted of Romney. The president remains angry at the Utah senator's vote in favor of impeachment charges.




USATODAY.com - Published





Protesters, Everywhere (Including … Mitt Romney?)

Huge demonstrations and a rethinking of the Minneapolis police: This is your morning tip sheet.




NYTimes.com - Published





Republican Sen. Mitt Romney joins George Floyd protest near White House: 'We need to stand up and say that black lives matter'

Republican Sen. Mitt Romney joined a group of about 1,000 Christians who marched near the White House on Sunday. He tweeted "Black Lives Matter."




USATODAY.com - Published





Vote for Trump? These Republican Leaders Aren't on the Bandwagon.

Former President George W. Bush and Senator Mitt Romney won't support Mr. Trump's re-election, and other G.O.P. officials are mulling a vote for Joe Biden.




NYTimes.com - Published





Sen. Mitt Romney was the only GOP senator not invited on Trump's new coronavirus advisory group

Sen. Mitt Romney was the only Republican senator not invited to serve on the president's new panel addressing ways to reopen the country.




USATODAY.com - Published





At CPAC, It's Now an All-Trump Show

At the annual gathering of conservatives, one Republican was conspicuously absent among the Trump supporters — Mitt Romney. The conference organizer said he had been disinvited.




NYTimes.com - Published





Mitt Romney Is a 'Judas' to Many Republicans. But Not in Utah.

Some conservatives want to recall him and others want to censure him. In the state he represents, though, many view speaking out against President Trump as an act to admire, not an apostasy.




NYTimes.com - Published





Coach Mike Leach deletes tweets about Mitt Romney, says 'I just asked questions'

Mississippi State football coach Mike Leach asked critical questions about Mitt Romney, the lone Republican senator to vote against President Trump.




USATODAY.com - Published





Utah Sen. Mitt Romney voted to convict Trump during the impeachment trial. Read his full speech on the Senate floor

Romney was the only Republican to vote to convict Trump, who was acquitted on both impeachment articles. In a floor speech, he explained his position.




USATODAY.com - Published





'I swore an oath.' GOP Sen. Romney faces awkwardness, 'abuse' for defying Trump on impeachment

Mitt Romney, the only GOP senator to vote to convict in the Trump impeachment trial, is a test case for the party's willingness to tolerate dissent.




USATODAY.com - Published





Impeachment Briefing: Trump Is Acquitted

On the final day of impeachment, Mitt Romney crossed party lines to vote with Democrats. Here's the back story.




NYTimes.com - Published





Romney, Defying the Party He Once Personified, Votes to Convict Trump

Senator Mitt Romney grew emotional as he pronounced the president "guilty of an appalling abuse of public trust." The recriminations from fellow Republicans were immediate.




NYTimes.com - Published





Full Transcript: Mitt Romney's Speech Announcing Vote to Convict Trump

The senator from Utah was the first — and only — Republican to announce he supported removing the president from office.




NYTimes.com - Published





Trump Acquitted of Two Impeachment Charges in Near Party-Line Vote

As Republicans rallied behind President Trump, Senator Mitt Romney of Utah, the party's 2012 presidential nominee, joined Democrats in voting to convict, the only senator to cross party lines.




NYTimes.com - Published





'Appalling abuse': Sen. Mitt Romney votes to convict President Trump on abuse of power charge

Romney's decision means the president will have a tougher time claiming vindication from an impeachment he calls a partisan witch hunt.




USATODAY.com - Published