Grammy Award
Accolade by the National Academy of Recording Arts and Sciences of the United States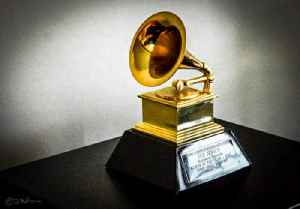 The Grammy Award, or Grammy, is an award presented by the Recording Academy to recognize achievements in the music industry. The trophy depicts a gilded gramophone. The annual presentation ceremony features performances by prominent artists, and the presentation of those awards that have a more popular interest. The Grammys are the first and biggest award of the Big Three networks' major music awards held annually.


Kanye West blocked from Twitter after Grammy pee storm

Kanye West has been temporarily blocked from Twitter after sharing a video of himself urinating on one of his Grammy awards.
Credit: Cover Video STUDIO Duration: 00:50
Published
Kanye West posts video of himself peeing on his Grammy

In the midst of his Twitter firestorm, the rapper tweeted a video of himself peeing on one of his 21 Grammy Awards.
Credit: Cover Video STUDIO Duration: 01:22
Published
Jim Carey Set to Play Joe Biden on 'SNL,' Kanye West Urinates on Grammy Trophy & More News | THR News

Jim Carey is set to play Joe Biden on 'Saturday Night Live,' Kanye West caused quite a stir on Twitter while calling out the music industry, even sharing a video of a Grammy being urinated on and Fox..
Credit: The Hollywood Reporter Duration: 02:06
Published
K-pop legends BTS talk 2020 success

Following a record-breaking 2019, boyband BTS reached new heights with hit "Dynamite" getting U.S. Billboard success. But they wish they could celebrate with their fans. Caroline Malone reports.
Credit: Reuters - Politics Duration: 01:59
Published
Lola Lennox continues family music legacy

Having a Grammy award winning mother setting the standard wasn't always easy for singer Lola Lennox, but she says she managed to turn the intimidation she felt into drive.
Credit: Reuters Studio Duration: 01:30
Published
Boney James | Morning Blend

Grammy Nominated Saxophonist Boney James Releases New Album "Solid"
Credit: ABC Action News Duration: 05:05
Published
The Weeknd digs deep to help relief effort after Beirut blast

Grammy Award winning artist The Weeknd has dug deep to help the relief effort following the huge blast in Beirut.
Credit: Cover Video STUDIO Duration: 00:53
Published
Elton John 'Magical Day': 30 Years Sober

Elton John celebrated a special milestone this week: 30 years of sobriety. The Grammy-, Oscar- and Tony-winning singer-songwriter highlighted the occasion on his social media platforms Wednesday. In a..
Credit: Wochit News Duration: 00:32
Published
Drake Raps In Arabic In 'Only You Freestyle'

Drake and British rapper Headie One dropped "Only You Freestyle" earlier this week -- and, like all Drizzy's records, it immediately went viral. It started off simple enough, with Drake alluding to an..
Credit: Wochit News Duration: 00:34
Published
'Talent Show': Cynthia Erivo to Star in Musical Drama for Universal | THR News

Cynthia Erivo, the Tony, Emmy and Grammy Award winner who was Oscar-nominated for her work in 2019's 'Harriet,' has come aboard 'Talent Show,' a musical drama set up at Universal.
Credit: The Hollywood Reporter Duration: 01:06
Published
You Might Like



Saturday Sessions: NEEDTOBREATHE performs "Hang On"

Grammy-nominated band NEEDTOBREATHE are no strangers to the top of the charts — their album "The Reckoning," from 2011, hit number one on Billboard's Rock Album Chart. Their 2014 collection also..




CBS News - Published




Naomi Osaka's BF, Rapper Cordae, Cheers On Tennis Star From Stands At US Open

Tennis superstar Naomi Osaka had a Grammy-nominated cheerleader pulling for her at the US Open on Thursday -- her rapper boyfriend, Cordae!! As we previously reported, the young power couple has been..




TMZ.com - Published





Justin Timberlake becomes an investor, joins effort to bring Major League Baseball to Nashville

Ten-time Grammy award winner Justin Timberlake joins effort to bring Major League Baseball to Nashville.




USATODAY.com - Published





What's The Big Frigin' Difference?

Don't let these two almost identical images of The Weeknd have you feeling confused ... get it together and do your best to find the sneaky switches that have been made to this tricky pic! The Grammy..




TMZ.com - Published





12/7: CBSN AM

Millions in path of wicked winter storm; Grammy nominations announced




CBS News - Published





Is a Grammy nomination coming for BTS?

After taking home all four awards they were nominated at the MTV VMAs, BTS has the sights set on a Grammy nomination. (Sept. 3)  




USATODAY.com - Published





Country star Chris Stapleton on his new album and the challenges of 2020

Only on "CBS This Morning," five-time Grammy winner Chris Stapleton talks to Anthony Mason about his upcoming fourth album, collaborating with his wife, a new song he wrote about the 2017 Las Vegas..




CBS News - Published





"Sunday Morning" Matinee: Hillsong Young & Free

The last album from the Sydney-based Christian music group Hillsong Young & Free, titled "III," peaked at No. 2 on Billboard's Top Christian/Gospel Albums Chart two years ago. The..




CBS News - Published





Tedeschi Trucks Band plays "It's So Heavy"

Grammy-winning band performs on "CBS This Morning: Saturday" from their album Made Up Mind.




CBS News - Published





Tedeschi Trucks Band members talk group's start, leaving Allman Brothers

Grammy-winning Tedeschi Trucks Band members Susan Tedeschi and Derek Trucks sit down with Anthony Mason to talk about the band's origins, its sound, family and more.




CBS News - Published





Grammys 2014: Stars turn up at after party

One of the most popular parties after the Grammy Awards was Universal Music Group's party at Ace Hotel in downtown Los Angeles. KCBS-TV's Serene Branson was there with the stars to talk about their big..




CBS News - Published





Behind-the-scenes: Grammy Awards cuisine

A massive team of chefs is preparing to cook a feast for the 56th Annual Grammy Awards. CBS News' Bigad Shaban goes into the STAPLES Center's kitchen to see what the biggest stars will be eating..




CBS News - Published





The Grammys to host a rare Beatles reunion

The Recording Academy will celebrate the Beatles, plus Ciara shows off her baby bump. Bigad Shiban has those stories and more in today's Eye on Entertainment.




CBS News - Published





Gregory Porter performs "No Love Dying"

Jazz artist Gregory Porter performs "No Love Dying". The song is featured on his Grammy-nominated album "Liquid Spirit."




CBS News - Published





In 2009, Dolly Parton talked to 60 Minutes about being underestimated

Dolly Parton is nominated for two Grammys this year. In 2009, Dolly Parton told Morley Safer as a little girl she wanted to look like the town tramp when she grew up.




CBS News - Published





Dan + Shay release quarantine-recorded song

Grammy-winning country duo Dan + Shay released their first new music in 2020, a single they recorded by themselves at home. "I Should Probably Go To Bed" came after their tour abruptly was cut..




USATODAY.com - Published





"Sunday Morning" Full Episode 8/2

Hosted by Jane Pauley. In our cover story, David Pogue checks up on why nearly half of Americans are believed to be living without high-speed internet access. Plus: Mo Rocca sits down with actress and..




CBS News - Published





Tanya Tucker: Legend

Since the ripe old age of 13, Tanya Tucker has had nearly two dozen Top-40 albums. And after more than 50 years on stage, her latest album, "While I'm Livin'," has gotten the best reviews of her career..




CBS News - Published





The Chicks return after a decade with new album

Billboard executive editor Melinda Newman previews "Gaslighter," the first new album in 14 years from Grammy-winning country group The Chicks. (July 15)  




USATODAY.com - Published





Lady Antebellum changes name to Lady A: 'We feel like we have been awakened'

Grammy Award-winning country trio Lady Antebellum dropped "Antebellum" from its name Thursday, per a social media post from the group.




USATODAY.com - Published





Last dance for legendary Madrid flamenco joint, stung by coronavirus

A Madrid flamenco bar that has played host to some of Spain's top performers, including an early-career set from Grammy-award winner Rosalia, is shutting down as audiences dwindle in the wake of the..




Reuters - Published





ShowBiz Minute: Grammys, 'Fresh Off The Boat,' Zoo

Winfrey, Pitt part of Grammys special for essential workers; The casts of "Fresh Off the Boat" and "Kim's Convenience" are teaming up for a charity event; Boston zoo reopens after losing $3M in..




USATODAY.com - Published





The-Dream on co-writing 'Savage' remix, new album and going back to college

Grammy award-winning songwriter "The-Dream" reveals how the "Savage" remix came together. He also talks about his new solo album, "SXTP4" and enrolling in the Savannah College of Art and Design to..




USATODAY.com - Published





Grammy-winning R&B singer Betty Wright dies at 66, reports say

Grammy-winning R&B singer Betty Wright has died at 66, according to multiple reports.




USATODAY.com - Published





Grammy-nominated gospel singer Troy Sneed dies from coronavirus complications at age 52

Grammy-nominated gospel singer Troy Sneed died Monday in Jacksonville, Fla., from complications with the coronavirus. He was 52.




USATODAY.com - Published





Ne-Yo hopes to infuse diversity into the tech world

Grammy winner Ne-Yo not only sings and produces hit songs, but he hopes to produce new talent in the tech industry by focusing on young people of color. He is a board member for the Holberton School..




USATODAY.com - Published





Bill Withers, Soul Legend Who Sang 'Lean on Me' and 'Lovely Day,' Dies at 81

A three-time Grammy Award winner known for his 1970s hits like "Ain't No Sunshine" and "Use Me," Mr. Withers last released an album in 1985.




NYTimes.com - Published





Adam Schlesinger, of 'Stacy's Mom' and 'That Thing You Do' fame, hospitalized with coronavirus

Adam Schlesinger, the Oscar- and Grammy-nominated member of alt-rock band Fountains of Wayne, has been hospitalized with coronavirus.




USATODAY.com - Published





Country star Kenny Rogers dies at 81

Grammy-winning actor-singer Kenny Rogers, the smooth balladeer who spanned jazz, folk, country and pop with such hits as "Lucille," "Lady" and "Islands in the Stream" and embraced his persona as "The..




USATODAY.com - Published





Kenny Rogers, Grammy-winning singer and acting star, dies at 81

Actor-singer Kenny Rogers, the smooth, Grammy-winning balladeer who spanned various music genres, died of natural causes Friday night. He was 81.




USATODAY.com - Published





Lecrae makes sinks for homeless amid virus fears

Grammy-winning hip hop recording artist Lecrae joins forces with non-profit organization to distribute portable hand washing stations throughout as virus fears spread. (March 19)  




USATODAY.com - Published





Lauren Daigle preps first arena tour

Grammy-winning singer Lauren Daigle is now playing arenas due to the crossover success of her single "You Say," but said she still wants her show to feel as intimate as a smaller venue. (Feb. 24)  




USATODAY.com - Published





Today in History for February 24th

Highlights of this day in history: President Andrew Johnson impeached; The Nazi Party holds its first major meeting; Manila liberated during World War II; Britain's Prince Charles, Lady Diana Spencer..




USATODAY.com - Published





Lizzo talks self-confidence: 'I am curvy and I am perfect. I'm beautiful'

Grammy award-winner Lizzo says lack of diversity at the Grammy Awards is not an isolated incident, and she hopes to use her platform to create change. She also discusses loving the skin she's in. (Feb...




USATODAY.com - Published





Darius Rucker's 'Wagon Wheel' keeps rolling

Country singer Darius Rucker was surprised to learn that his song "Wagon Wheel" is now among the top five most popular country songs ever. The Recording Industry Association of America says Rucker's..




USATODAY.com - Published





Lyle Mays, keyboardist and 11-time Grammy winner with Pat Metheny Group, dies at 66

Lyle Mays, a jazz keyboardist whose work won nearly a dozen Grammy Awards, died Monday in Los Angeles, it was announced. He was 66.




USATODAY.com - Published





Billie Eilish continues whirlwind year at the Oscars, still can't believe Grammys wins

The party isn't yet over for Billie Eilish, who is still processing her four Grammy wins on the Oscars red carpet.




USATODAY.com - Published





Five Places to Visit in Oakland with Fantastic Negrito

The Grammy-winning musician, a true believer in his hometown's intoxicating energy, riffs on his favorite spots.




NYTimes.com - Published





Green Day's Billie Joe Armstrong talks new album, F-bombs and why Grammys are 'like a bad prom'

"In the past, we called out presidents and things like that, but right now it felt too obvious," Green Day's Billie Joe Armstrong said of the new album.




USATODAY.com - Published





Super Bowl: Demi Lovato wows with flawless, confident national anthem

A week after debuting her emotional new single "Anyone" at the Grammys, Demi Lovato soared with a pitch-perfect National Anthem at the Super Bowl.




USATODAY.com - Published





Alicia Keys opens up about hosting the Grammys hours after learning of Kobe Bryant's death

Alicia Keys opened up about how she reacted to learning Kobe Bryant had died just hours before hosting the Grammy Awards.




USATODAY.com - Published





On This Day: 28 January 2010

After 14 years in LA, the Grammy Awards returned to New York for one night only. (Jan. 28)  




USATODAY.com - Published





Billie Eilish shouts out Ariana Grande at Grammys, but Grande's fans say she was snubbed

Though Billie Eilish gave Ariana Grande a shout out during her Grammys 2020 acceptance speech, fans were upset that Grande got snubbed.




USATODAY.com - Published





Eilish, BTS, Lizzo lead the Grammy fashion pack

Billie Eilish, Lizzo, BTS, Ariana Grande, Lana Del Rey, Dua Lipa and the Jonas Brothers command the red carpet at the Grammys. (Jan. 27)  




USATODAY.com - Published





John Bolton, Kobe Bryant, Grammy Awards: Your Monday Briefing

Here's what you need to know.




NYTimes.com - Published





Eilish wins big, Bryant remembered at Grammys

Billie Eilish sweeps the Grammys while stars including host Alicia Keys and musician Lizzo pay tribute to the late Kobe Bryant. (Jan. 27)  




USATODAY.com - Published





Music stars remember Kobe Byrant at Grammys

H.E.R., Swae Lee, Smokey Robinson, Rick Ross and more pay tribute to Kobe Bryant at the Grammy Awards. (Jan. 27)  




USATODAY.com - Published





Grammys 2020: Can nominees trust the voting system? Even some winners are conflicted

Tyler, the Creator said he's "half and half" about whether he's psyched to take his new Grammy home. Other attendees shared similar mixed feelings.




USATODAY.com - Published





Grammys 2020: Billie Eilish on that moment she knew she was really big and more backstage gossip

Sheila E talked about playing ping-pong with Prince and Tyler, the Creator contested how the Grammys sees him. More backstage gossip straight ahead!




USATODAY.com - Published





Camila Cabello brings dad to tears with heartfelt Grammys performance

Camila Cabello's emotional tribute to her father had the audience in tears following Kobe Bryant and his daughter Gianna's deaths.




USATODAY.com - Published