SpaceX
American private aerospace company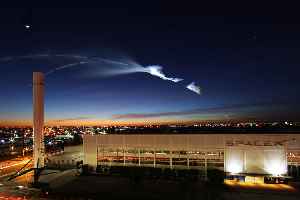 Space Exploration Technologies Corp. (SpaceX) is an American aerospace manufacturer and space transportation services company headquartered in Hawthorne, California. It was founded in 2002 by Elon Musk with the goal of reducing space transportation costs to enable the colonization of Mars. SpaceX has developed several launch vehicles, the Starlink satellite constellation, the Dragon cargo spacecraft, and flown humans to the International Space Station on the Crew Dragon Demo-2.


Russia blasts off U.S. astronaut: end of an era?

A Russian Soyuz spacecraft carrying a U.S. astronaut and two Russian cosmonauts blasted off from the Baikonur cosmodrome in Kazakhstan on Wednesday, in what is the last scheduled Russian flight..
Credit: Reuters - Politics Duration: 01:36
Published
SpaceX Wins Pentagon Award for Missile-Tracking Satellites

According to the US Space Development Agency (SDA), Elon Musk's SpaceX secured its first government contract to build satellites.
Credit: Cover Video STUDIO Duration: 00:48
Published
Your FedEx Packages May Soon Arrive By Autonomous Cargo Plane

Gizmodo reports that FedEx is partnering with Reliable Robotics to incorporate the firm's unmanned aircraft into its delivery fleet. Reliable Robotics is an aviation startup run by former Tesla and..
Credit: Wochit News Duration: 00:27
Published
You Might Like



SpaceX engine swap should clear way for astronaut launch

SpaceX is replacing two suspect engines in the Falcon 9 rocket that will boost four astronauts to the space station.




CBS News - Published





NASA plans November 14 launch for next SpaceX Crew Dragon

The launch will mark the first operational flight by SpaceX's commercially developed Crew Dragon spacecraft.




CBS News - Published





SpaceX launches 60 Starlink internet satellites from Cape Canaveral

With Saturday's launch, SpaceX has put 895 Starlinks into orbit, 180 of them — more satellites than any other company owns -- in less than three weeks.




CBS News - Published




Elon Musk Says He's Not Leaving California Despite Tesla Announcement

Elon Musk has said he's moving shop -- as in Tesla shop -- to the Lonestar State, but he said something Friday night that made us wonder if the plan's still a go. We got the Tesla/SpaceX honcho in WeHo..




TMZ.com - Published





AP Top Stories October 19 A

Here's the latest for Monday October 19th: Congress runs out of time for coronavirus aid deal; COVID-19 rates rising quickly in El Paso, Texas; Trump & Biden campaign in swing states; SpaceX sends..




USATODAY.com - Published




SpaceX launches another 60 Starlink satellites

It was the first of two planned Starlink launchings in just three days.




CBS News - Published

Also reported by •USATODAY.com


SpaceX launches with satellites onboard

SpaceX Falcon 9 rocket lifted off from the Kennedy Space Center Tuesday morning carrying satellites into orbit. (Oct. 6)  




USATODAY.com - Published




NASA tries again to launch $23M space toilet for astronauts

Cargo ship, with new toilet on board, heads to space station while SpaceX launches a navigation satellite.




CBS News - Published





SpaceX launch of astronauts aboard Dragon Crew capsule now set for Halloween

NASA Astronaut Victor Glover's first trip to space will take place on Halloween aboard SpaceX's Crew Dragon capsule.  




USATODAY.com - Published





NASA targeting Halloween for next SpaceX crew launch

SpaceX crew capsule will carry four astronauts to the International Space Station for a six-month stay.




CBS News - Published




Tom Cruise Gets Flight Date for International Space Station Filming Trip

Most Hollywood types say, "Let's do lunch" ... but for Tom Cruise, it's "Let's do LAUNCH" -- and now he knows when he'll make his virgin voyage to space to film a movie. Tom's hitching a ride on a..




TMZ.com - Published





Elon Musk's "Neuralink" looks to implant chips into the human brain

The man behind SpaceX and Tesla now wants to get inside your brain. Elon Musk's startup company "Neuralink" is looking to implant chips in the human brain to help treat neural disorders. Some say the..




CBS News - Published





SpaceX launches 60 more Starlink satellites in fast-growing constellation

SpaceX has now launched a total of 713 Starlink internet relay satellites, with thousands more on the way.




CBS News - Published




9/18: CBSN AM

Mike Pompeo travels to Saudi Arabia; SpaceX tests "Starhopper" rocket




CBS News - Published




SpaceX to attempt historic back-to-back Falcon 9 flights

Two Florida launches nine hours apart, plus a polar orbit, mark new records for SpaceX




CBS News - Published





SpaceX launches Falcon 9 rocket on record sixth flight

A SpaceX Falcon 9 rocket, using a first stage making a record sixth flight, lifted off from Cape Canaveral early Tuesday, carrying 58 more Starlink internet satellites into orbit along with three..




CBS News - Published





Last-second glitch halts SpaceX rocket launch

The launch of the unmanned Falcon 9 rocket was aborted moments before liftoff on Thanksgiving due to an unexplained technical issue, SpaceX officials said.




CBS News - Published





ULA, SpaceX win massive Pentagon contracts

ULA and SpaceX are expected to launch more than 30 national security space missions through 2026.




CBS News - Published





Astronauts describe trip home aboard SpaceX capsule and what they would do differently next time

Mark Strassmann speaks to NASA astronauts Bob Behnken and Doug Hurley, who had a successful landing back on Earth. They describe their landing and what they can do better for next time. One astronaut's..




CBS News - Published





SpaceX launches Starship prototype on dramatic test flight

The Starship test rocket's single Raptor engine boosted the vehicle into the sky above Boca Chica, Texas, atop a plume of flaming exhaust and billowing clouds of smoke.




CBS News - Published





Astronauts describe thrilling re-entry

With a piloted test flight complete, NASA hopes to certify the SpaceX capsule for operational missions.




CBS News - Published





Astronauts on return to Earth in Dragon capsule

NASA astronauts Bob Behnken and Doug Hurley discuss their return to Earth, two days after returning from orbit on SpaceX's dragon capsule. (Aug. 4)  




USATODAY.com - Published





Astronauts talk about successful SpaceX mission and splashdown

NASA astronauts Bob Behnken and Doug Hurley held a news conference after their return from the International Space Station aboard the SpaceX Crew Dragon, the first commercial spacecraft to carry..




CBS News - Published





SpaceX splashdown marks successful end to first U.S. commercial crew mission

When the SpaceX "Endeavour" capsule splashed down in the Gulf of Mexico Sunday afternoon, it marked the successful end of the first U.S. commercial manned space mission. CBS News space analyst Bill..




CBS News - Published





NASA administrator on historic SpaceX Crew Dragon mission

SpaceX's Crew Dragon capsule safely returned to Earth on Sunday afternoon, splashing down in the Gulf of Mexico with two astronauts on board. NASA administrator Jim Bridenstine joined CBSN to discuss..




CBS News - Published





CBS Weekend News, August 2, 2020

SpaceX capsule brings 2 NASA astronauts back to Earth; Opera breathes new life into the Circus Maximus amid coronavirus pandemic. 




CBS News - Published





Private Boats Enter SpaceX Splashdown Area, Raising Concerns

"We need to do a better job next time" of securing the area, the NASA administrator, Jim Bridenstine, said.




NYTimes.com - Published





SpaceX capsule brings 2 NASA astronauts back to Earth

Two NASA astronauts splashed down in the Gulf of Mexico inside a SpaceX capsule after a mission to the International Space Station — the first time in 45 years that U.S. astronauts have done so. Mark..




CBS News - Published





NASA Astronauts Safely Return to Earth: 'Thank You for Flying SpaceX'

Bob Behnken and Doug Hurley returned to Earth in the first water landing by an American space crew since 1975.




NYTimes.com - Published





SpaceX, NASA crew make 1st splashdown in 45 years

Two NASA astronauts returned to Earth on Sunday in a dramatic, retro-style splashdown, their capsule parachuting into the Gulf of Mexico. This was the first splashdown by U.S. astronauts in 45 years...




USATODAY.com - Published





SpaceX crew prepares for splashdown

The Crew Dragon capsule carrying two NASA astronauts is headed for the agency's first ocean splashdown in 45 years.




CBS News - Published





SpaceX capsule and NASA astronauts return to Earth in first splashdown since 1975

Doug Hurley and Bob Behnken, two NASA astronauts, returned to Earth in a dramatic, retro-style splashdown, their capsule parachuting into the Gulf of Mexico to close out an unprecedented test flight by..




CBS News - Published





SpaceX 's Crew Dragon Endeavour capsule splashes down off Florida coast

Astronauts Doug Hurley and Bob Behnken spent a little over two months on the International Space Station.  




USATODAY.com - Published





Crew Dragon astronauts wrap up historic test flight

Splashdown is a final hurdle before NASA certifies the SpaceX capsule for operational use.




CBS News - Published





SpaceX astronauts cleared for return despite weather concerns

Despite hostile weather conditions posed by Hurricane Isaias, NASA announced that the return of two SpaceX astronauts from the International Space Station is a "go." Mark Strassmann reports.




CBS News - Published





'Isaias may actually help': NASA plans Sunday splashdown of SpaceX capsule off Florida coast

The Dragon spacecraft will be traveling at more than 17,500 mph when in begins to enter the Earth's atmosphere.  




USATODAY.com - Published





SpaceX crew say goodbye before returning to Earth

Two U.S. astronauts based on the International Space Station on Saturday gave their farewells as they planned to return to Earth. (Aug. 1)  




USATODAY.com - Published





Astronauts' last spacewalk before SpaceX departure

Astronauts squeezed in one last spacewalk Tuesday before turning their attention to the all-important end to SpaceX's first crew flight. (July 21)  




USATODAY.com - Published





SpaceX launches US military's newest GPS satellite

SpaceX's Falcon 9 rocket blasted off from Florida's Cape Canaveral Air Force Station Tuesday, carrying the U.S. military's newest, most accurate GPS satellite. (July 1)  




USATODAY.com - Published





SpaceX launch a 'turning point' for new space age

Namira Salim, the founder and chairperson of Space Trust, says the NASA and SpaceX launch of astronauts to the International Space Station is "a turning point" for a new space age. (June 2)  




USATODAY.com - Published





Russia applauds SpaceX launch but calls Trump's reaction 'hysteria'

Russia's space agency criticised U.S. President Donald Trump's "hysteria" about the first spaceflight of NASA astronauts from U.S. soil in nine years, but also said on Sunday it was pleased there was..




Reuters - Published