Dow Jones Industrial Average
Stock market index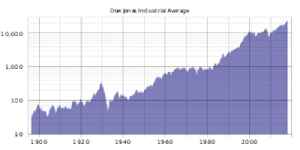 The Dow Jones Industrial Average (DJIA), Dow Jones, or simply the Dow, is a stock market index that measures the stock performance of 30 large companies listed on stock exchanges in the United States. Although it is one of the most commonly followed equity indices, many consider the Dow to be an inadequate representation of the overall U.S. stock market compared to broader market indices such as the S&P 500 Index or Russell 3000 because it only includes 30 large cap companies, is not weighted by market capitalization, and does not use a weighted arithmetic mean.


Nasdaq surges on megacap earnings

The Nasdaq jumped more than 1% on Friday, powered by strong earnings from some of the largest U.S. companies, but the Dow and S&P finished with smaller gains as uncertainty about the government's next..
Credit: Reuters Studio Duration: 01:27
Published
Stocks little changed with eyes on virus

The S&P 500 and the Nasdaq finished slightly higher on Friday but the Dow closed with a loss as investors kept an eye on record new coronavirus cases in the U.S. Conway G. Gittens wraps up the trading..
Credit: Reuters Studio Duration: 01:39
Published
Dow Surges 557 Points

US stocks rose on Tuesday as investors weighed second-quarter earnings results for US banks against spiking coronavirus cases. JPMorgan gained after earnings beat Wall Street expectations. Wells Fargo..
Credit: Wochit News Duration: 00:38
Published
Stocks mostly fall on COVID-19 concerns

The S&P 500 ended lower Friday after a choppy session as investors weighed spiking cases of COVID-19 and Apple's announcement of fresh store closures against anticipated stimulus and continued economic..
Credit: Reuters Studio Duration: 01:19
Published
Stock rally takes a pause as new COVID-19 cases spike

The Dow and S&P 500 snapped three-day winning streaks as a surge in new coronavirus cases in several states gave investors a reason to pause. Conway G. Gittens has the wrap.
Credit: Reuters Studio Duration: 01:47
Published
U.S. retail sales rise 18%

U.S. retail sales increased by the most on record in May after two straight months of sharp declines as businesses reopened, offering more evidence that the recession was over or drawing to an end...
Credit: Reuters Studio Duration: 01:09
Published
Wall Street Rebounds, Dow Jumps 600 Points

Wall Street Rebounds, Dow Jumps 600 Points
Credit: Wochit News Duration: 00:29
Published
You Might Like



Dow notches best quarter since 1987, a rebound helped by low interest rates and government stimulus amid COVID-19

Stocks notched their best quarter in decades, as government stimulus and help from the Fed helped markets start to recover from the damage of COVID-19 at the start of the year.




USATODAY.com - Published





Dow drops 700 points, caps week with losses as virus cases surge

Stocks slid Friday, as investors weighed the Fed's move to temporarily suspend shareholder payouts by big banks ahead of a potential recession.




USATODAY.com - Published





Dow drops 730 points on COVID-19 fears

Dow drops 730 points on COVID-19 fears  




USATODAY.com - Published





Dow drops 700 points as virus cases surge, IMF cuts global outlook

Stocks fell Wednesday on worries over the prospects of a quick economic recovery after the IMF projected the global recession will be worse than initially expected.




USATODAY.com - Published





Dow soars 700 points as May retail sales surge to record

U.S. stocks rallied Tuesday after retail sales rebounded in May, rising to a record as businesses that were battered by the coronavirus pandemic started to reopen.




USATODAY.com - Published





Dow drops 300 points on fears of coronavirus resurgence

Stocks dropped Monday, as a rise of coronavirus cases in the U.S. dashed investors' optimism over prospects for a global economic recovery.




USATODAY.com - Published





Coronavirus live updates: US braces for 'horrific' weeks as deaths top 5,000; Los Angeles mayor tells residents to wear masks; Dow slumps

More than 1,000 people died of coronavirus Wednesday, pushing the death toll over 5,000 and likely signaling the beginning of a "very painful" period.




USATODAY.com - Published




Dow dips 400 points on Tuesday, capping its worst first quarter ever

The Dow dropped 410.32 points to end at 21,917.16. The blue-chip average shed 23% in the first three months of the year, its worst first quarter ever.




USATODAY.com - Published





Coronavirus live updates: US death toll tops 2,500; Trump continues social distancing rules; Liberty University pushes back against NYT

President Trump extends social distancing guidelines until April 30 as US death count nears 2,500 and Dow Jones braces for a rough week.




USATODAY.com - Published





Dow posts best 3-day gain since 1931 even as jobless claims surge to record 3.3 million

U.S. stocks rose Thursday even as data revealed a record 3.3 million Americans filed for unemployment benefits last week following a wave of layoffs from the coronavirus pandemic.




USATODAY.com - Published





Dow loses almost all that it gained during Trump's presidency

As Wall Street extended its deep sell-off on Wednesday over fears about the coronavirus, the Dow Jones Industrial Average effectively erased the last of the once sizeable gains it made under U.S...




Reuters - Published





Dow, S&P 500 keep falling. So how will we know when the stock market drop is over?

The coronavirus pandemic is sending the Dow and S&P 500 spiraling lower. So what are some signs that the stock market plunge could end?




USATODAY.com - Published





Stocks poised for plunge Monday as Dow futures drop 1,000 points despite Fed rate cut to zero

Stocks were headed for a drop after the Fed surprised markets by cutting interest rates to zero to fight the coronavirus's impact on the economy.




USATODAY.com - Published





Worried about the stock market plunge? Here are 3 ways to protect your money

Coronavirus fears have hit stocks hard, sending the Dow into a bear market. Experts weigh in on how investors can protect themselves.




USATODAY.com - Published





Economy, stock markets look even shakier after Trump announces European travel ban and NBA ends season

Dow futures fall 1,000 points after Trump announces travel ban




USATODAY.com - Published





What are bear markets and how does it affect me?

The Dow Jones officially hit bear market status and S&P 500 is almost there, as well. Here's what that means.




USATODAY.com - Published





EU seeks to tackle coronavirus as Italy locks down north, prisoners riot

EU leaders will seek a coordinated response to the coronavirus after global markets plunged on Monday and Italy sealed off much of its industrial north, where six prisoners were killed in a riot over..




Reuters - Published





Dow plummets 1,800 points, oil prices drop as global recession concerns mount

U.S. stocks, bond yields and oil prices tumbled Monday, extending a global rout as fears intensified about the coronavirus outbreak.




USATODAY.com - Published





Dow slides 250 points, bond yields slump to new lows on pessimism over coronavirus impact

Stocks and bond yields dropped sharply again Friday as pessimism prevailed over hopes for central bank action to counter the virus outbreak.




USATODAY.com - Published





Dow jumps nearly 1,300 points on hopes that central banks can boost economies as coronavirus spreads

The Dow bounced back from a coronavirus-related selloff, surging nearly 1,300 points. Central banks are poised to help combat the outbreak's effects




USATODAY.com - Published





Dow Jones Industrial Average slides 357 points on coronavirus fears as stocks post worst week since 2008

The Dow plunged further Friday, deepening this week's global rout on fears that a deadly virus in China is spreading.




USATODAY.com - Published





AP Top Stories February 27th P

WHO cautions on coronavirus readiness; Pope Francis ill; hearse and corpse recovered after chase; Dow tumbles again. (Feb. 27)  




USATODAY.com - Published





Dow futures slide 300 points on fears the coronavirus could be spreading to the US

Stock futures tumbled Thursday as fears mount that the deadly coronavirus could be spreading to the U.S. as the number of world-wide cases top 81,000.




USATODAY.com - Published





Dow slides 450 points after worst drop in 2 years

U.S. stocks slumped Tuesday as investors continued to grapple with lingering concerns over the economic fallout from the coronavirus outbreak.




USATODAY.com - Published





In California: A tender goodbye in Los Angeles

The world says goodbye to Kobe Bryant. Travelers exposed to coronavirus head to quarantine sites across the state, including one in Ventura County, as the Dow drops 1,000 points following the jump in..




USATODAY.com - Published





Dow futures plunge 800 points as coronavirus cases outside China jump

U.S. stock futures tumbled Monday after a sharp rise in coronavirus cases outside China revived concerns about an economic fallout from the outbreak.




USATODAY.com - Published





Dow drops 277 points as investors assess global economic fallout from coronavirus outbreak

U.S. stocks pulled back from records Friday as investors fretted over the economic fallout from the coronavirus that's spreading further in China.




USATODAY.com - Published





Dow plunges 600 points as coronavirus fears cap turbulent week on Wall Street

U.S. stocks fell broadly on Friday amid ongoing uncertainty about the potential economic impact of the virus outbreak that originated in China.




USATODAY.com - Published





Dow futures plunge 430 points as fears about coronavirus rattle investors

U.S. stock futures and oil prices were sharply lower Monday as fears over the spread of a deadly outbreak of coronavirus rattled investors.




USATODAY.com - Published





Trump tweets 'How are your 409K's doing?' in apparent typo as Dow and S&P 500 hit intraday records

President Trump tweeted that Americans' "409K'S" are doing great, a typo referencing 401(k) retirement accounts that was later deleted.




USATODAY.com - Published





Dow futures cut losses as investors weigh Iran retaliation

Stock futures were mildly higher Wednesday, retracing initial losses after Iran fired a series of missiles at U.S. forces that were stationed in Iraq.




USATODAY.com - Published





Dow futures plunge 400 points after Iran fires missiles at Iraqi air base housing US troops

Stock futures tumbled and oil prices jumped Tuesday evening after Iran fired more than a dozen missiles at U.S. troops in Iraq.




USATODAY.com - Published





Stock market: Dow slides 130 points, oil prices jump as Iran tensions escalate

U.S. stocks fell and oil prices jumped Monday as tensions between Iran and the U.S. escalated over the weekend, rattling financial markets.




USATODAY.com - Published





Dow dives after Trump hints that a trade deal with China could come after the 2020 election

U.S. stocks tumbled Tuesday on worries that a trade deal with China could be delayed until after the U.S. presidential election.




USATODAY.com - Published





Stocks slump after Trump signals delays for China trade deal

Dow plunges 400 points after the president suggested the trade war could last until after 2020 election




CBS News - Published





Why retirement plans aren't matching pace of market growth

A new report shows Americans' retirement savings are not growing at the same pace as stocks, which are again hovering around record highs. Over the last decade, the average 401(k) account balance grew..




CBS News - Published





Stocks rally toward records on U.S.-China trade optimism

The Dow Jones industrial average was on track to hit a record Monday, buoyed by renewed optimism about a U.S.-China trade deal.




USATODAY.com - Published





Tariff and impeachment news hit stock market

Uncertainty in Washington and new tariffs against Europe are more bad news for the Dow, which whipsawed Thursday




CBS News - Published





What's really behind the "nasty sell-off" in the markets?

Your 401(k) may be taking a hit this week after another sell-off in the markets. The Dow, Nasdaq and S&P each lost more than 1.5% of their value Wednesday, the second straight day of losses. President..




CBS News - Published





Dow slides more than 500 points as economic concerns flare

Signs that the U.S. economy is slowing down and ongoing trade tensions are making investors nervous




CBS News - Published





Dow falls as oil prices jump after Saudi oil attack, raising specter of higher gas prices

Stocks opened lower Monday as the attack on Saudi Arabian oil facilities pushed oil prices and raised the prospect of more expensive gasoline.




USATODAY.com - Published





Why the Dow has rebounded from turmoil in August and is nearing a new record

Stocks were set to close hire Friday for the eighth straight day and third week. The market has rebounded from August plunge and nears a record high




USATODAY.com - Published





Dow bursts out of gates, up 400 points as US and China agree to resume trade talks

Word that the U.S. and China will restart trade talks in October has sent stocks broadly higher Thursday.




USATODAY.com - Published





Dow down over 300 points as US stocks tank early: New China tariffs kicking in

Technology companies led the decline. Apple and Nvidia both fell at least 1% early Tuesday.




USATODAY.com - Published





Trump arrives in France for G-7 summit after escalating tensions with China

President Trump is in France for the G-7 summit, a meeting with leaders from Canada, France, Germany, Italy, Japan and the United Kingdom. His arrival comes after China announced retaliatory tariffs on..




CBS News - Published





8/23/19: CBSN Evening News

Dow drops 600+ points over trade war concerns; On The Road: Picture Window.




CBS News - Published




US stocks fall sharply as trade war escalates

Markets closed sharply lower Friday after the latest escalation of the U.S.-China trade dispute. The Dow Jones industrials sank 623 points, or 2.4%. (Aug. 23)  




USATODAY.com - Published





Markets drop as China announces tariff hike on U.S. products

The Dow lost more than 1% after China announced a round of retaliatory tariffs on $75 billion of U.S. products.




CBS News - Published





Carlyle Group's David Rubenstein: "We're due for a recession"

David Rubenstein is co-founder and co-executive chairman of The Carlyle Group, one of the world's largest private equity firms. It manages $223 billion across 362 investments around the world...




CBS News - Published





Eye Opener at 8: Dow plummets in biggest drop of the year

A look back at what we've been covering on "CBS This Morning."




CBS News - Published