Kentucky
State of the United States of America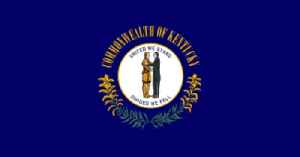 Kentucky, officially the Commonwealth of Kentucky, is a state located in the east south-central region of the United States. Although styled as the "State of Kentucky" in the law creating it, (because in Kentucky's first constitution, the name state was used) Kentucky is one of four U.S. states constituted as a commonwealth. Originally a part of Virginia, in 1792 Kentucky split from it and became the 15th state to join the Union. Kentucky is the 37th most extensive and the 26th most populous of the 50 United States.


A Kentucky farmer, ex-Marine wants to challenge Mitch McConnell in 2020 US Senate race
Democrat Michael "Mike" Broihier enters the 2020 U.S. Senate primary contest trumpeting a "no labels" message to Kentucky voters.
USATODAY.com - Published
'It's absolutely outrageous': Jon Stewart slams Rand Paul for delaying 9/11 first responder bill
Sen. Rand Paul, R-Ky., objected to the projected cost of the bill that would reauthorize the 9/11 first responders compensation fund.
USATODAY.com - Published
Opioid Distributor Miami-Luken Up On Federal Charges
Newser reports that once again, opioid distributors are up on charges. Prosecutors indicted Ohio-based drug distributor Miami-Luken, and two of its former executives Wednesday. They're accused of..
Credit: Wochit News Duration: 00:40Published
Why The Jim Beam Warehouse Fire Can't Be Put Out
A fire levelled two Jim Beam bourbon warehouses on Tuesday. Business Insider reports that the fire hasn't been put out with water, because water runoff could poison wildlife in nearby rivers. One of..
Credit: Wochit News Duration: 00:32Published
Kentucky bourbon fire still burning
A massive fire that destroyed a Kentucky Jim Beam bourbon warehouse containing some 45,000 barrels of whiskey on Wednesday may have been caused by a lightning strike, a spokesman for the company said,..
Credit: Reuters Studio Duration: 00:44Published
Transportation Secretary Elaine Chao Reportedly Steers $78 million In Federal Grants To Her Husband Sen. Mitch McConnell
Business Insider is reporting that US Transportation Secretary Elaine Chao designated one of her staffers to direct $78 million in federal grants specifically to transportation projects in her husband..
Credit: Wochit News Duration: 00:58Published
How The GOP Mainstream Is Co-Opting The Anti-Vaxxer Movement
The anti-vaccine movement swells with discredited theories that blamed vaccines for autism and other ills. And according to Politico, it has morphed and grown into a libertarian political rebellion...
Credit: Wochit News Duration: 01:00Published
Priest pays coal miners' bills after company files for bankruptcy
A group of Kentucky coal miners hasn't received pay since their company went bankrupt. Then, a financial savior arrived – a priest who gave more than 100 workers over $20,000.
CBS News - Published
Ever have a tick? This Kentucky man got one in his eye
A Kentucky man who went to the doctor with an irritated eye got the unsavory news that it contained a tick.  
USATODAY.com - Published
Kurt Busch wins NASCAR Cup race at Kentucky after a wild overtime battle with Kyle Busch
Kurt Busch and Kyle Busch put on a show, but it was elder brother Kurt who won the race and gave Chevrolet its first Cup Series win at Kentucky.
USATODAY.com - Published
Search this site and the web:
You Might Like