Alaska
State in the United States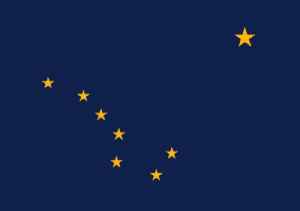 Alaska is a state located in the northwest extremity of the United States West Coast, just across the Bering Strait from Asia. An exclave of the U.S., it borders the Canadian province of British Columbia and territory of Yukon to the east and southeast and has a maritime border with Russia's Chukotka Autonomous Okrug to the west. To the north are the Chukchi and Beaufort seas of the Arctic Ocean, while the Pacific Ocean lies to the south and southwest.


'Into The Wild' Abandoned Bus Airlifted From Remote Alaska Location

A 1940s-era Fairbanks city bus that became a sometimes deadly attraction has been removed by helicopter from its remote Alaskan location. Used since as an emergency shelter, it became well-known after..
Credit: Cover Video STUDIO Duration: 00:55
Published
There Are COVID Travel Restrictions In 15 States

According to Business Insider, nonessential travel is resuming as governors ease states' lockdown orders. But, it's not your typical summer travel season. 15 governors have enacted statewide travel..
Credit: Wochit News Duration: 00:34
Published
'Into the Wild' bus removed from Alaska trail

Alaska officials on Thursday airlifted from a remote trail outside Denali National Park the wrecked bus made famous by the 1996 book and 2007 movie "Into the Wild," removing an object that drew..
Credit: Reuters Studio Duration: 01:09
Published
Bus from Into The Wild removed after safety concerns

An abandoned bus in the Alaskan wilderness, popularised by the book Into The Wild and the film of the same name, was removed on Thursday. The decision was taken due to public safety concerns, Alaska..
Credit: PA - Press Association STUDIO Duration: 00:30
Published
Russia charges Arctic city mayor over fuel spill response

Russia said on Thursday it had charged the head of the remote Arctic city of Norilsk with criminal negligence over what investigators said was his bungled response to a major environmental disaster...
Credit: Reuters Studio Duration: 01:45
Published
Melting glacier may trigger a destructive tsunami in Alaska's Prince William Sound: scientists

A melting Alaskan glacier may set off a landslide and trigger a tsunami in Prince William Sound, according to a public letter by climate scientists and geologists.
Credit: Reuters - 3D Animations (Next Me Duration: 01:15
Published
Apple set to reopen more stores, face masks mandatory

Apple is all set to open 25 more of its stores in the US and 12 in Canada, but people who will be visiting the stores will be required to wear a face mask. If the person is not wearing a mask, then it..
Credit: ANI Duration: 01:10
Published
New COVID-19 Stats Indicates Most States Are Opening Up Far Too Early

The number of new coronavirus COVID-19 cases isn't declining anywhere in the US except Alaska. According to Business Insider, that hasn't stopped 32 states from easing lockdown restrictions. Most..
Credit: Wochit News Duration: 00:35
Published
You Might Like



Freaked out about full flights during a pandemic? These airlines are still blocking seats – for now

Delta, Southwest, JetBlue and Alaska are among the airlines not filling planes to capacity amid the coronavirus pandemic. But be mindful of dates.




USATODAY.com - Published





How Covid-19 Is Threatening Alaska's Wild Salmon Fishing Season

A Brooklyn winemaker travels north to Bristol Bay each summer to net the red salmon that support his family. This year he's faced with a tough ethical and economic choice.




NYTimes.com - Published





'Into the Wild' Bus, Seen as a Danger, Is Airlifted From the Alaskan Wild

The Alaska Army National Guard transported the bus to a "secure site" after two hikers have died and at least 15 have had to be rescued while trying to reach the bus in the remote Alaskan..




NYTimes.com - Published





Bus from 'Into the Wild' removed by air in Alaska

An abandoned bus in the Alaska backcountry, popularized by the book "Into the Wild" and movie of the same name, was removed Thursday, state officials said. (June 18)




USATODAY.com - Published




AP Top Stories June 19 A

Here's the latest for Friday June 19th: Lines form for Trump Tulsa rally; Bolton book fight goes to court; California to send all registered voters mail-in ballots; National Guard helicopter removes..




USATODAY.com - Published




Trump administration seeks to allow bear-baiting in Alaska refuge

Killing brown bears at bait stations would be legal for the first time in Alaska's most-visited national wildlife refuge, under a proposed rule released on Wednesday by the Trump administration.




Reuters - Published





U.S. aircraft intercept Russian nuclear-capable bombers near Alaska: RIA

U.S. fighter jets intercepted and escorted four Russian nuclear-capable bombers during a routine flight over neutral waters near the United States, the RIA news agency reported on Wednesday, citing the..




Reuters - Published





Trump administration ends ban on killing Alaska bear cubs, wolf pups

The Trump administration on Tuesday overturned an Obama-era rule that barred hunters in Alaska national preserves from baiting bear traps or killing denning bear cubs and wolf pups or other practices..




Reuters - Published





Trump Administration Revives Banned Hunting Techniques in Alaska

The move reverses an Obama-era ban on hunting methods like baiting bears with doughnuts and shooting swimming caribou.




NYTimes.com - Published





After GOP Sen. Murkowski says she's 'struggling' over whether she can support Trump, president vows to campaign against her

Sen. Lisa Murkowski, R-Alaska, called former Secretary of Defense James Mattis' criticism of Trump "true, and honest, and necessary and overdue." Now the president is vowing to campaign against her, no..




USATODAY.com - Published





The grocery store at the end of the world: How a small-town Alaska grocer kept prices even, raised pay during the pandemic

When coronavirus began to seep into the Last Frontier, grocer Max Rule found himself with the weight of an isolated island's worth of empty bellies on his shoulders.




USATODAY.com - Published





Trump rule changes will allow Alaskan hunters to kill bear cubs, wolf pups in their dens

The National Park Service and the U.S. Fish and Wildlife Service say the decision better aligns with federal and state law.  




USATODAY.com - Published





Coronavirus live updates: Trump says he won't 'close the country' if there's a new wave; Alaska reopens; Memorial Day travel will be 'weak'

Memorial Day travel projections are 'weak.' Trump skipped a mask in Michigan. Florida to host huge youth baseball tourney. Friday's coronavirus news.




USATODAY.com - Published




'It Could Happen Anytime': Scientists Warn of Alaska Tsunami Threat

A retreating glacier is increasing the risk of a catastrophic landslide and tsunami within a few decades, researchers say.




NYTimes.com - Published





Thousands Are Headed to Alaska's Fishing Towns. So Is the Coronavirus.

As the famed Copper River salmon season begins, isolated fishing towns are bracing for an influx of workers and their first brush with the coronavirus.




NYTimes.com - Published





Unusual Mother's Day weather: Two-thirds of the US face record cold and snow while a heat wave blasts the West

Mother's Day will bring Arctic blasts, wintry conditions and records low temperatures for two-thirds of the US. Meanwhile, a heat wave will hit Alaska




USATODAY.com - Published




Alaska newspaper wins public service Pulitzer Prize; Reuters wins for photography

The Anchorage Daily News and ProPublica won the Pulitzer Prize for public service journalism on Monday for revealing one-third of Alaska's villages had no police protection, while the photography staff..




Reuters - Published





Reuters wins Pulitzer for photography, Alaska newspaper public service prize

The Anchorage Daily News and ProPublica won the Pulitzer Prize for public service journalism for revealing one-third of Alaska's villages had no police protection, while the photography staff of..




Reuters - Published




False bomb threat temporarily closes Anchorage airport to arrivals

The Anchorage airport, Alaska's largest, temporarily shut Saturday to inbound traffic because of a bomb threat against a China Airlines cargo flight bound for Asia.




Reuters - Published





The new normal? US airlines announce requirements for passengers to wear face masks

Beginning Monday, Delta, United and JetBlue will require passengers to wear face coverings. Alaska will do so beginning May 11.




USATODAY.com - Published





Alaska School District Votes Out 'Catch-22,' 'Gatsby' and Other Classics

School board members in Palmer, Alaska, raised concerns about language and sexual references in five books deemed too controversial.




NYTimes.com - Published





Alaska city ends some virus business restrictions

The first signs of activity post the coronavirus returned to Alaska's largest city Monday as businesses slowly began reopening to customers. (April 27)  




USATODAY.com - Published





Serving Wings and a Prayer: It's Back to Business for Fairbanks Restaurants

The Alaskan city 200 miles from the Arctic Circle was one of the first in the country to reopen restaurants after a long coronavirus shutdown.




NYTimes.com - Published





Brazilian tourist rescued near 'Into the Wild' site in Alaska

A Brazilian tourist who made a pilgrimage to an abandoned bus made famous by the book and film "Into the Wild" has been rescued from the remote site outside of Denali National Park, the Alaska State..




Reuters - Published





Joe Biden Wins Alaska Primary

Alaska, which switched to all-mail voting because of the coronavirus outbreak, was the first primary since Senator Bernie Sanders dropped out of the race.




NYTimes.com - Published





Big audience for Alaska girl's virus safety tips

A 5-year-old Alaska girl is really serious about wanting to help others keep safe during the coronavirus outbreak. Nova Knight made a video about it that drew the praise of Canadian Prime Minister..




USATODAY.com - Published





Alaska's RavnAir may face bankruptcy fight over jets grounded by coronavirus

Alaska's North Slope Borough government has moved to seize the assets of RavnAir Group after it declared bankruptcy due to the coronavirus, aiming to protect its region's air service but also setting..




Reuters - Published





Climate Point: Whale fieldwork, climate talks, EPA enforcement all on halt

And another thing: Should BLM approve a 211-mile road through a national park in Alaska for a mining company?  




USATODAY.com - Published





The Spanish flu devastated Alaska. This time with coronavirus, villages aren't taking any chances.

The coronavirus outbreak is raising heartbreaking memories for many Alaska Native villages devastated by the Spanish flu.




USATODAY.com - Published




Alaska faces triple hit from coronavirus due to reliance on oil, fishing, tourism

The U.S. state of Alaska is so far distant from the worst medical ravages of the coronavirus pandemic, but its economy is in critical condition.




Reuters - Published





Three mushers in Alaska sled race rescued by helicopter just short of finish

Three contestants mushing through the final stretch of Alaska's famed Iditarod sled dog course two days after the winner crossed the finish line were rescued by helicopter on Friday from trail flooding..




Reuters - Published





Alaska's famous Iditarod mushers can expect deep snow on race day

The world's most famous dog racing contest gets underway on Saturday when 57 mushers and their canine teams line up in downtown Anchorage to start the Iditarod Trail Sled Dog Race, with expectations..




Reuters - Published





Nervous about buying a plane ticket? American waiving change fees amid coronavirus crisis

American joined JetBlue and Alaska in allowing travelers buying new tickets to change them without paying a hefty fee. Fare differences will apply.




USATODAY.com - Published





Trump's son gets permit allowing him to hunt Alaska grizzly bear

Donald Trump Jr. has been granted the right to hunt a grizzly bear in northwestern Alaska near the Bering Sea town of Nome, a state official said on Friday.




Reuters - Published





It's Not You: 2019 Was a Bad Year for U.S. Air Travelers

Flight delays and cancellations rose again last year. Hawaiian, Delta and Alaska were the most punctual, while Frontier and JetBlue were laggards.




NYTimes.com - Published





Alaska high court OKs recall petition drive for campaign to oust governor

The Alaska Supreme Court on Friday cleared the way for a campaign seeking to oust the state's embattled governor to proceed with plans to collect enough signatures to place a recall initiative on the..




Reuters - Published





Volunteers prep for annual Alaska sled dog race

Preparations are underway for Alaska's famed Iditarod Trail Sled Dog Race, which begins March 7th. Volunteers are preparing bales of straw, so the dogs have a warm place to stay every time they stop..




USATODAY.com - Published





Five killed in Alaska commuter air crash

Five people were killed on Thursday when a commuter aircraft crashed in rural southwestern Alaska, killing all aboard, officials said.




Reuters - Published





'Weird,' sharp-nosed thalattosaur species identified from Alaska fossil

An iguana-like creature with a needle-sharp snout has been confirmed from a fossilized skeleton as a species of the marine reptile thalattosaur previously unknown to science that roamed the coast of..




Reuters - Published





A consequential vote is captured in pencil.

Senator Lisa Murkowski, Republican of Alaska, said on Friday that she would not support the motion.




NYTimes.com - Published





Murkowski says she's a 'no' vote on calling witnesses, virtually assuring Bolton, Mulvaney won't appear at Trump trial

Sen. Lisa Murkowski, R-Alaska, announced Friday she will not vote to call witnesses in President Donald Trump's impeachment trial.




USATODAY.com - Published





Murkowski asks about summoning Bolton as a witness.

Senator Lisa Murkowski of Alaska is a critical swing vote on the question of whether to compel more witnesses or documents.




NYTimes.com - Published





Americans evacuating virus zone pass health test

A plane evacuating 201 Americans from the Chinese city at the center of the virus outbreak continued Wednesday on to Southern California after everyone aboard passed a health screening test in..




USATODAY.com - Published





Flight full of Americans fleeing Wuhan coronavirus 'erupts in cheers' after arriving in Alaska

As the coronavirus death toll in China hits 132, Americans fleeing the deadly outbreak were headed to March Air Force Base in California.




USATODAY.com - Published




AP source: Americans return from China virus zone

An airplane that a federal official said was evacuating as many as 240 Americans from a Chinese city at the center of a virus outbreak landed in Anchorage, Alaska late Tuesday. The passengers are going..




USATODAY.com - Published





Murkowski's comments on Bolton kindle speculation.

"I've said that I think that Mr. Bolton probably has some things that would be helpful for us," Senator Lisa Murkowski of Alaska said.




NYTimes.com - Published





A courtroom artist illustrates 2 senators at work.

Senators Susan Collins of Maine and Lisa Murkowski of Alaska appeared to be closely following the arguments.




NYTimes.com - Published