Alaska
State of the United States of America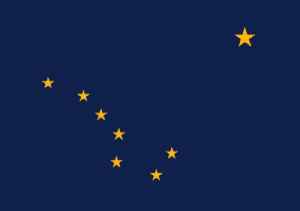 Alaska is a U.S. state in the northwest extremity of the United States West Coast, just across the Bering Strait from Asia. The Canadian province of British Columbia and territory of Yukon border the state to the east and southeast. Its most extreme western part is Attu Island, and it has a maritime border with Russia to the west across the Bering Strait. To the north are the Chukchi and Beaufort seas—southern parts of the Arctic Ocean. The Pacific Ocean lies to the south and southwest. It is the largest U.S. state by area and the seventh largest subnational division in the world. In addition, it is the 3rd least populous and the most sparsely populated of the 50 United States; nevertheless, it is by far the most populous territory located mostly north of the 60th parallel in North America: its population—estimated at 738,432 by the United States Census Bureau in 2015— is more than quadruple the combined populations of Northern Canada and Greenland. Approximately half of Alaska's residents live within the Anchorage metropolitan area. Alaska's economy is dominated by the fishing, natural gas, and oil industries, resources which it has in abundance. United States armed forces bases and tourism are also a significant part of the economy.


Floatplane crash in Alaska leaves 1 dead and several injured
Investigators are trying to determine what caused a floatplane crash in Alaska that left one man dead. Seven people were on the plane when it crashed during takeoff near Tutka Bay.
CBS News - Published
One Thing You Can Do: Know Your Tree Facts
Also this week, visiting some very big bears in a very hot Alaska.
NYTimes.com - Published
It's 90 degrees - in Alaska
Coming off the warmest June reported on record, a record-high of 90 degrees on July 4th and active wildfires burning in the state has some climatologists sounding the alarm over climate change. Gavino..
Credit: Reuters Studio Duration: 01:12Published
Baked Alaska: Heatwave in the US's northernmost state disrupts 4th of July celebrations
Know for being typically cold and snowy, Alaska is set to experience its hottest ever July with temperatures reaching over 30 degrees Celsius over the next few days.
Credit: euronews (in English) Duration: 01:56Published
Alaska's brown bears chow down post-hibernation
Alaska's brown bears had a salmon feast on Monday, as they returned to Katmai National Park's Brooks Falls after a long season of hibernation. Katmai National Park and Explore.org. caught the action on..
Credit: Reuters Studio Duration: 00:56Published
Barr Declares PubliC Safety Emergency In Rural Alaska
According to a report by Newser, the Trump administration has declared a public-safety emergency in rural Alaska. US Attorney General William Barr made the announcement in a statement on Friday,..
Credit: Wochit News Duration: 00:34Published
Smoke From Alaska Wildfire Threatens Anchorage's Air Quality
According to Reuters, state officials said that smoke from wildfires in Alaska could cause very unhealthy air quality conditions and low visibility over the weekend in Anchorage. Smoke from the Swan..
Credit: Wochit News Duration: 00:33Published
State Of Emergency Declared In Violence-Plagued Rural Alaska
U.S. Attorney General William Barr on Friday declared a public-safety emergency in rural Alaska. According to Reuters, Barr also pledged $10.5 million in federal funds to combat crime there. Alaska has..
Credit: Wochit News Duration: 00:46Published
Search this site and the web:
You Might Like