Christopher Columbus
Italian explorer, navigator, and colonizer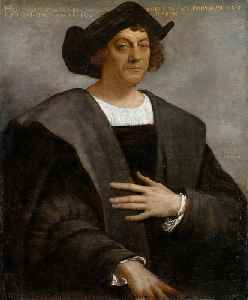 Christopher Columbus was an Italian explorer and navigator who completed four voyages across the Atlantic Ocean, opening the way for European exploration and colonization of the Americas. His expeditions, sponsored by the Catholic Monarchs of Spain, were the first European contact with the Caribbean, Central America, and South America.


Boston removes decapitated Columbus statue

Activists across the U.S. have targeted public monuments they say glorify white supremacy, using both legal and illegal means to take the symbols down. This report produced by Zachary Goelman.
Credit: Reuters - Politics Duration: 01:26
Published
Christopher Columbus statue pulled down, draped in burning flag in VA

CONTAINS PROFANITY. Protesters in Richmond, Virginia tore down a statue of Christopher Columbus on Tuesday and dragged it along the ground before dumping it in a lake.
Credit: Reuters Studio Duration: 00:19
Published
You Might Like



The Emerald Triangle, the Columbus Letters, Built By Angels

Growing pains for legal weed in California; Then, rare, million-dollar copies of a letter written by Christopher Columbus replaced with fakes; And, inside Lalibela, the mysterious holy site visited by..




CBS News - Published





Today in History for August 3rd

Highlights of this day in history: Christopher Columbus sets sail; Europe slides further into World War I; A Cold War case heats up Capitol Hill; Air traffic controllers in the U.S. go on strike; NBA..




USATODAY.com - Published




The forged Christopher Columbus letters

Copies of a letter written by Christopher Columbus describing his first impressions of the Americas have become so rare and valuable, they're being stolen and replaced with forgeries at some of the..




CBS News - Published




Rare, million-dollar copies of a letter written by Christopher Columbus replaced with fakes

Copies of a letter written by Christopher Columbus describing his first impressions of the Americas have become so rare and valuable, they're being stolen and replaced with forgeries at some of the..




CBS News - Published




Christopher Columbus statues removed in Chicago after 'demonstrations that became unsafe'

The city's mayor said it was "in response to demonstrations that became unsafe for both protesters and police."




USATODAY.com - Published




Two Columbus statues removed from Chicago parks

Two statues of Christopher Columbus that stood in Chicago parks have been taken down at the direction of Mayor Lori Lightfoot, a week after protesters trying to topple one of the monuments to the..




USATODAY.com - Published

Also reported by •NYTimes.com


Chicago removes Christopher Columbus statues from parks after protests

City officials took down two statues of Christopher Columbus after protesters and police clashed in a violent encounter that left dozens injured.  




USATODAY.com - Published




Protesters clash with police at Chicago's Columbus statue

Protesters working to topple a statue of Christopher Columbus were met with police force in Chicago, Illinois, on July 17.  




USATODAY.com - Published




In CA: California condors make a comeback; Christopher Columbus gets the boot

A statue depicting Italian navigator Christopher Columbus has left the California Capitol. And we learn more about who got federal loans for their businesses, and they include folks linked to..




USATODAY.com - Published





AP Top Stories July 5 P

Here's the latest for Sunday, July 5: Christopher Columbus statue toppled in Baltimore; India sees another record jump in coronavirus cases; Rio's Catholic church reopens for mass; baby Hawksbill..




USATODAY.com - Published




Columbus statue toppled by protesters in Baltimore

Baltimore protesters pulled down a statue of Christopher Columbus and threw it into the city's Inner Harbor Saturday night. Video captured by reporter Louis Krauss of The Baltimore Brew shows the..




USATODAY.com - Published





Christopher Columbus statue removed from Columbus City Hall

The large statue, which sat in front of City Hall in Ohio's capital for 65 years, "will be placed in safekeeping at a secure city facility."




USATODAY.com - Published




Police guarding NYC Columbus statues

Police have set up barricades and are guarding statues of Christopher Columbus in New York City. (June 19)  




USATODAY.com - Published





Spanish minister stands up for Columbus statues amid global protests

The education minister in Spain's leftist coalition government defended the country's numerous statues of 15th century navigator Christopher Columbus against calls by anti-racism activists to tear them..




Reuters - Published





In CA: Mask debate grows vociferous, and the skinny on cloth ones

Mask mandates — they're either widely lobbied for or wildly unpopular. And while unemployment claims are slowing, there was still over a million people who filed one last week alone. Plus:..




USATODAY.com - Published





Richmond protesters pull down third Confederate statue

Demonstrators in Richmond tore down another Confederate statue Tuesday night, news outlets reported. It honored a Civil War artillery unit. Protesters have torn two other confederate statues and one of..




USATODAY.com - Published




St. Louis removes Columbus statue, latest monument after racial protests

A statue of Christopher Columbus has been removed from a St. Louis park, officials said on Tuesday, the latest monument taken down in response to nationwide protests over racial inequality.




Reuters - Published





New York's Cuomo defends Columbus statues for symbolism to Italian Americans

New York should keep statues honoring Christopher Columbus even though the brutalization of the West Indies inhabitants he encountered on his voyages to the New World is inexcusable, Governor Andrew..




Reuters - Published





Cuomo expresses support for Columbus statue

Gov. Andrew Cuomo said Thursday that he supports a statue of Christopher Columbus in Manhattan. Statues of the colonizer have been targeted across the U.S. in recent days. (June 11)  




USATODAY.com - Published





Protesters tear down Christopher Columbus statue in Saint Paul, Minnesota

A group of protesters pulled down a statue of Italian explorer Christopher Columbus in Saint Paul, Minnesota, on Thursday, the latest U.S. monument to be torn down amid nationwide demonstrations..




Reuters - Published





Columbus statue torn down at Minn. State Capitol

Protesters tore down a statue of Christopher Columbus Wednesday outside the State Capitol in St. Paul, Minnesota. (June 10)  




USATODAY.com - Published





Christopher Columbus Statues in Boston and Virginia Are Damaged

The incidents, in Boston's North End and Richmond, Va., came as protesters angered by the death of George Floyd have targeted monuments that they see as symbols of white supremacy.




NYTimes.com - Published





U.S. protesters topple Columbus statue and throw it in a lake

Anti-racism protesters in Virginia tore down a statue of Christopher Columbus on Tuesday night in Byrd park in Richmond, then draped it in a burning flag and dumped it in a lake, images of the incident..




Reuters - Published





Richmond Columbus statue toppled & thrown in lake

A statue of Christopher Columbus in Richmond, Virginia was torn down by demonstrators, set on fire and then thrown into a lake. Protesters spoke of the struggles of Native Americans, saying they began..




USATODAY.com - Published





Stolen copy of Christopher Columbus letter recovered. It's worth up to $1.3 million

Delaware investigators helped to return a more than the 500-year-old copy of a Christopher Columbus letter to an Italian library.




USATODAY.com - Published




Tree of Life, Madame Lagarde, The Columbus Letters

Recovering from the deadliest anti-Semitic attack in U.S. history; Then, Christine Lagarde tells John Dickerson about the possible signs of a global recession; And, rare, million-dollar copies of a..




CBS News - Published





Thieves target letters by Christopher Columbus

The Vatican Library, the Riccardiana Library in Florence, and others saw their rare, original copies of a letter by the explorer taken by thieves. 60 Minutes reports, Sunday




CBS News - Published





'To me it will always be Columbus Day.' Trump dismisses criticism of Christopher Columbus

Donald Trump weighed into the ongoing controversy over Columbus Day on Wednesday, slamming some who have eschewed the holiday's namesake.




USATODAY.com - Published





Columbus statue vandalized in San Francisco

Several statues of Christopher Columbus, including one in San Francisco, were vandalized with red paint. The US holiday named for the explorer was celebrated on Monday. (Oct. 14)  




USATODAY.com - Published