Mississippi River
Largest river system in North America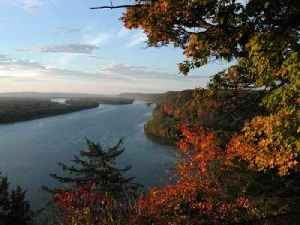 The Mississippi River is the second-longest river and chief river of the second-largest drainage system on the North American continent, second only to the Hudson Bay drainage system. Its source is Lake Itasca in northern Minnesota and it flows generally south for 2,320 miles (3,730 km) to the Mississippi River Delta in the Gulf of Mexico. With its many tributaries, the Mississippi's watershed drains all or parts of 32 U.S. states and two Canadian provinces between the Rocky and Appalachian mountains. The main stem is entirely within the United States; the total drainage basin is 1,151,000 sq mi (2,980,000 km2), of which only about one percent is in Canada. The Mississippi ranks as the fourth-longest and fifteenth-largest river by discharge in the world. The river either borders or passes through the states of Minnesota, Wisconsin, Iowa, Illinois, Missouri, Kentucky, Tennessee, Arkansas, Mississippi, and Louisiana.


Armada of barges cleared for Mississippi River shipments after floods
The upper Mississippi River reopened to barge traffic on Friday as vessels were cleared to ship through St. Louis harbor, the U.S. Coast Guard (USCG) said, and the situation quickly became a logistics..
Reuters - Published
Search this site and the web:
You Might Like