Brooklyn Bridge
Hybrid cable-stayed/suspension bridge across the East River between Manhattan and Brooklyn, New York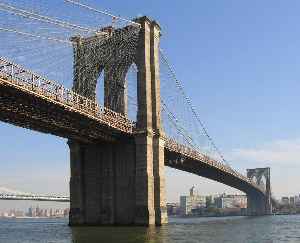 The Brooklyn Bridge is a hybrid cable-stayed/suspension bridge in New York City, spanning the East River between the boroughs of Manhattan and Brooklyn. Opened on May 24, 1883, the Brooklyn Bridge was the first fixed crossing across the East River. It was also the longest suspension bridge in the world at the time, with a main span of 1,595.5 feet (486.3 m) and a deck height of 127 ft (38.7 m) above mean high water. The span was originally called the New York and Brooklyn Bridge or the East River Bridge but was officially renamed the Brooklyn Bridge in 1915.


You Might Like
Today in History for May 24th
Highlights of this day in history: Samuel Morse opens America's first telegraph line; Four men sentenced for the 1993 World Trade Center bombing; Britain's Queen Victoria born; The Brooklyn Bridge..
USATODAY.com - Published
Thousands march in New York City against anti-Semitism in wake of attacks
Thousands marched over the Brooklyn Bridge in New York City on Sunday in a show of solidarity with the area's Jewish community following a spate of anti-Semitic violence in recent weeks, including the..
Reuters - Published
Thousands rally against anti-Semitism in New York
Throngs of demonstrators joined by elected officials walked solemnly across the Brooklyn Bridge on Sunday in a solidarity march against anti-Semitism and all acts of hate. (Jan. 5)  
USATODAY.com - Published
Search this site and the web: