Beto O'Rourke
American politician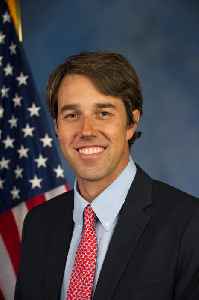 Robert Francis "Beto" O'Rourke is an American politician who represented Texas's 16th congressional district in the United States House of Representatives from 2013 to 2019. O'Rourke is noted for having run for the United States Senate in 2018, narrowly losing to Republican incumbent Ted Cruz. He sought the 2020 Democratic nomination for President of the United States.


Willie Nelson To take Part In Joe Biden Fundraiser

Willie Nelson will take part in a fundraiser for Joe Biden. He'll join Robert Earl Keen at a Monday night virtual fundraiser to support Biden's presidential bid. Guests at the event will include..
Credit: Wochit News Duration: 00:27
Published
You Might Like



Joe Biden Needs to Bulk Up His Team. He's Hiring a New Campaign Manager.

Joseph R. Biden Jr. is planning to announce this afternoon that he has hired Jennifer O'Malley Dillon, who was Beto O'Rourke's campaign manager.




NYTimes.com - Published





'Come and take it': GOP Rep. Buck wields AR-15 in office, dares Biden and O'Rourke

Rep. Ken Buck was alluding to comments Beto O'Rourke made during a debate last year: "Hell, yes, we're going to take your AR-15, your AK-47."




USATODAY.com - Published





Beto O'Rourke, joining Pete Buttigieg and Amy Klobuchar, endorses Joe Biden on eve of Super Tuesday

The day before Super Tuesday, Beto O'Rourke threw his support behind former Vice President Joe Biden as the 'clear contrast to Donald Trump.'




USATODAY.com - Published





Democrat Beto O'Rourke endorses Joe Biden for president

Former Texas Congressman Beto O'Rourke endorsed former Vice President Joe Biden for Democrats' presidential nomination, as moderate Democrats rallied around the former vice president to strengthen his..




Reuters - Published

Also reported by •USATODAY.com


Former U.S. Democratic presidential candidate Beto O'Rourke to endorse Joe Biden: NYT

Former Democratic presidential candidate Beto O'Rourke was set to endorse Joe Biden's White House bid, according to the New York Times, joining dozens of current and former Democrats who rushed to..




Reuters - Published





How Elizabeth Warren Is Being Squeezed by 2 Democratic Factions

Ms. Warren is figuring out what candidates like Beto O'Rourke, Kamala Harris and Kirsten Gillibrand have already learned: It's hard to appeal to both the center and the left of the Democratic..




NYTimes.com - Published




What it's like to cover candidates trailing in the polls

On this week's episode of "Where Did You Get This Number?" podcast, Anthony Salvanto goes inside the presidential campaigns of Beto O'Rourke and Senator Kamala Harris




CBS News - Published





2020 Democrats entering period of high stakes and tough decisions

Beto O'Rourke bowed out of the presidential race Friday, surprising staffers and supporters in Iowa, where he was scheduled to speak at a Democratic party event. The Democratic candidates are entering..




CBS News - Published




Beto O'Rourke to supporters a week after ending campaign: 'Get behind the nominee from this party'

"All of us have to commit to get behind the nominee ... so that she or he is successful against Donald Trump," O'Rourke said after ending his run.




USATODAY.com - Published





Texas Congressmen find common ground along a 1600 mile road trip

When a pre-spring blizzard shut down air travel on the east coast last week, two Texas Congressmen-- one Democrat and one Republican-- booked a rental car and hit the road together. Thirty-six hours..




CBS News - Published





Trump attacks impeachment inquiry, mocks O'Rourke

US President Donald Trump on Friday lashed out at the US House's impeachment inquiry against him. (Nov. 2)  




USATODAY.com - Published





The End of Betomania

Beto O'Rourke's meme-ready instincts and hope-and-change flourishes seemed like a credible bet to counter President Trump. Until they didn't.




NYTimes.com - Published





2020 Trail Markers: Beto O'Rourke drops out of 2020 presidential race

Former Congressman Beto O'Rourke ended his presidential campaign on Friday. The news broke just hours before O'Rourke was expected to speak with the rest of the Democratic candidates at a dinner in..




CBS News - Published




Beto O'Rourke Ends His Campaign

Speaking to supporters in Des Moines, former Representative Beto O'Rourke of Texas pledged to support the Democratic nominee in 2020 "with everything that I've got."




NYTimes.com - Published

Also reported by •CBS News


2020 Daily Trail Markers: Harris shuts down field offices in New Hampshire

Harris also cut her entire field team in the state — over half the New Hampshire staff is being laid off. And Beto O'Rourke announced he's ending his presidential bid late Friday afternoon




CBS News - Published





Beto O'Rourke Is Dropping Out of the Presidential Race

The former Texas congressman, who energized Democrats in a Senate race last year, began his White House run to great fanfare, but failed to build significant support.




NYTimes.com - Published





As more Dems join the packed 2020 field, Biden teases his entry

CBS News political correspondent Ed O'Keefe reports on the official addition of Beto O'Rourke and Kirsten Gillibrand to the Democratic field, and Joe Biden's tease of running.




CBS News - Published





Beto O'Rourke says migrant families "pose no threat or danger" to U.S.

2020 Democratic presidential candidate Beto O'Rourke joins Margaret Brennan in his hometown of El Paso, Texas, to discuss his campaign and current immigration policies.




CBS News - Published





Open: This is "Face the Nation," May 26

This week on "Face the Nation," Margaret Brennan traveled to El Paso to sit down with 2020 candidate Beto O'Rourke. Plus, Rep. Will Hurd, Homeland Security Committee Chairman Sen. Ron Johnson and Sen...




CBS News - Published




Beto O'Rourke on troops to MidEast

2020 Democratic Presidential Candidate Beto O'Rourke joins Margaret Brennan to discuss President Trump's order to deploy 1,500 more troops to the Middle East.




CBS News - Published




Can Beto O'Rourke bounce back in the race for 2020?

Ed O'Keefe, Joel Payne and Molly Ball join Margaret Brennan to discuss the 2020 Democratic contenders and whether Beto O'Rourke can reboot his campaign.




CBS News - Published





Face The Nation: O'Rourke, Graham, Seawright

Missed the second half of the show? The latest on the democratic debates.




CBS News - Published





Beto O'Rourke says Trump's rhetoric "has a lot to do" with El Paso shooting

Beto O'Rourke, the former member of Congress from El Paso, Texas, joins Major Garrett to discuss the latest on the shooting at an El Paso Walmart that left at least 20 dead and more than two dozen..




CBS News - Published





Beto O'Rourke says he won't run for president in 2020

"60 Minutes" asks Sen. Ted Cruz and Congressman Beto O'Rourke whether they might face off again in 2020 — in a race for the White House.




CBS News - Published




Ted Cruz on Beto O'Rourke voters: "They'll crawl over broken glass to show up"

Ted Cruz thinks Beto O'Rourke's supporters have a powerful motivation for voting in the Texas Senate race: anger over President Trump. Hear from both candidates Sunday on 60 Minutes at 7 p.m. ET/PT.




CBS News - Published





How Ted Cruz vs. Beto O'Rourke could predict America's political future

Few political races say more about the current state of American politics than the tight race for the U.S. Senate in Texas. Jon Wertheim reports




CBS News - Published





Do Democrats like Beto O'Rourke for 2020?

CBS News political correspondent Ed O'Keefe and Axios political reporter Alexi McCammond join CBSN's "Red & Blue" to discuss Beto O'Rourke's influence on the 2020 race and the Democratic party's lack..




CBS News - Published





Report: Officers say Beto O'Rourke tried to leave the scene of 1998 DWI crash

Former Texas Congressman and 2020 Democratic presidential hopeful Beto O'Rourke has denied reports that he tried to leave the scene of a 1998 DWI crash. Texas Tribune investigative reporter Jay Root..




CBS News - Published





New documentary gives inside look at Beto O'Rourke's failed Senate bid in Texas

Beto O'Rourke is trying to break through a crowded field of 2020 Democratic campaign, less than one year after his failed Senate campaign in Texas. The new HBO documentary "Running With Beto"..




CBS News - Published





John Hickenlooper ends presidential campaign

Former Colorado Governor John Hickenlooper has ended his bid for the 2020 Democratic presidential nomination. This comes the same day former Texas Congressman Beto O'Rourke rolled out a revamped..




CBS News - Published





Beto O'Rourke 'open to the idea' of letting people use AR-15s, AK-47s at hunting clubs, gun ranges

Beto O'Rourke on Friday left the door open for allowing some people to keep assault-style weapons like AR-15s and AK-47s at gun ranges and hunting clubs.




USATODAY.com - Published





Beto O'Rourke speaks to CBS News about gun buybacks and more

Democratic pesidential candidate Beto O'Rourke spoke with CBS News 2020 campaign reporter Tim Perry in a wide-ranging interview Thursday night. O'Rourke talked about his proposal to help Americans with..




CBS News - Published





Beto O'Rourke says he expects Americans to surrender guns

Beto O'Rourke dismissed criticisms of his sweeping gun control proposal, telling CBS News in an interview that he expects gun owners will go along with his plan to institute a "mandatory buyback" of..




CBS News - Published




Beto O'Rourke unveils plan to stem opioid abuse

On Thursday, O'Rourke released his proposal to end the opioid epidemic




CBS News - Published





Hell, yes, Beto O'Rourke: Today's Toon

Want to keep up with USA TODAY's editorial cartoons? Bookmark this page. We'll update it frequently.




USATODAY.com - Published





Yes, Beto, your open-border immigration ideas are slap in the face to Angel Moms like me

My son was killed by an illegal immigrant who was helped by the same open-borders philosophy Beto O'Rourke is pushing. That makes my blood boil.




USATODAY.com - Published





"I don't believe anymore that they love our country": Trump takes aim at Democrats at Texas rally

President Trump hit his usual talking points at a Dallas rally on Thursday, although he zeroed in on religion and gun for the Texas crowd. He also criticized House Speaker Nancy Pelosi and his 2020..




CBS News - Published





President Trump, Beto O'Rourke hold dueling rallies in Texas 

President Trump spent Thursday in Texas. Gromer Jeffers, a political writer for the Dallas Morning News, joins "Red and Blue" to discuss the state Democrats say could become a battleground ahead of..




CBS News - Published





O'Rourke doubles down on gun buyback plan after Buttigieg criticism

Former Congressman Beto O'Rourke of Texas spoke more at Tuesday's debate than at previous debates, although part of his time was spent in a testy exchange with Indiana Mayor Pete Buttigieg on gun..




CBS News - Published





O'Rourke and Buttigieg spar over gun buy-back proposal

"I don't need lessons from you on courage — political or personal," Buttigieg told O'Rourke during a heated exchange




CBS News - Published





Beto O'Rourke and Pete Buttigieg Battle Over Confiscating Assault Weapons

Twelve Democratic presidential candidates shared the stage in Ohio for the fourth televised primary debate.




NYTimes.com - Published





Beto O'Rourke's campaign manager talks Trump impeachment and candidate's debate prep

Jen O'Malley Dillon, campaign manager for former Texas congressman and Democratic presidential candidate Beto O'Rourke, spoke to CBSN's Caitlin Huey-Burns ahead of Tuesday's debate in Ohio. The two..




CBS News - Published





Beto O'Rourke defends plan to confiscate assault-style weapons

democratic-debate-beto-orourke-weapons-ban




USATODAY.com - Published





Warren's Wealth Tax Proposal is 'Punitive,' O'Rourke Says

Beto O'Rourke took aim at Elizabeth Warren over a proposal that is at the center of her presidential campaign: an annual tax on the wealth of the richest Americans.




NYTimes.com - Published





O'Rourke Says Warren Is Being 'Punitive' With Wealth Tax Proposal

Beto O'Rourke took aim at Elizabeth Warren over a proposal that is at the center of her presidential campaign: an annual tax on the wealth of the richest Americans.




NYTimes.com - Published