Vietnam War
1955–1975 conflict in Vietnam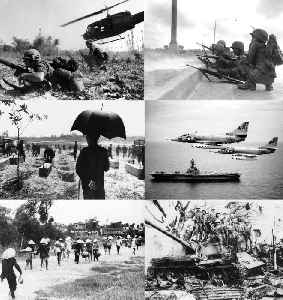 The Vietnam War, also known as the Second Indochina War, and in Vietnam as the Resistance War Against America or simply the American War, was an undeclared war in Vietnam, Laos, and Cambodia from 1 November 1955 to the fall of Saigon on 30 April 1975. It was the second of the Indochina Wars and was officially fought between North Vietnam and South Vietnam. North Vietnam was supported by the Soviet Union, China, and other communist allies; South Vietnam was supported by the United States, South Korea, the Philippines, Australia, Thailand and other anti-communist allies. The war is considered a Cold War-era proxy war from some US perspectives. It lasted some 19 years with direct U.S. involvement ending in 1973 following the Paris Peace Accords, and included the Laotian Civil War and the Cambodian Civil War, resulting in all three countries becoming communist states in 1975.


Better late than never? Man returns library book that was 53 years overdue
Lyndon Johnson was president and Vietnam War protests were raging when he checked out the book in the 1960s
CBS News - Published
Throwback Thursday: John McCain's release from Hanoi Hilton
Thursday marked the 46th anniversary of John McCain's release after being held captive as a prisoner of war? at the Hanoi Hilton during the Vietnam War. Watch CBS News correspondent Bruce Dunning's..
CBS News - Published
Trump told me to threaten his schools, lie about Vietnam: Cohen
President Donald Trump's former personal lawyer Michael Cohen says the president directed him to threaten his high schools and colleges not to release his grades or test scores during the 2016..
Credit: Reuters Studio Duration: 02:41Published
Judge Rules Male-Only Military Draft Unconstitutional
U.S. District Judge Gray Miller said both men and women are "similarly situated for purposes of a draft or registration for a draft."
Credit: Newsy Studio Duration: 00:54Published
Deadly plane collision at airport near Los Angeles
Two planes collided on a Los Angeles-area runway on Wednesday, authorities said. A single-engine plane caught fire. KABC-TV reports its pilot died. The other plane is a T-28, reportedly with Vietnam..
USATODAY.com - Published
Search this site and the web:
You Might Like