Benjamin Crump
American lawyer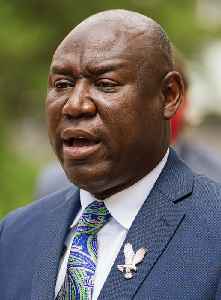 Benjamin Lloyd Crump is an American attorney who specializes in civil rights and catastrophic personal injury cases. His practice has focused on cases such as Trayvon Martin and Michael Brown, the people poisoned during the Flint water crisis, and the plaintiffs behind the 2019 Johnson & Johnson baby powder lawsuit alleging the company's talcum powder product led to ovarian cancer diagnoses. Crump is also founder of the Tallahassee, Florida-based law firm Ben Crump Law, and is only licensed to practice law in the state of Florida.


Breonna Taylor's family calls on prosecutor to release jury transcripts

Civil rights attorney Benjamin Crump called on Kentucky's attorney general to release the transcripts of a grand jury that ultimately decided not to charge any of the Louisville police officers with..
Credit: Reuters Studio Duration: 01:30
Published
Crump decries claim that Floyd died of drug overdose

Benjamin Crump, the lawyer representing George Floyd's family, pushed back against the assertion made by police officers' defense attorneys in court filings that Floyd, who had fentanyl in his system,..
Credit: Reuters Studio Duration: 01:31
Published
Anti-racism demonstrators march in Kenosha

[NFA] About 1,000 people joined a mile-long march in Kenosha, Wisconsin on Saturday afternoon, chanting "Black Lives Matter" and "No Justice, No Peace" as National Guard units stood by to prevent a..
Credit: Reuters - Politics Duration: 01:54
Published
Clippers Coach Doc Rivers Gives Emotional Statement About Jacob Blake Shooting

According to attorney Benjamin Crump, Blake, 29, is paralysed after being shot several times by police in Kenosha, Wisconsin.
Credit: Cover Video STUDIO Duration: 01:17
Published
Jacob Blake paralyzed from being shot -attorney Crump

Civil rights attorney Ben Crump, who is representing Jacob Blake's family told reporters on Tuesday that "because those bullets severed his spinal cord and shattered some of his vertebrae... it is..
Credit: Reuters Studio Duration: 02:17
Published
You Might Like



Attorney Ben Crump calls for 'comprehensive investigation' after Florida police rule Nevan Baker's hanging death as suicide

Attorney Ben Crump is calling for an investigation into the death of Nevan Baker, a Black man whose hanging death has been ruled a suicide by police.




USATODAY.com - Published




'Release the transcripts': Ben Crump slams decision in Breonna Taylor case, calls out systemic racism in the legal system

Breonna Taylor's family and attorneys demanded Kentucky Attorney General Daniel Cameron release the transcripts of the grand jury proceedings.




USATODAY.com - Published




Taylor family attorney calls for court transcripts

Family attorney Ben Crump is calling for transcripts from the grand jury that decided not to charge any of the officers in Taylor's death. (Sept. 25)  




USATODAY.com - Published





Ben Crump Says Breonna Taylor Cops Should Face Involuntary Manslaughter Charge

Breonna Taylor's family attorney Ben Crump wants the grand jury transcript released to see if prosecutors tried to make a case for charging the cops with involuntary manslaughter ... or simply let them..




TMZ.com - Published





Attorney for Breonna Taylor's family, Ben Crump, on grand jury decision

Ben Crump, the attorney for Breonna Taylor's family, gives his reaction to the grand jury decision not to bring charges related to Taylor's death. One officer was indicted on wanton endangerment for..




CBS News - Published





Man held at gunpoint by police hires Benjamin Crump, wants $2.5 million from Arizona city

Benjamin Crump most recently represented the family of Breonna Taylor. Louisville city officials settled the case for a historic $12 million.




USATODAY.com - Published




Attorneys say Dijon Kizzee tried to surrender before police shot him

"He put his hands in the air, dropped the bag, and they continued to shoot him, even though he posed no threat," civil rights attorney Ben Crump said of the 29-year-old who was killed in August.




CBS News - Published





Dijon Kizzee Family Reveals Independent Autopsy Results

Dijon Kizzee's family and legal team are announcing results of an independent autopsy, ordered after the family felt the L.A. County Sheriff's Dept. "attempted to justify his killing." Dijon's family..




TMZ.com - Published





Ben Crump Praises Regina King for Using Emmys Platform for Breonna Taylor

Regina King pulled a real-life hero move by wearing a Breonna Taylor shirt while accepting her Emmy for playing a superhero ... so says Breonna's family attorney, Ben Crump. The civil rights lawyer was..




TMZ.com - Published





Louisville and family of Breonna Taylor announce settlement in wrongful death

Louisville Mayor Greg Fisher, civil rights attorney Benjamin Crump, and Breonna Taylor's mother were among those who spoke at a news conference announcing a $12 million settlement in the family's..




CBS News - Published





Jacob Blake speaks from his hospital bed: 'Change your lives out there'

A minute-long video was posted to Twitter on Saturday by Blake's attorney, Benjamin Crump in which Jacob Blake urged viewers to value their lives.  




USATODAY.com - Published




Jacob Blake Sends Powerful Message from Hospital Bed on Value of Life

Jacob Blake has finally spoken to the public from his hospital bed where he lies paralyzed from the waist down -- and his message is simple ... don't take life for granted. A video was posted this..




TMZ.com - Published





Joe Biden Meets with Jacob Blake's Family in Kenosha, Wisconsin

Joe Biden spent over an hour face-to-face with Jacob Blake's family ... and even spoke with Jacob by phone from his hospital bed. Civil rights attorney Ben Crump said the Democratic Presidential..




TMZ.com - Published





Ben Crump Says Dijon Kizzee Killing Evidence of Systemic Racism Pandemic

Black Americans are in the midst of 2 pandemics -- COVID-19 and the systemic racism that took root 401 years ago ... so says civil rights attorney Ben Crump. Ben joined "TMZ Live" on Thursday and..




TMZ.com - Published





Grainy video shows Dijon Kizzee running from Los Angeles deputies. He was killed 'in cold blood,' attorney Ben Crump says.

Dijon Kizzee was fatally shot after sheriff's deputies tried to stop him as he rode a bicycle in Los Angeles. Deputies say he tried to reach for a gun




USATODAY.com - Published




New Video Shows Shooting of Dijon Kizzee by L.A. Sheriff's Deputies

L.A. County Sheriff's deputies gunned down a Black man in South L.A. this week -- which can now be seen in full view through new surveillance video that was just released. Civil rights attorney Ben..




TMZ.com - Published





Ben Crump Says Breonna Taylor's Family's Faith Shot After Plea Deal Leak

The family of Breonna Taylor is rattled by the news of the shocking plea deal offered to her ex-boyfriend, according to their attorney, who adds ... they're losing even more confidence in Kentucky..




TMZ.com - Published





ICYMI: Top takeaways from this week's "Face the Nation"

This week we sat down with Jacob Blake's attorney Benjamin Crump, DHS' Chad Wolf, and former FDA Commissioner Dr. Scott Gottlieb.




CBS News - Published





Full transcript of "Face the Nation" on August 30, 2020

On this "Face the Nation" broadcast, Acting DHS Secretary Chad Wolf, Blake Family attorney Ben Crump and Former FDA Commissioner Scott Gottlieb sat down with Margaret Brennan




CBS News - Published





Transcript: Benjamin Crump on "Face the Nation"

The following is a transcript of an interview with Jacob Blake family attorney Benjamin Crump that aired Sunday, August 30, 2020, on "Face the Nation."




CBS News - Published





Lawyer for family of Jacob Blake says they haven't been contacted about meeting Trump

Benjamin Crump, who represents the families of Jacob Blake and Breonna Taylor, says the family hasn't heard from the White House about a possible meeting ahead of the president's visit to Kenosha,..




CBS News - Published





This week on "Face the Nation," August 28, 2020

Acting DHS Secretary Chad Wolf, Florida Rep. Val Demings, Blake Family attorney Ben Crump and Former FDA Commissioner Scott Gottlieb appear on Sunday's "Face the Nation"




CBS News - Published





Jacob Blake paralyzed in shooting, attorney says

Jacob Blake, the 29-year-old Black man who was shot several times by police in Kenosha, Wisconsin, is now paralyzed, family attorney Benjamin Crump said Tuesday. "It is going to take a miracle for..




CBS News - Published





Ben Crump to represent Pellerin and Blake families

Attorney Ben Crump, who represents the families of Trayford Pellerin and Jacob Blake, has a message for protesters: "Thank you for standing with these families who have been devastated and need a voice..




USATODAY.com - Published





Jacob Blake's Family Lawyer, Ben Crump, Says Cops Think It's Okay to Shoot Black People

Police in America don't hesitate to shoot and kill Black people in a confrontation because they consistently get away with it ... that's what Jacob Blake's family lawyer, Ben Crump, thinks anyway. The..




TMZ.com - Published





Lawsuit filed after video showed officers trying to handcuff 8-year-old at Florida school

Benjamin Crump filed a federal civil rights lawsuit after sharing video of Florida police officers trying to handcuff an 8-year-old at school in 2018.




USATODAY.com - Published




Video shows 8-year-old being arrested at Florida school

Newly-released video shows an 8-year-old boy in Key West, Florida, being arrested at school after allegedly punching a teacher in the chest in 2018. Civil rights attorney Ben Crump, who is representing..




CBS News - Published




Floyd family thanks prosecutors, demands justice

The attorney for George Floyd's family expressed gratitude to Minnesota prosecutors for filing a tougher charge against the police officer at the center of the case and charging three others. Still,..




USATODAY.com - Published




George Floyd's family lawyer Ben Crump has often been the man beside the mourners

Supporters say many families choose Ben Crump because he has a proven ability to amplify their cases to a national audience.




USATODAY.com - Published





New charges in George Floyd's death: Derek Chauvin faces second-degree murder; 3 other officers charged, senator says

George Floyd family attorney Benjamin Crump implored officials to hold the officers accountable in powerful remarks at the site of Floyd's killing.




USATODAY.com - Published




'This is a tipping point': George Floyd family attorney speaks out at memorial site

Benjamin Crump, George Floyd's family attorney, said this is "a tipping point" as the family visited the memorial.  




USATODAY.com - Published





Ben Crump, civil rights attorney

Ben Crump has represented a number of families whose loved ones have been killed, some at the hands of police.  




USATODAY.com - Published





George Floyd protests continue for seventh night: Authorities in DC respond with tear gas; National Guard deployed to Chicago, Philadelphia

Ben Crump, the attorney for the family of George Floyd, called for peace on Monday: "Let's take a breath to heal our country."




USATODAY.com - Published




George Floyd died from 'asphyxiation from sustained pressure,' independent autopsy says

The attorney for George Floyd's family, Benjamin Crump, will announced the findings of an independent autopsy Monday afternoon.




USATODAY.com - Published





After weekend of protests, independent George Floyd autopsy results to be released Monday

The attorney for George Floyd's family, Benjamin Crump, will announce the findings of an independent autopsy Monday afternoon.  




USATODAY.com - Published





Benjamin Crump: When will African Americans have the right to self defense?

Breonna Taylor's boyfriend tried to stand his ground, but got charged with a crime instead.




USATODAY.com - Published





Benjamin Crump: George Floyd's family wants to stop 'open season' on people of color

Benjamin Crump, the attorney for George Floyd's family, says they hope this is the tipping point to stop the "legalized genocide of colored people."  




USATODAY.com - Published





Civil rights atty represents family of woman killed by police

Prominent civil rights attorney Ben Crump has been hired by the family of a black woman who was fatally shot by Louisville, Kentucky police in her home. Breonna Taylor, was killed on March 13th. (May..




USATODAY.com - Published





Family of Louisville woman killed by police in her apartment hires lawyer from Ahmaud Arbery case

Benjamin Crump, an attorney representing Breonna Taylor's family, says Louisville police have not "taken responsibility for her senseless killing."




USATODAY.com - Published




Ben Crump: Ahmaud Arbery killing reminiscent of lynching

Justice in case of 25-year-old black male delayed amid COVID-19 response. Apparently in Georgia bowling and tattooing are more essential.




USATODAY.com - Published





Arbery family attorney wants a thorough probe

Ben Crump, family attorney for Ahmaud Arbery says the situation would have been different if a white man was shot and says the video is a strong evidence in the case. He's wants the GBI to thoroughly..




USATODAY.com - Published





George Zimmerman sues Trayvon Martin family, lawyer Ben Crump for $100 million

Among those named in the suit: Tallahassee attorney Ben Crump, who recently authored the book, "Open Season: Legalized Genocide of Colored People."




USATODAY.com - Published




Civil rights attorney Ben Crump on confronting racial bias

Ben Crump gained national recognition in 2012 during the Trayvon Martin​ case




CBS News - Published