Ottawa
Federal capital of Canada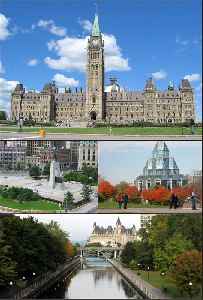 Ottawa is the capital city of Canada. It stands on the south bank of the Ottawa River in the eastern portion of southern Ontario. Ottawa borders Gatineau, Quebec, and forms the core of the Ottawa–Gatineau census metropolitan area (CMA) and the National Capital Region (NCR). As of 2016, Ottawa had a city population of 934,243 and a metropolitan population of 1,323,783 making it the fourth-largest city and the fifth-largest CMA in Canada. In June 2019, the City of Ottawa estimated it had surpassed a population of a million.


China charges two Canadians with alleged spying

Chinese prosecutors said on Friday that they have charged two detained Canadians for alleged espionage, in a case that has driven a diplomatic wedge between Ottawa and Beijing. Adam Reed reports.
Credit: Reuters Studio Duration: 01:04
Published
Trudeau takes a knee at anti-racism rally

Canadian Prime Minister Justin Trudeau joined thousands of demonstrators at an anti-racism protest in Ottawa on Friday, taking a knee in solidarity with people of color who have died from police..
Credit: Reuters Studio Duration: 00:52
Published
Trudeau: Canadians watched in 'horror' scenes outside White House

Asked by a reporter for his reaction to U.S. federal police removing protesters from outside the White House the night before, Canadian Prime Minister Justin Trudeau said, "we all watch in horror and..
Credit: Reuters Studio Duration: 02:21
Published
You Might Like



'Stand up to Trump!' Canadian protesters shout to Trudeau during anti-racism rally

Canadian protesters chanted "Stand up to Trump!" to Prime Minister Justin Trudeau when he joined the thousands who gathered in front of Parliament in Ottawa for an anti-racism rally on Friday.




Reuters - Published





Canada lifting a freeze on arms exports to Saudi Arabia, opposition wants big deal scrapped

Canada is lifting a freeze on weapons exports to Saudi Arabia and has renegotiated a much-criticized $14 billion contract to sell General Dynamics Corp armored vehicles to Riyadh, Ottawa said on..




Reuters - Published





Canadian province of Ontario angry over 'unacceptable' U.S. move to block face masks

Ontario, the most-populous province in Canada, complained on Monday the United States had blocked the export of more than 3 million face masks it bought to fight the coronavirus outbreak, while Ottawa..




Reuters - Published





Canada coronavirus deaths jump by 35%, Ottawa to spend C$2 billion on key equipment

The Canadian death toll from the coronavirus outbreak jumped by 35% to 89 in less than a day, officials said on Tuesday, and Ottawa said it would spend C$2 billion to help buy key medical supplies and..




Reuters - Published





Canada doubles value of coronavirus stimulus package, promises cash, loan delays

Canada has almost doubled the value of an aid package to help people and businesses deal with losses from the coronavirus outbreak, with Ottawa handing out more money than forecast, Finance Minister..




Reuters - Published





Canada's First Nations close borders over coronavirus, using 'isolation as a strength'

Canadian indigenous communities, already facing poor healthcare options, are closing their own lands' borders to limit coronavirus exposure as Ottawa dispatches funds and tents to house and isolate..




Reuters - Published




Canada, U.S. working on deal to close border to non-essential travel: Ottawa source

Canada and the United States are working on a deal to close their joint border to non-essential travel as part of the fight against a coronavirus outbreak, a Canadian government source said on..




Reuters - Published





Canada to unveil C$27 billion aid package to combat coronavirus damage - source

Canada will unveil a C$27 billion ($19 billion) aid package on Wednesday to help overcome the effects of a worsening coronavirus outbreak that Ottawa says could last for months, a government source..




Reuters - Published





Plane carrying Canadian evacuees from China should land on February 7: Ottawa

A plane evacuating Canadian citizens from China is due to land in the early hours of Friday at a military base in Canada where they will be placed in quarantine, a senior official said on Thursday.




Reuters - Published





All Canadians evacuated from virus-hit China will be placed in quarantine - Ottawa

All Canadians evacuated from the epicenter of the coronavirus outbreak in China will be placed in quarantine for 14 days once they arrive at a military base in the province of Ontario, Health Minister..




Reuters - Published




Canada investigators to examine Iran crash wreckage later on Wednesday - Ottawa

Crash investigators from Canada have visited the site of an Iranian plane disaster in which 57 Canadians died and will examine the wreckage later on Wednesday, said Transport Minister Marc Garneau.




Reuters - Published





Ottawa dismisses as 'nonsense' Iran's claim few crash victims were Canadian

Canada on Tuesday dismissed as "nonsense" Tehran's insistence that only a few Canadians died last week when Iran shot down an airliner and demanded full accountability for what it called a horrible..




Reuters - Published





No more 'teary eyes' from Trudeau: Iranian-Canadians demand action on crash

Friends and families of some of the 63 Canadians killed in a Ukrainian plane crash in Iran are calling on Prime Minister Justin Trudeau to take a tougher stance after Ottawa accused Iran of having..




Reuters - Published





Iran calls on Canada to hand over information on Crashed Ukrainian plane

Iran called on Canada on Thursday to share its information with Tehran about the Ukrainian plane after Prime Minister Justin Trudeau said Ottawa had intelligence indicating it was hit by an Iranian..




Reuters - Published





Gunfire near Canadian parliament kills one, wounds three

One person was shot dead and three were seriously wounded in downtown Ottawa on Wednesday, about a kilometer (0.6 miles) from parliament, police said.




Reuters - Published





Canada judge dismisses assault charges against former Taliban hostage

An Ottawa judge on Thursday dismissed all 19 charges against former Taliban hostage Joshua Boyle, who faced charges including assault and sexual assault.




Reuters - Published





Canada parliament votes for committee to probe China relations in defeat for Trudeau

Canadian legislators on Tuesday delivered Prime Minister Justin Trudeau his first parliamentary defeat since his re-election by approving the creation of a special committee to examine relations with..




Reuters - Published





China envoy warns of 'very bad damage' if Canada follows U.S. lead on Hong Kong

China's new ambassador to Canada on Friday warned Ottawa not to follow the U.S. lead and formally back protesters in Hong Kong, saying such a move would cause "very bad damage" to already poor ties..




Reuters - Published





Trudeau tries to hold on to power in tight Canada election

Global News Ottawa bureau chief Mercedes Stephenson joined Red and Blue to break down what's at stake in Canada's election.




CBS News - Published





Iran releases widow of Iranian-Canadian who died in jail: Ottawa

Iran has released the wife of an Iranian-Canadian environmental activist who died in a Tehran prison after it barred her from leaving the country for 18 months, her family and Canadian officials said..




Reuters - Published





Canada again sails warship through sensitive Taiwan Strait

Canada has sailed a warship through the sensitive Taiwan Strait, the Canadian government said on Tuesday, three months after a similar operation and amid strained ties between Beijing and Ottawa over a..




Reuters - Published





On Politics: For Sanders, It All Began in Canada

A trip Bernie Sanders took to Ottawa in 1987 helped forge his determination to transform the American health care system.




NYTimes.com - Published





China blames Canada for difficulties in relationship, demands Huawei exec be freed

China's embassy in Canada said on Thursday that bilateral ties were suffering "gross difficulties," and demanded Ottawa free Huawei Technologies Co Ltd Chief Financial Officer Meng Wanzhou.




Reuters - Published




Pompeo says his U.S. team is focused on gaining release of Canadians in China

U.S. Secretary of State Mike Pompeo, during a meeting with Canadian Prime Minister Justin Trudeau in Ottawa, said his team is working on getting two Canadian men being held in China released.




Reuters - Published





Pompeo to travel to Ottawa for talks on trade, Venezuela, China

U.S. Secretary of State Mike Pompeo will travel to Ottawa for a day of meetings with Canadian leaders to discuss bilateral relations, Venezuela's crisis and Canadians detained in China, the State..




Reuters - Published





Chinese embassy tells Canada to stop meddling in Hong Kong affairs

China's embassy in Ottawa warned Canada on Sunday to stop meddling in Hong Kong affairs a day after the country issued a joint statement with the European Union in defense of the "fundamental right of..




Reuters - Published





Chicago Blackhawks trade center Artem Anisimov to Ottawa Senators for Zack Smith

Ottawa's acquisition of center Artem Anisimov from the Chicago Blackhawks moves the Senators closer to the salary cap floor.




USATODAY.com - Published





Canada's Trudeau: Trump spoke to China about detained Canadians, pressure campaign is working

Canadian Prime Minister Justin Trudeau on Thursday said U.S. President Donald Trump had raised the case of two detained Canadians with China and insisted Ottawa's efforts to pressure Beijing were..




Reuters - Published





Ship carrying waste arrives back in Canada from the Philippines

A ship carrying 69 containers of waste mislabeled as plastic recyclables returned to Canada on Saturday from the Philippines, closing a chapter on a dispute that started in 2013 and sparked a..




Reuters - Published





Canada's Trudeau, Xi had 'positive' discussions as dispute rages: Ottawa

Canadian Prime Minister Justin Trudeau and Chinese President Xi Jinping had "positive, constructive interactions" on the sidelines of the G20 summit on Friday as a dispute between the two countries..




Reuters - Published





Canada says Cuba will have a role to play in Venezuela's return to democracy

Cuba will have a role to play in Venezuela's return to democracy, Canadian Foreign Minister Chrystia Freeland said on Friday, even though Ottawa and Havana disagree on whether President Nicolas Maduro..




Reuters - Published





Canada PM, pressed on Trump tariff comments, says will press ahead with trade pact ratification

Canadian Prime Minister Justin Trudeau, asked about U.S. President Donald Trump's threat to impose tariffs on Mexico, on Tuesday said Ottawa would move ahead in a responsible way to ratify a new North..




Reuters - Published