John Bolton
27th United States National Security Advisor, lawyer, and diplomat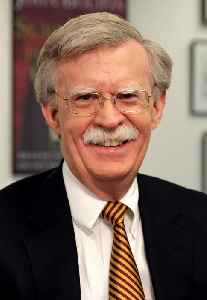 John Robert Bolton is an American attorney, diplomat, Republican consultant and political commentator who served as the 25th United States Ambassador to the United Nations from 2005 to 2006 and as the 27th United States National Security Advisor from 2018 to 2019.


Government u-turn on Bolton and Trafford lockdown

Health Secretary Matt Hancock says the government has taken the "swift and decisive action necessary" by reimposing lockdown restrictions in Bolton and Trafford today. Report by Connerv. Like us on..
Credit: ODN Duration: 01:38
Published
You Might Like



Former national security adviser John Bolton and former acting and deputy director of the CIA Michael Morell on "The Takeout" — 7/3/2020

Former national security adviser John Bolton talks about reports that President Trump ignored allegations of Russia placing bounties on U.S. troops in Afghanistan which was reportedly included in his..




CBS News - Published




Bolton: "I have regrets" about impeachment process

In an interview on "The Takeout" podcast, former national security adviser John Bolton told Major Garrett that he has "regrets" about how impeachment played out. "If I were in the Senate I think I..




CBS News - Published





Government Lawsuit Over John Bolton's Memoir May Proceed, Judge Rules

The Justice Department is seeking to seize a $2 million advance because President Trump's former top aide published the book, which criticizes Mr. Trump, without written permission.




NYTimes.com - Published





Judge says government's lawsuit against John Bolton over tell-all book can proceed

"While the government may not prevent Bolton from publishing unclassified materials, it may require him to undergo a reasonable prepublication review process," Judge Royce Lamberth wrote.




CBS News - Published





Ex-official who reviewed Bolton book claims White House interference

The National Security Council official who conducted the prepublication review of Bolton's book said involvement by political appointees at the White House was "unprecedented."




CBS News - Published





Justice Department investigating publication of Bolton's tell-all book

Bolton's memoir, "The Room Where It Happened," hit shelves in June after an unsuccessful attempt by the Justice Department to block publication.




CBS News - Published





John Bolton's book publisher subpoenaed, DOJ investigating disclosures in 'The Room Where It Happened'

The Justice Department demands records from Simon & Schuster after the Trump administration failed to halt publication of John Bolton's book.




USATODAY.com - Published





The Justice Department is investigating whether John Bolton's book unlawfully disclosed classified information.




NYTimes.com - Published





Representative Jim Jordan on "The Takeout" — 1/31/2020

Ohio Republican Congressman Jim Jordan says the House Democrats should have subpoenaed John Bolton if they wanted to hear from him, as the Senate debates whether to call witnesses in the impeachment..




CBS News - Published





John Bolton worries 'what would happen to the country' if Trump reelected. But he's still not voting for Biden

"This will be the first time in my adult political career when I won't be voting for the Republican nominee for president," Bolton said.




USATODAY.com - Published





Trump, in Florida, Seeks to Quell Doubts About His Opposition to Maduro

In his recent book, John Bolton, the president's former national security adviser, recounted how Mr. Trump disparaged Venezuela's opposition leader, Juan Guaidó, and was impressed by Mr...




NYTimes.com - Published





Dueling jobs reports, Russia briefing, John Bolton's book: 5 things to know Thursday

Two new jobs reports likely will paint a good news-bad news picture, the Gang of Eight will get Russia briefing and more news to start your Thursday.




USATODAY.com - Published





John Bolton's controversial book hits No. 1 on USA TODAY best-sellers list

The former national security advisor's memoir stuck a nerve with the president and readers. It sold more than 780,000 copies in its first week.




USATODAY.com - Published





Bolton had the chance to make a difference but chose to make a profit with his book

Bolton provides new evidence that Trump flagrantly abused power and confirms our central impeachment charge that Trump put his interests about America's.




USATODAY.com - Published





John Bolton wants to help Republicans keep the Senate, but his explosive new book makes him an outcast in the GOP

Trump's ex-national security adviser says he wants to devote himself to helping Republicans keep control of the Senate. But Republicans may shun him.




USATODAY.com - Published





John Bolton has a habit of toppling leaders but having no replacement in mind

Though Bolton wrote his book to derail and expose Trump as unfit, in typical fashion, Bolton has not decided who should replace the president.




USATODAY.com - Published





Voters cast their ballots in Kentucky, New York and Virginia; John Bolton's book is out: 5 things to know Tuesday

Voters cast their ballots in Kentucky, New York and Virginia, John Bolton's book is out and more news you need to know Tuesday.




USATODAY.com - Published





Bolton's book shocks but doesn't surprise

The former national security adviser should have told Congress what he knew about the president's foreign policy abuses: Our view




USATODAY.com - Published





'We can mute that line': State Department cuts off reporter trying to ask about Bolton's book during censorship briefing

During a briefing on Chinese propaganda, the State Department's spokeswoman muted a reporter who tried to ask about John Bolton's explosive new book.




USATODAY.com - Published





Trump Says He Avoided Punishing China Over Uighur Camps to Protect Trade Talks

"Well, we were in the middle of a major trade deal," the president said, supporting an account by his former national security adviser John R. Bolton.




NYTimes.com - Published





John Bolton: Pence was a 'consistent ally' and equally 'stunned' by some Trump actions

Vice President Mike Pence is a rare White House official not skewered in a memoir by former National Security Adviser John Bolton.




USATODAY.com - Published





Judge clears way for John Bolton to publish his book, rejecting Trump administration effort to block it

A federal judge cleared the way for publication of a book critical of Trump book written by former White House national security adviser John Bolton.




USATODAY.com - Published





McEnany slams Bolton, defends Trump on Juneteenth

White House press secretary Kayleigh McEnany went on the attack against John Bolton, who she said "repeatedly praised the president, then turned." She also pushed President Trump's talking point that..




USATODAY.com - Published





👉 Trump's legal battle to halt Bolton's book is only one part of a ferocious campaign against his former aide via Hvper.com




Reuters - Published





👉 (500) https://www.motherjones.com/politi cs/2020/06/john-bolton-donald-trump- ukraine-impeachment-china/ via Hvper.com




Reuters - Published





AP Top Stories June 19 A

Here's the latest for Friday June 19th: Lines form for Trump Tulsa rally; Bolton book fight goes to court; California to send all registered voters mail-in ballots; National Guard helicopter removes..




USATODAY.com - Published





Juneteenth, ex-Atlanta cop in court, Trump vs. Bolton: 5 things to know Friday

Americans around the country celebrate Juneteenth, Bolton's scathing critique of Trump could define tell-all battles and more news you need to know Friday.




USATODAY.com - Published





Seizing the Presidency to Suit His Own Needs

In a new book, John R. Bolton portrays Donald Trump as a president who sees his office as an instrument to advance his own personal and political interests over those of the nation.




NYTimes.com - Published





Trump unfit to be U.S. president, Democrat Pelosi, conservative Bolton agree

President Donald Trump came under attack from both sides of the American political spectrum on Thursday as liberal Democratic leader Nancy Pelosi and former White House aide and conservative hawk John..




Reuters - Published





Pelosi praises DACA decision, no regrets on Bolton

Speaker of the House Nancy Pelosi praised the Supreme Court decision that allows young immigrants to retain protection from deportation. She also criticized John Bolton who she says knows President..




USATODAY.com - Published





Former White House aide Bolton says Trump not 'fit' to be president

Former top White House aide John Bolton delivered a damning indictment of his former boss, saying Donald Trump's behavior in office and dealings with foreign leaders showed he was unfit to be president..




Reuters - Published





Democrats consider next steps after Bolton revelations on Trump

Democratic lawmakers on Thursday said they were considering next steps, including a subpoena, on how to respond to allegations by former top White House aide John Bolton that President Donald Trump..




Reuters - Published





Bolton says Trump unfit for office as book alleges sweeping misdeeds

Donald Trump's former national security adviser John Bolton said the U.S. president is unfit for office, according to interview excerpts released on Thursday after portions of the top aide's upcoming..




Reuters - Published





Former White House aide John Bolton says Trump 'not fit for office,' lacks 'the competence' for the job

"There really isn't any guiding principle that I was able to discern other than what's good for Donald Trump's re-election," Bolton told ABC in an interview




USATODAY.com - Published





Trump on Bolton: 'He broke the law'

sident Trump was asked about former National Security Advisor John Bolton's new book Wednesday on Fox News Channel's "Hannity," and the president replied "he broke the law. Very simple. It's highly..




USATODAY.com - Published





Five Takeaways From John Bolton's Memoir

"The Room Where It Happened" describes Mr. Bolton's 17 turbulent months at President Trump's side through a multitude of crises and foreign policy challenges.




NYTimes.com - Published





China says it has no intention of interfering in U.S. elections

China said on Thursday it has no intention of interfering in the U.S. elections, responding to U.S. President Donald Trump's former national security adviser, John Bolton, who has said that Trump had..




Reuters - Published




Analysis as Bolton sheds light on Trump presidency

President Donald Trump "pleaded" with China's Xi Jinping during a 2019 summit to help his reelection prospects, according to a scathing new book by former Trump adviser John Bolton. (June 17)  




USATODAY.com - Published





What we learned from John Bolton's book on the Trump administration

Former national security adviser John Bolton writes in his memoir "The Room Where it Happened" that Trump sought foreign help to get re-elected.




USATODAY.com - Published





'Author, but he's no patriot': Lawmakers react to Bolton's new book on Trump

Democrats and Republicans expressed some frustration with John Bolton's book and the excerpts that were released.




USATODAY.com - Published





Factbox: All the president's countries featured so far in ex-Trump adviser's book

China was not the only country mentioned in a litany of allegations that former national security adviser John Bolton makes about U.S. President Donald Trump in excerpts..




Reuters - Published





In the Race for Trump Tell-Alls, Simon & Schuster Is Leading

The publisher, which is up for sale with a brand-new chief executive, is behind John Bolton's and Mary L. Trump's books as well as a new one about Melania Trump.




NYTimes.com - Published





Trump asked China to help him win in 2020, offered 'favors to dictators,' Bolton says

In a withering behind-the-scenes portrayal, President Donald Trump's former national security adviser John Bolton accused him of sweeping misdeeds that included explicitly seeking Chinese President Xi..




Reuters - Published





Trump signs bill pressuring China over Uighur Muslim crackdown

President Donald Trump signed legislation on Wednesday calling for sanctions over the repression of China's Uighur Muslims, as excerpts from a book by former U.S. national security adviser John Bolton..




Reuters - Published





Ex-security adviser Bolton says Trump sought China's Xi's help to win re-election

In a series of allegations, U.S. President Donald Trump's former national security adviser, John Bolton, said on Wednesday that Trump sought Chinese President Xi Jinping's help to win re-election..




Reuters - Published





'Driven by re-election': John Bolton book accuses Donald Trump of seeking foreign help for political gain

The Trump administration has sued to stop the release of the former national security adviser's book: "The Room Where It Happened: A White House Memoir."




USATODAY.com - Published





Trump sought China's Xi's help to win re-election, Bolton alleges

In a bombshell allegation, U.S. President Donald Trump's former national security adviser John Bolton said Trump sought Chinese President Xi Jinping's help in winning re-election during a closed-door..




Reuters - Published





Bolton Says Trump Impeachment Inquiry Missed Other Troubling Actions

In his new book, John R. Bolton, the former national security adviser, describes episodes where the president sought to halt criminal inquiries. He also says President Trump's loyalists mocked him..




NYTimes.com - Published





U.S. sues ex-Trump adviser Bolton to block book publication

The United States on Tuesday sued former national security adviser John Bolton, seeking to block him from publishing a book about his time in the White House that it said contained classified..




Reuters - Published




Trump Justice Department sues to block John Bolton from publishing book

The lawsuit comes a day Trump asserted former national security advisor John Bolton would have a 'criminal problem' by publishing the book.




USATODAY.com - Published