Mississippi
State of the United States of America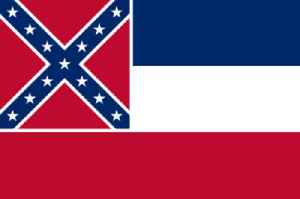 Mississippi is a state located in the southeastern region of the United States. Mississippi is the 32nd largest and 34th-most populous of the 50 United States. Mississippi is bordered to north by Tennessee, to the east by Alabama, to the south by the Gulf of Mexico, to the southwest by Louisiana, and to the northwest by Arkansas. Mississippi's western boundary is largely defined by the Mississippi River. Jackson is both the state's capital and largest city. Greater Jackson, with an estimated population of 580,166 in 2018, is the most populous metropolitan area in Mississippi and the 95th-most populous in the United States.


Mississippi state House candidate kills wife, self after being served divorce papers, police say
The Marshall County sheriff said that Carl Robinson shot his wife LaToya Thompson at the clinic where she worked before fatally shooting himself.
USATODAY.com - Published
Back-to-school sales tax holidays: These 16 states are giving families a tax break
Sixteen states have sales tax holidays with Alabama, Mississippi and Tennessee having tax-free days in July. Thirteen other states have their holidays in August.
USATODAY.com - Published
Toxic bloom closes Mississippi Gulf beaches
Authorities in Mississippi have closed beaches along the southern Gulf coast after a toxic blue-green bloom that's harmful to humans and their pets. Gavino Garay reports.
Credit: Reuters Studio Duration: 01:12Published
Biden's segregationist remarks not offensive: Lewis
Georgia congressman and civil rights icon John Lewis says he does not think Joe Biden's remarks about working with segregationist senators were offensive. Rough Cut (no reporter narration).
Credit: Reuters Studio Duration: 00:41Published
How Much Do You Have To Spend On A Wedding Venue These Days?
Business Insider took a deep dive into the costs of weddings across America. On average, couples spend $33,391 on their entire wedding, and a large chunk of that price tag is the cost of the wedding..
Credit: Wochit News Duration: 00:45Published
Trudeau to Pence: Canada concerned by U.S. abortion laws
Canadian Prime Minister Justin Trudeau said on Thursday in Ottawa that he told U.S. Vice President Mike Pence that there was a 'significant amount of concern' by Canadians regarding restrictive..
Credit: Reuters Studio Duration: 01:38Published
Mississippi's Former U.S. Senator Thad Cochran Dies At 81
According to Reuters, U.S. Senator Cindy Hyde-Smith announced that former U.S. Senator Thad Cochran has died on Thursday at the age of 81. Cochran had served as chairman of the influential Senate..
Credit: Wochit News Duration: 00:39Published
Maine Ends Non-Medical Vaccination Opt-Outs
The state of Maine has joined California, West Virginia, and Mississippi in barring the use of religious and philosophical exemptions to opt out of school immunization requirements. According to..
Credit: Wochit News Duration: 00:46Published
Another Mississippi candidate follows "Billy Graham rule"
"I just think it's common sense," candidate Bill Waller Jr. said
CBS News - Published
A second GOP candidate says he won't have a solo meeting with any woman not his wife
A second Republican man running for Mississippi governor said he won't meet alone with a woman who isn't his wife, even in a professional setting.  
USATODAY.com - Published
Barry prompts flooding in Mississippi
Tropical Depression Barry transformed part of the Mississippi Delta into what the state's governor described as "an ocean." (July 15)  
USATODAY.com - Published
Barry makes landfall on the Gulf Coast, downgrades to tropical storm
Barry came ashore this afternoon near Morgan City, Louisiana, 85 miles west of New Orleans. Less than an hour later, it was downgraded to a tropical storm. Torrential rains and flash flooding remain a..
CBS News - Published
Alligator spotted in Mississippi floodwaters as Barry nears
An alligator was seen on a flooded road in Mississippi on Friday, as Tropical Storm Barry continued on its path toward the Gulf Coast.
USATODAY.com - Published
You Might Like