George Clooney
American actor, filmmaker, and activist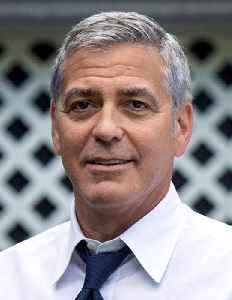 George Timothy Clooney is an American actor, filmmaker and businessman. He is the recipient of three Golden Globe Awards and two Academy Awards, one for acting in Syriana (2006) and the other for co-producing Argo (2012). In 2018, he was the recipient of the AFI Live Achievement Award, at the age of 57.


George Clooney compares Megan Markle's treatment to Princess Diana
George Clooney is lashing out at the press for pursuing Meghan Markle, the Duchess of Sussex, the same way it did Princess Diana. "CBS This Morning" has more on his comments.
CBS News - Published
George Clooney defends Duchess Meghan, compares her to Princess Diana
George Clooney is frustrated by the way the media is treating Duchess Megan, comparing it to how the media covered Princess Diana.
USATODAY.com - Published
George Clooney Calls Out Media Treatment Of Meghan Markle
It looks like Ronda Rousey is joiing teh reailty tv world! Website comicbook.com shares that according to Squared Circle Sirens, the UFC fighter turned WWE star is the newest cast member of Total..
Credit: Wochit News Duration: 00:43Published
Meghan being harassed just like Diana - George Clooney
The media are harassing Meghan Markle just as they did Princess Diana, who was killed in a car crash while being pursued by paparazzi, her friend George Clooney has said.
Credit: Reuters Studio Duration: 01:22Published
Clooney Compares Meghan Markle's Plight To Princess Diana
According to Business INsider, George Clooney has spoken out about the treatment of Meghan Markle by her family and the media.Speaking to Australia's Who magazine, Clooney said that Meghan was being..
Credit: Wochit News Duration: 00:47Published
George Clooney Debunks Rumors He'll Royal Baby's 'Godfather'
George Clooney will not be the godfather of Prince Harry and Meghan Markle's royal baby. The actor said he had "enough s--- to deal with" already caring for his twins in an interview with Australia's..
Credit: Wochit News Duration: 00:38Published
George Clooney on his 'Catch-22' TV series, and the 'life-changing' experience of 'ER'
The A-list actor directs and stars in Hulu's six-episode adaptation of 'Catch-22,' due in May
USATODAY.com - Published
Search this site and the web:
You Might Like