Illinois
State of the United States of America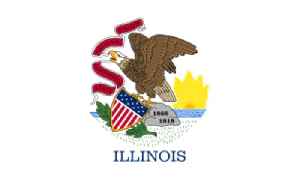 Illinois is a state in the Midwestern and Great Lakes regions of the United States. It has the fifth largest gross domestic product (GDP), the sixth largest population, and the 25th largest land area of all U.S. states. Illinois has been noted as a microcosm of the entire United States. With Chicago in northeastern Illinois, small industrial cities and immense agricultural productivity in the north and center of the state, and natural resources such as coal, timber, and petroleum in the south, Illinois has a diverse economic base, and is a major transportation hub. Chicagoland, Chicago's metropolitan area, encompasses over 65% of the state's population. The Port of Chicago connects the state to international ports via two main routes: from the Great Lakes, via the Saint Lawrence Seaway, to the Atlantic Ocean and from the Great Lakes to the Mississippi River, via the Illinois Waterway to the Illinois River. The Mississippi River, the Ohio River, and the Wabash River form parts of the boundaries of Illinois. For decades, Chicago's O'Hare International Airport has been ranked as one of the world's busiest airports. Illinois has long had a reputation as a bellwether both in social and cultural terms and, through the 1980s, in politics.


LEADING OFF: Cubs-Pirates in Williamsport, CC faces Indians
LEADING OFF: Cubs-Pirates in Little League Classic at Williamsport, CC off IL to face former team in Indians, Sale goes on injured list, Guerrero tweaks knee, Urìas suspended
USATODAY.com - Published
Justin Thomas eagles 16th hole from 180 feet on way to course-record 61 at BMW Championship
MEDINAH, IL. - Justin Thomas tied the course record in Thursday's first round of the BMW...
USATODAY.com - Published
More Than 120 Cases Of Severe Lung Disease May Be Linked To Vaping
15 states have identified over 120 cases of severe lung disease or pulmonary injury that may be linked to vaping. The US Centers for Disease Control it is investigating the trend among people who use..
Credit: Wochit News Duration: 00:41Published
CDC Launches Investigation Into E-Cig Linked Illnesses
The Centers for Disease Control and Prevention is investigating a "cluster" of lung illnesses linked to e-cigarette use. According to Reuters, the investigation began after such cases were reported..
Credit: Wochit News Duration: 00:41Published
'Moscow Mitch' is burying legislation: Pelosi
Speaker Nancy Pelosi attacked Senate Majority Leader, Mitch McConnell on Wednesday, saying that "Moscow Mitch" is the self-described grim reaper of legislation, including that which addresses election..
Credit: Reuters Studio Duration: 00:52Published
Blagojevich spotted at prison as Trump mulls pardon
Rod Blagojevich, the imprisoned former Illinois governor, is keeping in shape with outside exercise at the federal prison in Colorado as President Trump considers a pardon. Priscilla Huff has more.
Credit: Reuters Studio Duration: 01:03Published
Illinois Governor Signs Bill To Teach History Of Marginalized Groups
Starting 2020, Illinois public school will be required to include LGBTQ history in their curriculums. According to the Huffington Post, Gov. J.B. Pritzer signed House Bill 246 on August 9th, 2019. The..
Credit: Wochit News Duration: 00:32Published
Petition By Walmart Employee Reaches 45,000 Signatures
A petition started by a junior Walmart worker in California protests the retailer's sale of firearms. This is after three mass shootings over the weekend left 38 people dead in Texas, Ohio, and..
Credit: Wochit News Duration: 00:42Published
Trump Postpones Florida Trip After Mass Shootings
Donald Trump will postpone a trip to Florida due to the mass shootings in Texas, Ohio, and Illinois over the weekend. Trump condemned racism and white supremacy but did not address criticisms that his..
Credit: Wochit News Duration: 00:42Published
R. Kelly charged in Minnesota with soliciting sex from minor
Singer R. Kelly has been charged with soliciting sex from a minor, stemming from an encounter that occurred at Minneapolis hotel room in 2001, Hennepin County Attorney Mike Freeman said on Monday...
Credit: Reuters Studio Duration: 02:01Published
Hershey's Has New Caramel Flavored Whipped Cream
Got a sweet tooth? Hershey's may have a solution, depending on where you live. Business Insider reports that the chocolate manufacturer is now selling a new caramel-flavored whipped topping. Recently..
Credit: Wochit News Duration: 00:46Published
R. Kelly Faces Bail Hearing
R. Kelly faces a bail hearing on Tuesday over federal charges that he ran a racketeering scheme trafficking women and girls for sex. Reuters reports the indictments unsealed in Brooklyn, New York, and..
Credit: Wochit News Duration: 00:32Published
Sea lion pup makes its debut at Illinois zoo
A California sea lion pup has made its public debut at Brookfield Zoo in Illinois. The male pup named Charger was born on June 10 to a 9-year-old sea lion named Josephine.
Credit: euronews (in English) Duration: 00:50Published
Illinois Becomes First State To Legalize Marijuana Sales Through The Legislature
Illinois just became the first state to legalize marijuana sales through the state legislature, rather than a ballot initiative. Governor JB Pritzker's, who made marijuana legalization a key component..
Credit: Wochit News Duration: 00:47Published
Former student convicted of killing Chinese scholar
Attorney Judon Wong says the family of murdered Chinese scholar Yingying Zhang will seek the death penalty for 29 year old Brendt Christensen after a jury on Monday convicted him of murdering and..
Credit: Reuters Studio Duration: 01:41Published
Teens charged after homeowner shoots 14-year-old
An Illinois homeowner shot a 14-year-old during a burglary attempt, but the five teens with the 14-year-old are being charged with his murder.  
USATODAY.com - Published
Homeowner shot a 14-year-old during burglary attempt. The 5 other teens with him were charged with murder
Six teens were attempting to burglarize a vehicle in Illinois. The homeowner shot one of them and now the remaining 5 are being charged with murder.
USATODAY.com - Published
Lawsuit takes aim at vaping company Juul
In recent weeks, public health officials in Illinois, Minnesota and Wisconsin warned of possible lung damage in teenagers caused by e-cigarettes. There's a new lawsuit against Juul, the number one..
CBS News - Published
Illinois public schools to teach LGBTQ history
Four other states have similar laws requiring LGBTQ history be taught in public schools
CBS News - Published
High taxes, fees make Chicago casino 'not financially feasible'
A high tax and fee structure mandated by an Illinois law for Chicago's first casino would make the project "generally not financially feasible" regardless of where it was located, according to an..
Reuters - Published
You Might Like