Somalia
Federal republic in Africa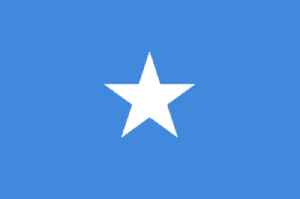 Somalia, officially the Federal Republic of Somalia, is a country located in the Horn of Africa. It is bordered by Ethiopia to the west, Djibouti to the northwest, the Gulf of Aden to the north, the Guardafui Channel and Somali Sea to the east, and Kenya to the southwest. Somalia has the longest coastline on Africa's mainland, and its terrain consists mainly of plateaus, plains and highlands. Climatically, hot conditions prevail year-round, with periodic monsoon winds and irregular rainfall.


Explosions in Mogadishu kill at least 11 people, injure 25 others
At least 11 people were killed and 25 wounded Saturday in Mogadishu. The terrorist group Al-Shabab claimed responsibility for the pair of explosions in Somalia's capital. One car bomb went off near the..
CBS News - Published
Al Shabaab kill 16 in Kenya and Somalia blasts
Somali militants killed eight Kenyan police with a roadside bomb near the border between the two countries on Saturday, officials said, while another eight died in a bombing the same group carried out..
Reuters - Published
Somalia drought: UN warns of humanitarian crisis
Lack of so-called 'long rains' has caused crop failures across the region.
Credit: Al Jazeera STUDIO Duration: 01:20Published
Bomb kills Kenyan policemen near Somali border
A roadside bomb hit a police vehicle patrolling near Kenya's border with Somalia on Saturday, killing several of the 11 officers inside, a police spokesman said.
Reuters - Published
Search this site and the web:
You Might Like