Jay Inslee
23rd Governor of Washington, United States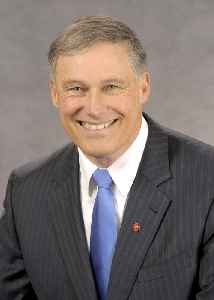 Jay Robert Inslee is an American politician who has served as the governor of Washington since 2013. A member of the Democratic Party, he served in the U.S. House of Representatives from 1993 to 1995 and from 1999 to 2012 and was a presidential candidate in the 2020 election.


Seattle mayor slams Trump's threat to send military

Seattle Mayor Jenny Durkan said Thursday U.S. President Donald Trump's threat to send military into the city to clear protesters would be illegal and unconstitutional. Gloria Tso reports.
Credit: Reuters Studio Duration: 01:25
Published
You Might Like



Washington state tightens virus rules amid surge

Washington Gov. Jay Inslee said Thursday he is tightening restrictions throughout the state in restaurants and bars, for weddings and funerals, and at gyms in a further effort to stem a surge in..




USATODAY.com - Published




Gov. Inslee: Trump threats over schools a "hogwash"

Washington Gov. Jay Inslee says President Donald Trump's comments earlier this week pressuring governors to open the schools in the fall were "hogwash." Inslee said the state will not be bullied into..




USATODAY.com - Published





Washington state to mandate masks for customers

Washington Gov. Jay Inslee announced Thursday that because of an increase in the rate of COVID-19 infection, starting next week, businesses statewide will not be able to serve customers who don't wear..




USATODAY.com - Published





Washington state to require masks in public

Washington state will require people to wear facial coverings in public settings, under a statewide public health order announced Tuesday by Gov. Jay Inslee in response to ongoing COVID-related health..




USATODAY.com - Published





'Go back to your bunker': Seattle mayor, Washington governor fire back at Trump threat to handle protests

President Donald Trump called on Washington Gov. Jay Inslee and Seattle Mayor Jenny Durkan to "take back" the city from protesters.




USATODAY.com - Published





'Take Back Your City' From Protesters, Trump Tells Seattle Mayor

The president tweeted that Mayor Jenny Durkan and Gov. Jay Inslee were being taunted by protesters. Some demonstrators have used barricades to occupy several city blocks.




NYTimes.com - Published





Washington state eases more virus restrictions

Washington Gov. Jay Inslee says that ten additional counties in the state can apply to move to the second phase of the state's plan to end restrictions due to the coronavirus pandemic. (May 19)  




USATODAY.com - Published




Washington state to launch virus contact tracing

Washington state Gov. Jay Inslee has unveiled a plan to launch a contact tracing effort to identify residents who have come in contact with people infected with COVID-19. (May 12)  




USATODAY.com - Published





Inslee announces phases for lifting restrictions

Washington Gov. Jay Inslee announced Friday that the state's coronavirus stay-at-home order would be extended through at least May 31 and said there will be a four-stage phase in for lifting of..




USATODAY.com - Published





Al Gore Endorses Joe Biden for President

The climate activist and former vice president announced his support on Earth Day, along with Gov. Jay Inslee of Washington.




NYTimes.com - Published





Washington Governor Inslee endorses Biden, citing 'reasoned approach' to economics, climate

Washington state Governor Jay Inslee endorsed Joe Biden's presidential bid on Wednesday, praising his former Democratic rival's "willingness to follow science" in his approach to governing and..




Reuters - Published





Jay Inslee Endorses Biden, Citing Private Conversations on Climate Policy

The governor of Washington State, one of the Democratic Party's most prominent environmentalists, urged progressives to get on board with the presumptive presidential nominee's campaign.




NYTimes.com - Published





About 2,500 protesters converge at Washington state capitol against stay-at-home order

An estimated 2,500 people rallied at the Washington state capitol on Sunday to protest Democratic Governor Jay Inslee's stay-at-home order to limit the spread of coronavirus, defying a ban on..




Reuters - Published





Governors slam Trump's call to 'liberate' states where protesters object to coronavirus restrictions

"It is dangerous because it can inspire people to ignore things that actually can save their lives," Gov. Jay Inslee said of Trump's tweets.




USATODAY.com - Published





Washington Gov: Steps to curb virus are working

Washington Gov. Jay Inslee says that steps that the state is taking to limit the spread of the coronavirus are having a positive impact. (April 7)  




USATODAY.com - Published





Washington State signs facial recognition curbs into law; critics want ban

Washington Governor Jay Inslee on Tuesday signed the first U.S. state law that sharply curbs law enforcement's use of facial recognition technology, while civil rights activists said the measure did..




Reuters - Published





Washington state enforces stay-at-home order

Washington Gov. Jay Inslee says officials will begin cracking down on businesses or groups that violate the state's stay at home order. They could see citations, and possibly revocation of business..




USATODAY.com - Published





Washington state governor approves $200 million in coronavirus emergency funds

Washington state Governor Jay Inslee on Tuesday signed legislation approving $200 million in emergency funds intended to slow the spread of coronavirus.




Reuters - Published





Wash. schools closing: we've reached tipping point

Gov. Jay Inslee expanded school closures and prohibited large gatherings across all of Washington Friday in an effort to slow the spread of the new coronavirus while officials reported at least six new..




USATODAY.com - Published





Washington state's death toll from coronavirus jumps to 37

The death toll in Washington state from coronavirus has surged by six to a total of 37, Governor Jay Inslee said on Friday as he issued new executive orders intended to reduce the spread of the..




Reuters - Published




Washington state schools to shut amid virus worry

Washington state Governor Jay Inslee is ordering all public and private schools K-12 to close for six weeks in three counties, in a move to help slow the spread of the new coronavirus. The death toll..




USATODAY.com - Published





Schools ordered to close in three Seattle-area counties

Washington state Governor Jay Inslee on Thursday ordered schools to close in three Seattle-area counties to slow the spread of the COVID-19 virus in a state battling the nation's deadliest outbreak.




Reuters - Published





Washington state bans gatherings, may close schools to fight COVID-19

Washington Governor Jay Inslee on Wednesday banned gatherings of over 250 people in the Seattle area, said he may soon close all schools and did not rule out eventual lockdowns to slow the spread of..




Reuters - Published




Coronavirus updates: Seattle to implement event ban; Michigan reports first cases as US death toll hits 28

Washington Gov. Jay Inslee is expected to take sweeping action on Wednesday in an attempt to slow the spread of coronavirus in and around Seattle.




USATODAY.com - Published





Washington state could have 64,000 coronavirus cases without 'real action,' governor warns

Washington Governor Jay Inslee on Tuesday said he was considering mandatory measures to prevent an increase in coronavirus cases that could reach 64,000 in the state within eight weeks unless "real..




Reuters - Published





Washington State mulling mandatory measures to contain coronavirus

Washington State is considering whether mandatory measures may be needed to curb social gatherings and contain the spread of coronavirus in the hard-hit state, Governor Jay Inslee said on Sunday.




Reuters - Published





Face The Nation: Jay Inslee, Michelle Lujan Grisham, Ben Domenech

Missed the second half of the show? The latest on immigration reform, social media and the nuclear war.




CBS News - Published





Democratic governors: Trump's emergency declaration "political punting"

Democratic Govs. Michelle Lujan Grisham of New Mexico and Jay Inslee of Washington discuss President Trump's national emergency declaration at the border.




CBS News - Published





Open: This is "Face the Nation," Feb. 24

This week on "Face the Nation," moderator Margaret Brennan (@margbrennan) talks to Sens. Roy Blunt, Ed Markey and Rep. Adam Kinzinger. Plus, we'll talk to two Democratic governors, Michelle Lujan..




CBS News - Published





Jay Inslee gives up on climate-focused presidential bid

Washington Governor Jay Inslee says he will still fight for climate change after ending his presidential bid. The Wall Street Journal's Eliza Collins joins CBSN's "Red & Blue" to discuss whether Inslee..




CBS News - Published




Washington governor urges state health board to ban some vaping products

Washington state Governor Jay Inslee on Friday urged state agencies to ban flavored and cannabis-derived vaping products, joining other states and the federal government in taking steps to reduce..




Reuters - Published





How Jay Inslee showed up during CNN's climate change town halls weeks after ending presidential bid

Inslee ended his White House bid in August and is running again for governor of Washington state but his influence was felt Wednesday as 10 Democratic 2020 candidates discussed climate change during..




USATODAY.com - Published





Democratic candidates roll out climate plans ahead of marathon town halls

Several Democratic presidential candidates are releasing their plans to combat climate ahead of Wednesday's marathon of climate town halls on CNN. CBSN political reporter Caitlin Huey-Burns speaks to..




CBS News - Published





Democratic Field Shrinks to 21: This Week in the 2020 Race

Jay Inslee and Seth Moulton are out, John Hickenlooper is in (a Senate race), and new plans for labor and the environment.




NYTimes.com - Published




Jay Inslee ends presidential bid, will run for reelection as Washington governor

Jay Inslee says he is no longer seeking the Democratic nomination for president, but will launch a bid for a third term as Washington state's governor. CBSN political reporter Caitlin Huey-Burns broke..




CBS News - Published





Ex-U.S. presidential candidates Hickenlooper, Inslee to run for office in home states

Two Democratic governors who recently abandoned their long-shot presidential bids announced their next steps on Thursday, with both opting to run for office in the friendlier political territory of..




Reuters - Published





Inslee set to announce third term for Washington governor

Two people close to Inslee told The Associated Press that Inslee planned to make the announcement in an email to supporters.




CBS News - Published





AP Top Stories August 22

Here's the latest for Thursday August 22nd: Trump says no payroll tax cut; Inslee out of presidential race; Planned Parenthood leaves federal program, warns of consequences; 10 escaped California plane..




USATODAY.com - Published





Your Thursday Briefing

Greenland, Jay Inslee, Amazon: Here's what you need to know.




NYTimes.com - Published





Governor Jay Inslee drops out of 2020 presidential race

Washington Governor Jay Inslee, who made fighting climate change the central theme of his presidential campaign, announced Wednesday night that he is ending his bid for the 2020 Democratic nomination...




CBS News - Published




Washington Governor Inslee withdraws bid for U.S. Democratic presidential nomination

Washington state Governor Jay Inslee, who made the fight against climate change the focus of his White House campaign, said on Wednesday he was withdrawing from the race for the 2020 U.S. Democratic..




Reuters - Published

Also reported by •USATODAY.com


Jay Inslee Ends Campaign for President

Mr. Inslee, the governor of Washington, focused his campaign on climate change. But he struggled to find much support in the polls.




NYTimes.com - Published





Jay Inslee releases plan to stem white nationalist gun violence

The Democratic presidential candidate and Washington governor, along with many of his fellow Democratic presidential candidates, has blamed the rise of white nationalist terrorism in part on Trump




CBS News - Published





Money Gap Among Democrats Grows as Inslee, Castro and Gillibrand Report Small Hauls

The politics world awaited the total for Beto O'Rourke, whose campaign started strong in March but has since lagged behind other leading contenders.




NYTimes.com - Published