Dan Balz
American journalist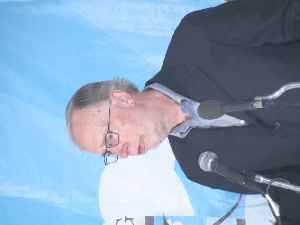 Daniel Balz
is an American journalist at
The Washington Post
, where he has been a political correspondent since 1978. Balz has served as National Editor, Political Editor, White House correspondent and as the
Washington Post
'
s Texas-based Southwest correspondent. Balz sometimes appears on the news show
Meet the Press
and frequently appears on the PBS program
Washington Week
. In April 2011 the White House Correspondents' Association honored Balz with the prestigious Merriman Smith Award for excellence in presidential coverage under deadline pressure.
Trump considering new tax cut as recession fears rise
President Trump confirmed Tuesday that the White House is looking to roll out another tax cut, as economists warn of an oncoming recession. Washington Post chief correspondent Dan Balz and Politico's..
CBS News - Published
Face the Nation: Nancy Youssef, Dan Balz, Antjuan Seawright
Missed the second half of the show? The latest on Trump's desire to purchase the world's largest island and the status of the background check legislation through Congress.
CBS News - Published
Full transcript of "Face the Nation" on August 18, 2019
Sen. Joe Manchin, White House trade adviser Peter Navarro, 2020 Democratic Presidential Candidate Andrew Yang, CBS News Asia Correspondent Ramy Inocencio, CBS News Correspondent Seth Doane, Nancy..
CBS News - Published
Will Congress pass background check legislation?
Nancy Youssef, Dan Balz, Antjuan Seawright and Leslie Sanchez discuss gun reform, the 2020 race and the economy.
CBS News - Published
Obama unfazed by attacks at Democratic debate, source says
A source familiar with President Obama's thinking said the former president believes "his legacy is going to be fine, that there's a staying power to it and the things under attack by this president..
CBS News - Published
Previewing the 2nd Democratic presidential debate
Twenty Democratic presidential candidates will face off next week in Detroit for the second primary debates. The Washington Post's Dan Balz joins CBSN's "Red & Blue" to discuss why every candidate has..
CBS News - Published
You Might Like