Mexico–United States border
International border between the two countries in North America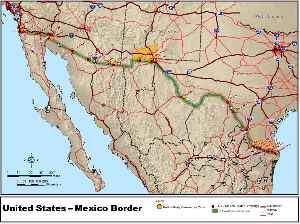 The Mexico–United States border is an international border separating Mexico and the United States, extending from the Pacific Ocean in the west to the Gulf of Mexico in the east. The border traverses a variety of terrains, ranging from urban areas to deserts. The Mexico–United States border is the most frequently crossed border in the world, with approximately 350 million documented crossings annually.


Seesaws Straddle the Mexico Border, and Smiles Shine Through
The playground equipment was inserted through the steel slats in a section of border wall in Sunland Park, N.M.
NYTimes.com - Published
At War: Bad Food, Broken-Down Trucks: What It's Like to Be a U.S. Soldier on the Mexico Border
This unit returned from Afghanistan in November. But an internal report to headquarters reveals that its new living conditions aren't much better.
NYTimes.com - Published
Trump Retreats on Threat to Close Mexican Border, Offering a 'One-Year Warning'
President Trump has repeatedly promised to close the border over illegal immigration and drug smuggling, a decision that would have severe economic consequences.
NYTimes.com - Published
Trump Threatens to Close Mexican Border Next Week Over Immigration
President Trump said it would be "so easy" for Mexico to stop all immigrants from illegally trying to enter the United States, "but they just take our money and 'talk.' "
NYTimes.com - Published
U.S. judge may force Trump administration to reunite more families separated at Mexico border
In a blow to the Trump administration's U.S.-Mexico border strategy, a federal court judge in California has expanded the number of migrant families separated at the border that the government may be..
Reuters - Published
Search this site and the web:
You Might Like