Adam Yamaguchi
American television correspondent and producer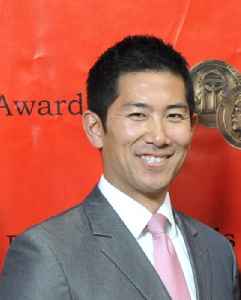 Adam Yamaguchi is an American television correspondent and producer. He is best known for producing the Vanguard series on Current TV, a former cable network founded by former US Vice President Al Gore. He earned economics and communications degrees at UCLA, where he served as editor-in-chief of the Daily Bruin newspaper. He then worked at Fox Sports, CNN and TV Asahi Japan, also freelancing for a number of agencies, where he traveled the world in pursuit of stories. He has covered the Space Shuttle Columbia disaster, the 2000 presidential election and subsequent debacle, and the September 11 attacks. He has also focused abroad to the wars in Afghanistan and Iraq, indigenous cultures deep in the Amazon, Argentina's economic collapse, the Inuit whale hunt, Japanese suicide, Korean defectors, Global Warming, AIDS in Cuba, free press in the Middle East, and the HIV/AIDS epidemic in India. While producing a series of reports on global warming and other environmental issues, he recently traveled to Colombia and Bolivia to produce a series on coca cultivation and changing attitudes toward U.S. policy in the region. A recent edition of the series Vanguard included an in-depth look at the Northern Mariana Islands and Saipan with the collapse of its largest industry, the manufacturing of clothing. Another Vanguard documentary featured a look at Japan's impending population collapse. In the Vanguard series, he also examines glacier melt in Greenland.


Humane Society president "can't see any argument" for trophy hunting
The president and CEO of the Humane Society of the United States, Kitty Block, says she "can't see any argument" for trophy hunting. CBSN Originals' Adam Yamaguchi spoke with Block, who suggested there..
CBS News - Published
Hunting consultant explains what it takes to go trophy hunting
Olivia Opre is a hunting consultant who helps people who want to go trophy hunting do it legally. CBSN Originals' Adam Yamaguchi spoke with Opre about how the process works.
CBS News - Published
Search this site and the web:
You Might Like